How do you make sure your message is heard?
From medical practice to health care institution, from office to factory, from school to university, from the fitness center or retail chain to hotel, bar, or restaurant. Wherever you work, digital signage makes the difference when it comes to internal and external communication. All you have to do is follow these tips for effective digital signage.
1. Know your target market
Our first digital signage tip is to make sure you know who you trying to reach. How about employees introduce a colleague or deliver information about a product? Or maybe the general public, to point out offers or changing opening hours? You can also inform and entertain people while they wait, communicate the availability of meeting rooms, or welcome and direct. Everything is possible.
2. Choose the right hardware

Digital signage screens are available in all shapes and sizes. In your store, you can place a small one next to a product to demonstrate it and give details. On the other hand, a complete video wall is also always fun. In both cases, it is wise to opt for the latest generation of LED screens. Robust, extremely economical, durable. Fast and changing images are displayed sharply and clearly. Something else to consider is where you place them exactly. Consider the effect of sunlight, reading distance, and frequent walking routes.
3. Choose the right software
You can create content and programs yourself with Easyscreen's industry-leading digital signage platform. Nice and simple to work with. Easy to understand. Get the results that you're looking for. With the license, you'll get a lot of features and beautiful designs. Plus, we are always available if you have any questions. And the price? Because we already have so many loyal customers, we can keep it affordable.
4. Get us to help you
Easyscreen's digital signage platform is the ideal way to improve your internal and external communications yourself. You are in control. But you always have the option of turning to us for help. Custom digital signage made easy! We have extensive experience in the field of technology, content, and design. We can create the templates you want. Just say the word and we'll get to work for you.
5. Stay with the times
If you decide to get involved with Easyscreen's digital signage system, make sure you get the most out of it. Customers, visitors, employees, and other passers-by only stand out if they feel engaged with what you offer to them. This means that you have to be current. News must be informative. Data must be correct. Offers must be valid. In short, stay focused on the content.
6. Focus your people
Digital signage can do a lot. Entertain. Transfer information. Stimulate interest in your products or services. What digital signage cannot do is replace employees. For example, store staff must be alert to a customer who is interested in the content. They must be there to ask if they want a demonstration of the corresponding product. That combination of technology and the human factor is essential.
7. Use social media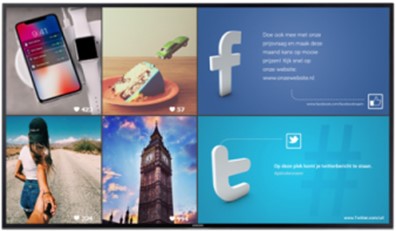 A very important digital signage tip, you can add all kinds of elements to your digital signage with Easyscreen. Think about YouTube movies, the weather forecast, sports, and other news, for example via nu.nl. But also what you do as an organization on social media. Facebook, Twitter, Instagram, and others. Put your latest posts from these sites on your screens and you'll make your content and programs extra lively and up-to-date. You'll receive all of the necessary links with Easyscreen.
8. Think about interactivity
Digital signage is inherently interactive already, especially if you're involving social media. But there's also the opportunity to make your digital signage completely interactive. Thanks to the use of touchscreens, your target group can find its way through the entertainment, information, or promotion that you make available. If the screen is not used for a while, the system switches to clear content or programs.
9. Go outside
Digital Signage is very effective in-store and indoor generally. But have you ever thought of the outdoor? At museums, you can give a preview of an exhibition. You can advertise your sandwiches at lunchtime. During the evening rush hour, you can provide commuters with public transport information. These are only a few examples of the myriad possibilities – be creative! One thing is for sure… that digital signage in public spaces is the most effective means of drawing people's attention away from their mobiles and conversations.
10. Grab your chance
In the Netherlands alone, there are now more than 24,000 entrepreneurs using digital signage. More than 33% of consumers like to watch an in-store video. And no less than one-third of that leads to a purchase, without a salesman. Digital signage is not just a purchase for your company – it's an investment! And one that'll pay itself off over and over.
With these digital signage tips in mind, are you ready to get started? Then find out more. Call or email us for an appointment – we'll be happy to talk to you.
Easyscreen: One-stop-shop Digital Signage Software

Here at Easyscreen, we are a one-stop-shop. So we can help you every step of the way. We can provide you with your digital signage displays and media players, but also much more. We supply you with our platform's content creation and management software and then take care of installation and maintenance.
Want to know more about digital signage? Read our full guide to digital signage
Free Digital Signage Software Demo
We are confident that your company will experience the benefits of digital signage with our software and help, just like our other customers across many industries already do. That's why we offer a free trial.