Let's meet!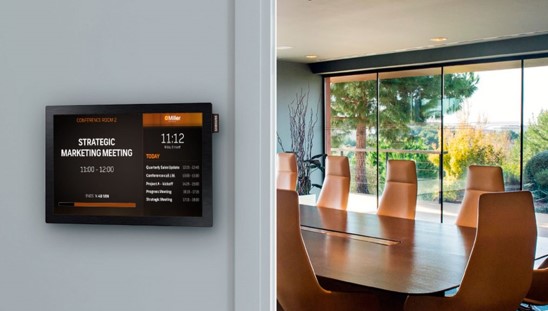 Are you fed up with double-booked meeting rooms and colleagues walking in while you are talking to an important customer? We have the solution: digital signage in the form of Meeting room TV!
With Meetingroom TV you can make it clear to you and all your colleagues that a meeting is currently taking place in the meeting room, how long a current meeting will last, and when the next meetings are scheduled. And not only that, but you can also display other content of your choice on the screen to alternate the agenda.
So, how do we make this possible for you?
We place a screen next to the door of the meeting room that is integrated with our Meetingroom TV software. After linking the agenda of your choice, the screen automatically shows the next scheduled appointments and whether a meeting is currently in progress. It will also display the date and time. There are more than 100 kinds of calendars suitable for use with Meetingroom TV. The choice is then yours to show other content besides the room's agenda. Choose from our extensive range of templates and videos that best fits your organization.
Read here more about Meetingroom TV!
Easyscreen: One-stop-shop Narrowcasting Software

Here at Easyscreen, we are a one-stop-shop. So we can help you every step of the way. We can provide you with your digital signage displays and media players, but also much more. We supply you with our platform's content creation and management software and then take care of installation and maintenance.
Want to know more about digital signage? Read our full guide to digital signage
Free Digital Signage Software Demo
We are confident that your company will experience the benefits of digital signage with our software and help, just like our other customers across many industries already do. That's why we offer a free trial.