What is Digital Signage?
Digital Signage is a tool to communicate. It consists of multimedia content through screens placed in different locations. It is used in different industries to broadcast personalized content related to a brand. Usually, the management of these contents is done through CMS software that creates and schedules videos remotely and sends them to the screens in real-time.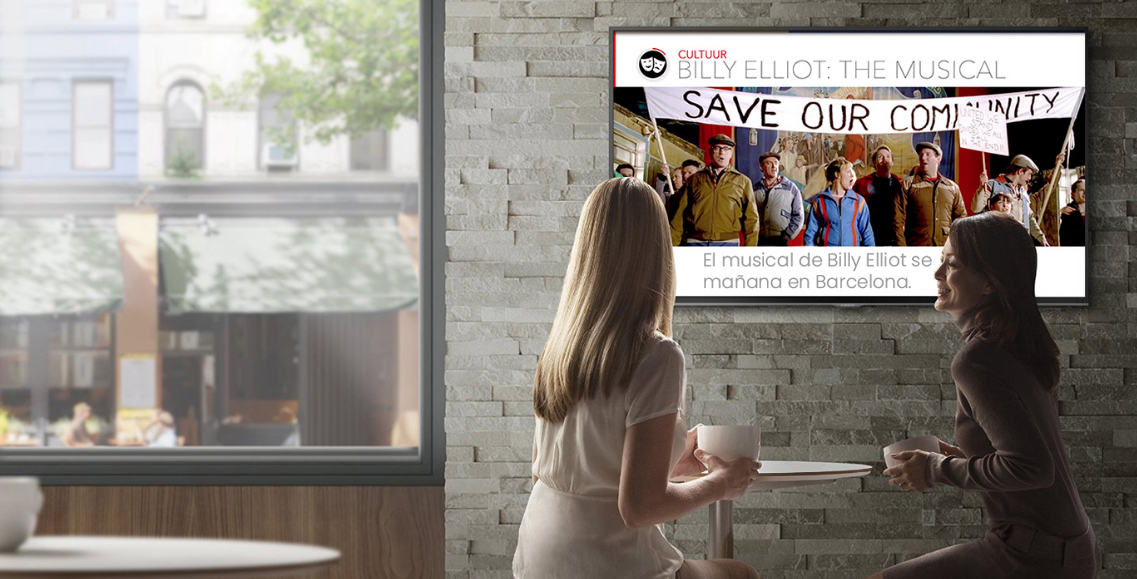 What's new in Digital Signage in 2021
An important development in digital signage for 2021 is that many screens suppliers have realized that the Digital Signage market is growing. They are committed to integrating content management platforms into their screens.
This is the case of Samsung, which this year is committed to its solution for Magic Info screens, a way to integrate the creation and management of content for Digital Signage on screens.
On top of that, platforms such as Easyscreen, with years of experience in the development of software similar to Samsung just created, are renewed with better attributes and applications.
Why use Digital Signage in 2021?
Digital Signage is the advertising method of 2020. It is a cost-effective solution to always display up-to-date content in your business, which makes it the best way to attract and entertain your customers to sell more, without overspending. It is the advertising method that is already trending and will continue to grow next year.
For example, imagine you have a chain of stores and you want to publish a flash offer. It is not very effective to print posters and signs to place them in all stores, as this requires planning, paper and printing costs and, in the end, the posters will end up in the trash. Instead, with Digital Signage, you could create a video poster in minutes and display it on the screens of all your stores, at no extra cost.
Another example, imagine you have a dentist's office and you want to put up magazines for the waiting room. You could buy magazines every month, or you could use a Digital Signage program like Easyscreen. You can use digital signage to display the latest news from publications like BBC and more on your screens.
Maybe you have a company and you want to show your latest sales results on screens or show what your customers are saying about your brand on social media to motivate your employees, you can do that with Digital Signage too! Platforms like Easyscreen's have integrated applications like Facebook, Instagram, Twitter… That will allow you to show your social networks on-screen to everyone.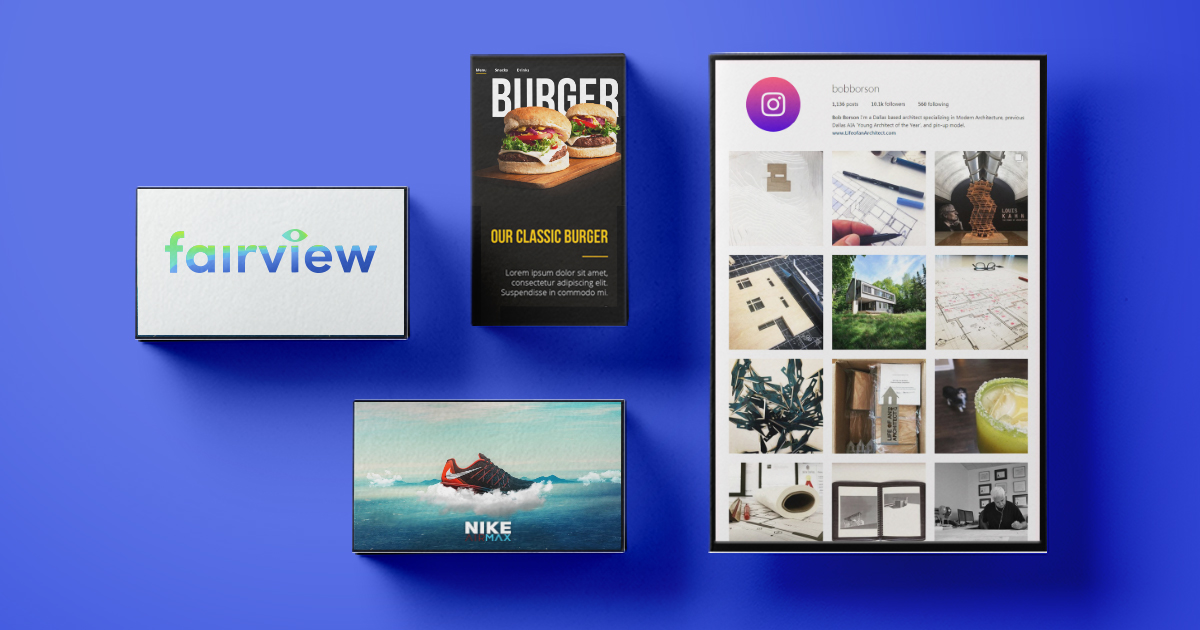 Digital Signage trends in 2021
Increased use of Digital Signage in business interiors
Easier measurement and clearer real-time metrics from multiple devices
Integration with mobile devices
Types of Digital Signage displays in 2021
Today's technology makes it possible to display content on multiple types of LED Digital Signage displays. These displays are used to show information and media to a specific audience in specific locations.
There are a variety of types, sizes, and specializations available to suit the purpose of any Digital Signage solution (outdoor LED displays and indoor displays). That is, unlike ordinary televisions, these displays are built specifically for the demands of commercial use.
Each display is designed for different use. That's why these options provide the opportunity to design as creative a Digital Signage solution as you wish. For example:
Tablets: can be used as small screens for meeting rooms or as POS (point of sale) screens. They allow great mobility and a variety of locations where you can place them.
Totems: Vertical screens, placed on supports, of variable sizes. It is an effective way of narrowcasting if you want to make your content visible in places such as shopping malls, businesses, or urban areas.
LED screens:

These can have different sizes and can be used as 

indoor screens

 or 

outdoor advertising screens

. Outdoor LED screens have a brighter screen, internal and external protection against all weather conditions, different connectivity options, and more robust physical and hacker security, unlike indoor LED screens.

Video walls: This "video wall" is a wall created with screens. The union of different screens allows you to have a giant screen to display your content.
Interactive Devices: Digital Signage can also be interactive. By using devices with interactive functions, a greater connection with the public is achieved and greater engagement is generated.
5 quick ideas for using Digital Signage
Secure your sales by displaying your full range of products! Connect your website with your physical store. Place screens where your online catalog is displayed so your customers can see products that you may have online, but not in-store.
Entertain your customers while they wait their turn. If you have a business that involves a waiting room or shift work (for example, a doctor's office, a law office, etc.) you can use your screens to show content that entertains and amuses your customers and makes their wait more pleasant.
Connect your different offices with a live camera, to communicate in a more personalized way with your employees, without the need to be physical with them.
Create a multimedia experience in your business. Connect your social networks, ask your customers to use a hashtag, and make them feel part of it by seeing their content shared on the screens.
Create and send digital billboards and signs to multiple locations (such as offers, advertising, etc.) in minutes.
As you can see, there are many applications of Digital Signage that can be useful for your business. The question is to find out what use you can make of digital signage and how it can help you sell more and gain the loyalty of your customers.
Easyscreen: The Digital Signage software of the future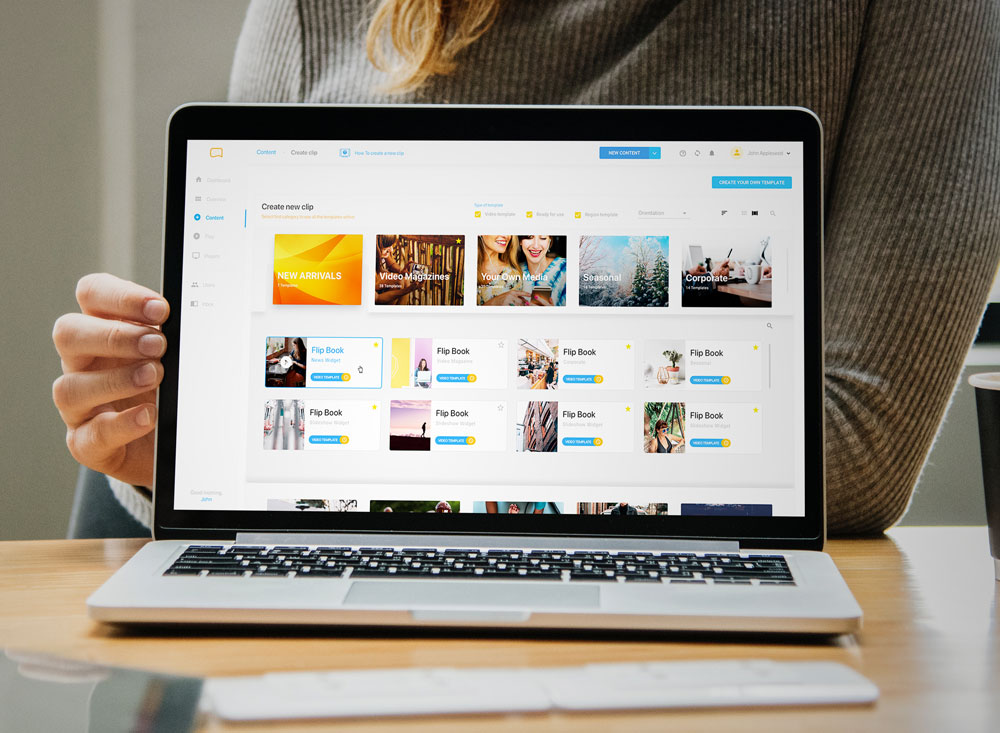 With Easyscreen, we offer a complete solution, so we can help you every step of the way. We can provide you with Digital Signage displays and media players, but also much more. We provide you with content creation and management software with our platform and then we take care of the installation and maintenance of your equipment. 
We are confident that your business will benefit from our digital signage software and support, just as our thousands of customers in many industries do. Try our digital signage software completely free!