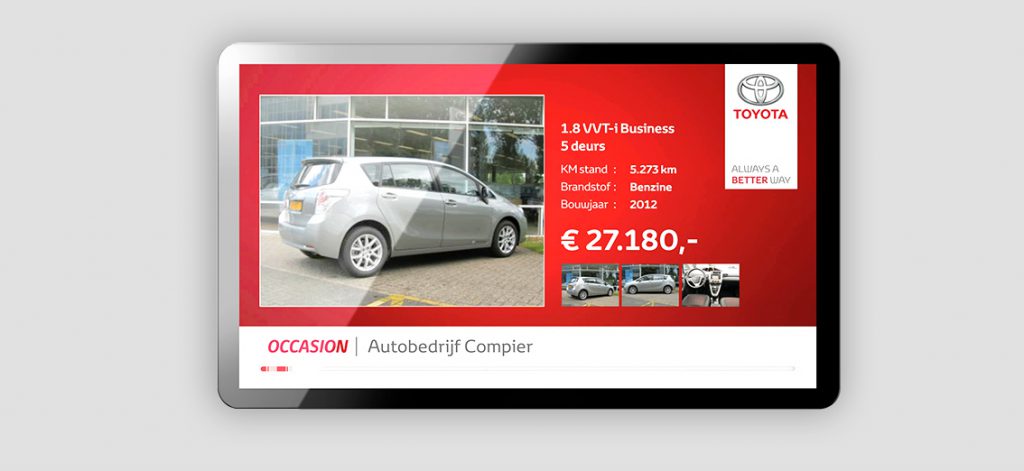 How is digital signage useful to car dealerships?
Digital displays can be put in various locations across car dealerships:
The in-store media insights of more than 100 Toyota car dealerships
Local events make in-store content even more captivating

Mixing fun and utility makes video programs extra effective

Brand experience increased sales and better customer satisfaction
How can we continue to surprise and captivate an audience that is increasingly critical and has high expectations? Toyota brought this challenge to Easyscreen this post outlines how we did it.
Local input mixed with nationwide content
Imagine you are going to your local Toyota car dealership for your car's latest service. You're waiting for a moment and your attention is grabbed by a news story on a nice HD screen. The screen then gives you some tips about winter wheels? and shows another great item… The Badge lottery!
Then, amongst this content, a deal that is only shown by this dealer. It's an offer that captivates you and makes you walk to the service desk to find out more.
Each dealer can easily show its inputs on its in-store media screens thanks to a feature that Easyscreen has developed for Toyota – an easy-to-operate connection of the databases with the signage platform. In each Toyota dealer, there are two screens. In the showroom, a different video program runs on the screen at the after-sales desk. And the content is a mix of rural actions and commercials, with for example the local used cars. They also score super good at Toyota.
"People are stepping into the heart of our brand. That must be a rich experience. "
Besides state-of-the-art technology and design, the quality and variation of the video content are of great importance. The mix of utility and fun is a great success factor for any car dealership. Some entertainment is appreciated, especially when you are waiting. Then you feel at ease as a customer. And you will be engaged in the brand experience pleasantly. This is good for bonding with the brand and sales, too.
What does your audience need for more engagement?
How can we make your indoor media engagement successful? We are happy to put all our skills into your brand and answer that for you and improve your in-store communications. We have knowledge and expertise in the field of tech, content, and design. Everything is easy to understand and fun to work with.

We always go for the WOW effect.
Lexus: Showroom Animations
CONCEPT DESIGN, CREATION AND ANIMATION
We just love customers like Lexus that trust our creativity and let us create a video animation. From concept design and scripting to animation and voice-over – we took care of it all for this automobile industry-leading manufacturer.
Lexus thought that the result was awesome. Exactly the reaction we always aim for and achieve.
Tell us your story and we'll translate your message into an animation that captivates your target audience – just contact us. You too can have animations like this on your digital signage displays.
Easyscreen: One-stop-shop Digital Signage in Car Dealerships

Here at Easyscreen, we are a one-stop-shop. So we can help you every step of the way. We can provide you with your digital signage displays and media players, but also much more. We supply you with our platform's content creation and management software and then take care of installation and maintenance.
Want to know more about digital signage? Read our full guide to digital signage
Free Digital Signage Software Demo
We are confident that your company will experience the benefits of digital signage with our software and help, just like our other customers across many industries already do. That's why we offer a free trial.