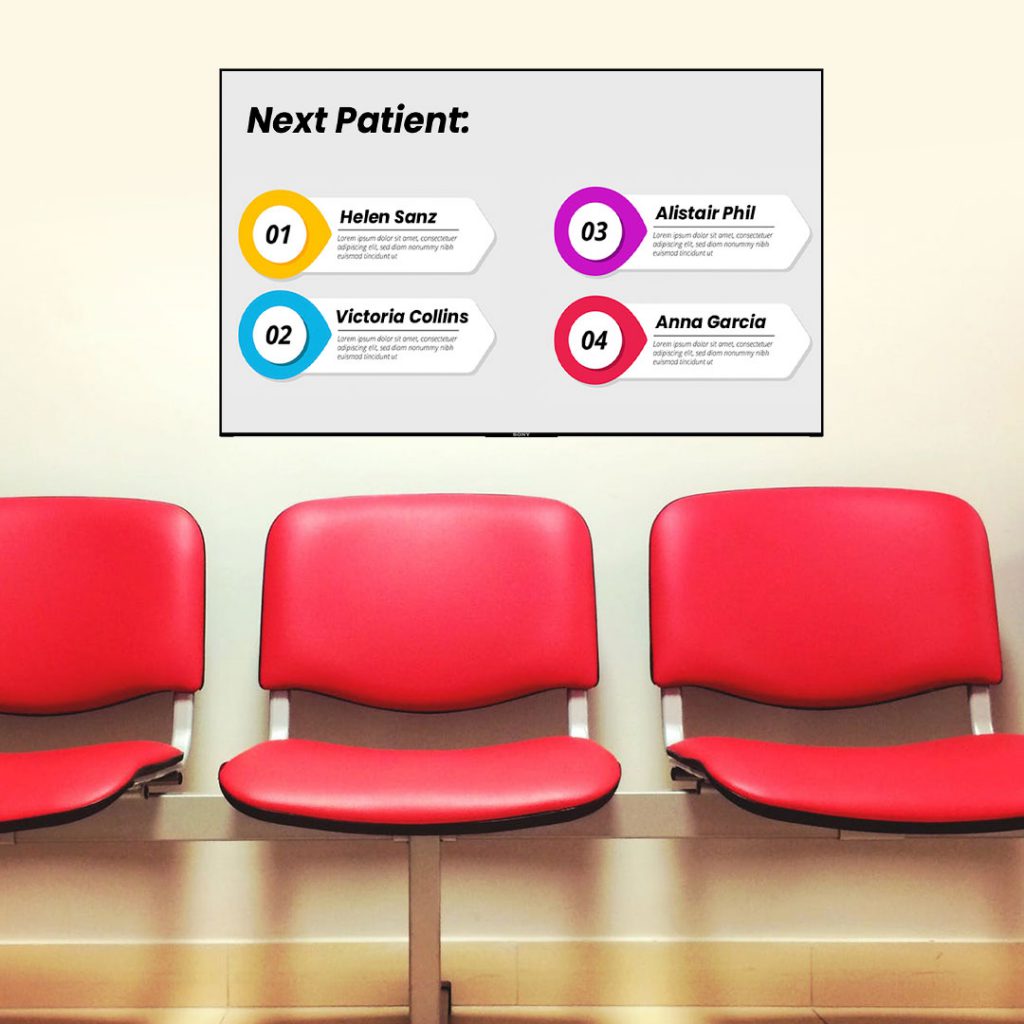 Before you say goodbye to the printed leaflets and the rack in your waiting room altogether and permanently switch to digital signage in your practice, you'll want to know exactly why digital waiting room displays are the ideal way to enhance your patients' waiting time. In this article, you can read all about waiting room TV software and digital displays in healthcare.
We're always waiting… especially in healthcare.
Do you know how long each of us will wait throughout our lives? Don't be alarmed, but research shows that, on average, we spend 607 days of our life waiting! At the cash register, on the bus, in front of a traffic light or on the train. None of these can be compared with the waiting times in healthcare. The waiting time for an appointment with the doctor, the physiotherapist or the veterinarian is long and tedious. The consequences of which are unfortunate for patients and visitors.
Visitors don't know why they have to wait.
Visitors experience the waiting time, in your waiting room, as an outright waste of their valuable time. This is because visitors often don't know why and what they are waiting for. They have no understanding of the situation and no understanding of the situation. This is why so many healthcare providers are looking for a way to make the waiting time as pleasant as possible.
Let the time fly by with digital signage.
Take it from us: you don't have to be an entertainer to provide a waiting room experience your patients like. With a good digital signage system and the right software, you can create a relaxed atmosphere. You can inform, entertain and advertise in a place where your audience is ready and waiting for relevant content: your waiting room. Digital signage is a powerful medium that alleviates waiting time and, at the same time, communicates efficiently with the people who matter: your visitors. With one or more screens, the right software, and the right content, time simply flies by.
Invest in digital signage, your customers are waiting for it.
With digital signage in the waiting room of your practice, you make waiting time-quality time. Digital signage enables you to provide useful, targeted information in a relevant environment.
Digital signage performs as a useful service in these cases. With the right software (links and widgets), digital signage is the ideal medium to explain to visitors information about your practice, provide information about products, procedures, opening hours and treatment methods. So far, we've heard about the theory. So how do you put digital signage into practice?
Or rather, into your practice?
Waiting Room Digital Signage
Entertain, inform and direct; Three things that immediately improve the climate of your waiting room. It doesn't matter if you are a physiotherapist, veterinarian, dietitian, speech therapist or acupuncturist, anyone can handle digital signage. Use digital signage in the waiting room of your practice to:
To alleviate the waiting time: Entertain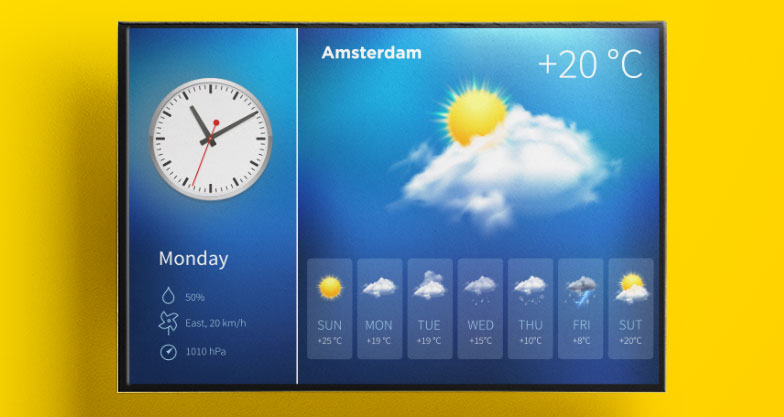 With the right software, it's easy to ensure a balanced mix of national news, weather reports, local events, and relevant information such as the arrival and departure times of public transport. Combine it with information about your practice (opening times, treatment methods, visitor experiences, and announcements). We know from experience that people waiting prefer to see a mix of entertainment and news. With one or more digital signage screens in the waiting room, you reduce the perceived waiting times and increase visitor satisfaction.
To communicate why: Inform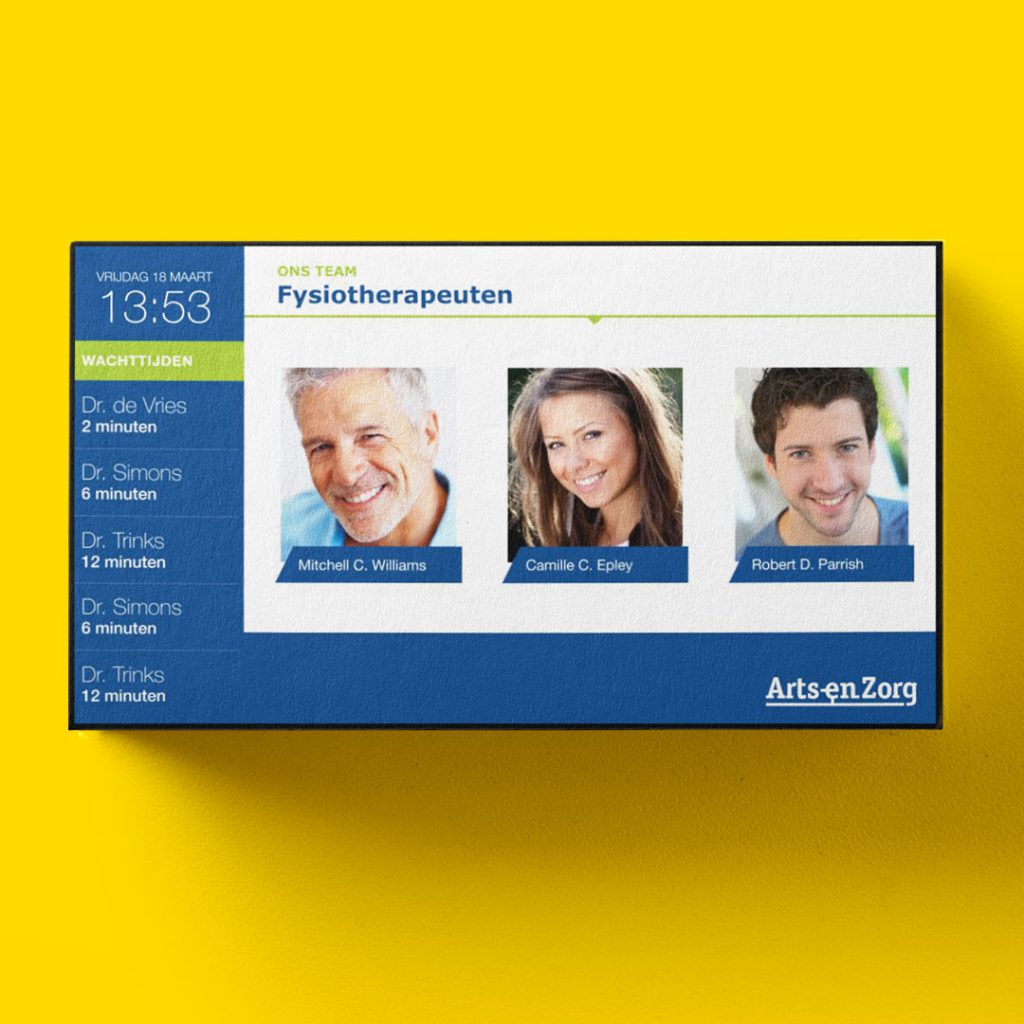 If people know what they are waiting for, then there is more understanding of the situation.
A digital sequence number system offers a solution. It's easy to use and forms a logical part of the information on the screens. Thanks to the right digital signage software, you have total control over waiting times and waiting room logistics. The system can be operated by several employees and displays the real-time situation for those sitting in the waiting room.
To point the way: Direct
Finally, it's your turn and now you don't know where to go. It's double the bad luck. Double the irritation. Inform visitors in advance where they need to go by linking the digital number system to the treatment room number. Showing who is treating patients gives them peace of mind. For large practices, it pays to place screens next to or above the door of the treatment room. Then everyone can see where they should be. If you'd like to make a particular visitor feel welcome then add a personal welcome message to a screen at reception.
Easyscreen: One-stop-shop Digital Signage Software

Here at Easyscreen, we are a one-stop-shop. So we can help you every step of the way. We can provide you with your digital signage displays and media players, but also much more. We supply you with our platform's content creation and management software and then take care of installation and maintenance.
Want to know more about digital signage? Read our full guide to digital signage
Free Digital Signage Software Demo
We are confident that your healthcare facility will experience the benefits of digital signage, just like our other customers in the healthcare industry. Sign up for our free demo to get started today in just a few clicks.