You have of course read all about digital signage. It'll come as no surprise to you that digital signage is becoming more popular every day. This makes sense given the endless applications. Plus, anyone – large or small – can start straight away with digital signage. An good digital signage solution (user-friendly software, the right media player, screens) you are ready to reach a large audience.
What can you do with Digital signage?
A lot. The possibilities are endless. Get it right, and you can't beat the results. The size of your company has no impact on the possibilities digital signage offers. First, make sure you know exactly what you want to achieve from your digital signage. Always place your audience first. Are they in a hurry? Put them at ease with current travel information. Do they want to know how something works? Provoke them with a demo video of your product. Do they need to wait? Ease their wait by entertaining them with news, a quiz, or a video. Digital signage works with you to deliver satisfied customers and build the image of your business.
What are the advantages of digital signage?
Digital signage is suitable for both large and small companies

Create your playlists. You have control.

Respond quickly to news & current events

Attract attention and keep it

Digital signage gives you a low cost way to reach a large audience

It provides up-to-date information, the hassle of printed posters and flyers is a thing of the past.

Digital signage is suitable for advertisers and sponsors
To deliver the potential of Digital Signage it's important to have the right hardware and choose user-friendly software. It pays to be informed up front.
Some examples of successful digital signage
Let's start with applications for external communication. This is all about the experience. With digital signage for your external communication, you stand eye to eye with your audience in any environment.
Healthcare: waiting will be fun again with digital signage.
If there's anything that is waited for, frequently and for long periods, it's in the healthcare sector. Hospitals, pharmacies, general practitioners, and care centers can no longer do without digital signage. Digital signage provides entertainment and information for the waiting room. An integrated sequence number system ensures efficiency. Thanks to user-friendly software and useful widgets, everyone, including the receptionist, can be able to operate the digital signage system.
Education: A textbook example of digital signage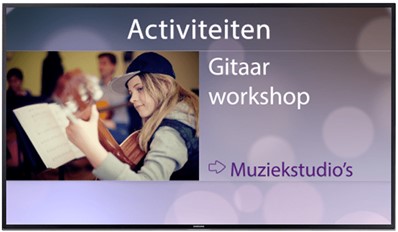 Wouldn't you like to communicate with large groups via digital signage? If so, then take a look at the education sector. Various national educational institutions use digital signage to provide information to large groups of pupils and parents. Simple enough for a child to use, yet quick and effective enough for your administration or communication team to master. Various locations can be controlled from a central dashboard. Sudden changes in the timetable, directions to classrooms, the announcement of a parents' evening, and study days, are quickly and easily communicated via digital signage. Just like public transport arrival and departure times: thanks to the screen information, everyone knows where they should be and what to do.
Digital signage in retail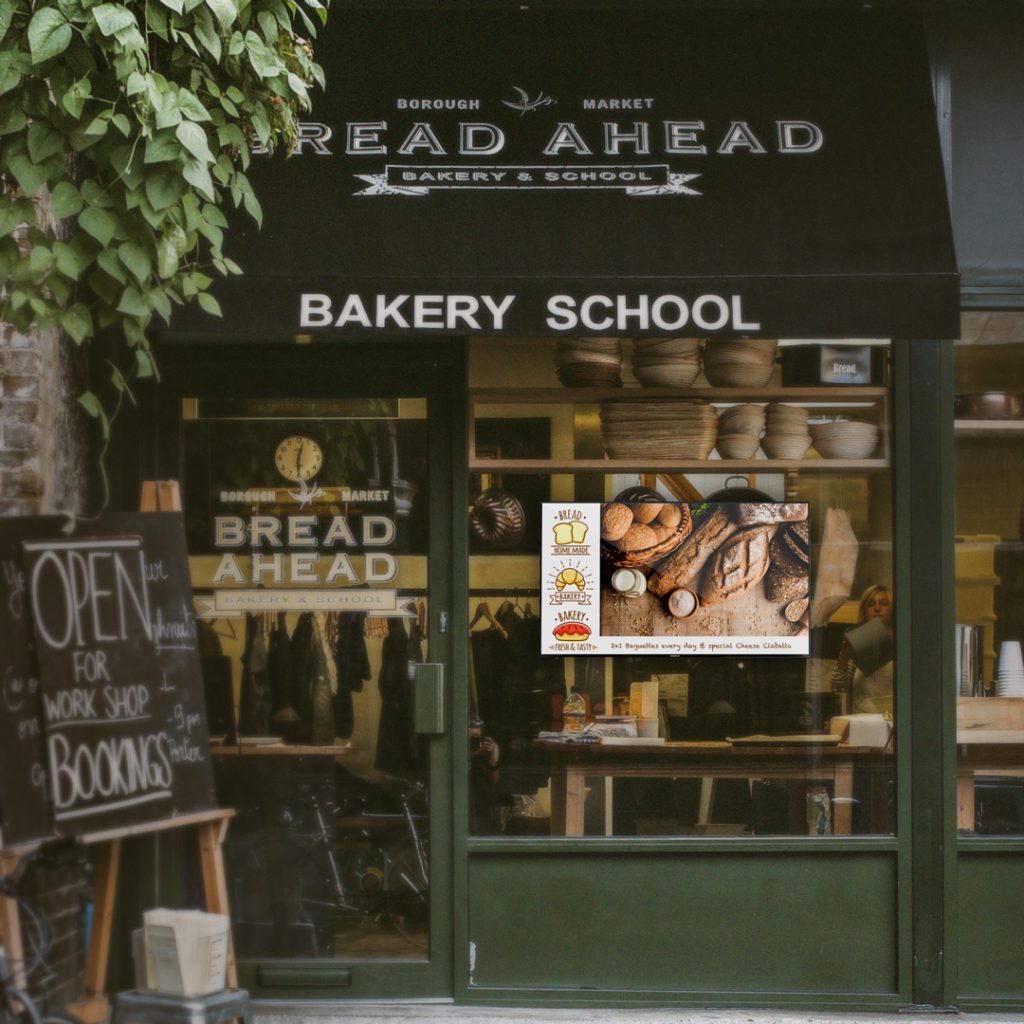 Digital signage is also an indispensable part of Dutch retail. From the supermarket to tobacco shops and from fashion chains to shopping centers: digital signage makes shopping a better experience. In the driving seat and control, you can immediately respond to events. Meanwhile, pre-set playlists provide an automatic flow of information. Link your social account to digital signage and allow your customers to enjoy your likes, shares, and thumbs up in real-time. Boost the atmosphere (and your turnover) by displaying cool videos during quieter hours. It's also a great way to increase your reach. Highlight key stock items via your screens and sell more. Need to grab people's attention? With a screen in your shop window, you'll catch their eye! Looking for passing trade? The display offers on your screens and shows what's going on inside!
Digital signage in Catering: a welcome guest
Digital signage has won a permanent place in the Dutch catering industry. And that is not without good reason. It's a sign of good hospitality to serve guests with entertainment, information, news, and current traffic information. Customers not only appreciate it, these days they expect you to inform and entertain them. So grab your chance. Here's your opportunity! With live TV you can transform your location into a stadium and include your promotions: primetime on the big screen! Pamper your guests and provide a personal welcome or display menu suggestions for them. Every space is an opportunity. For example, large brands have now found their way into bathrooms
Great for internal communication!
Did you know that digital signage also makes an important contribution to your internal communication? It ensures employees' enjoyment. Employees want to take the extra step because they know what's going on. Share the latest presentations, link social media channels, and show what's going on online. Give your customer satisfaction (NPS) a figure or communicate your targets (KPI). Or put your employees in the spotlight with a specific message. Complicated? Nope. Thanks to user-friendly software, you can switch at lightning speed. Using widgets and links, information automatically streams onto the screens. Our user-friendly software allows your receptionist, communications, or HR employee to easily keep all the information up to date. Internal Digital signage within companies is perhaps the most effective way to engage employees efficiently and sincerely.
Digital signage gives you higher impact, greater reach and more possibilities.
Even as you read this, new digital signage applications are being developed. The possibilities with Digital Signage now extend far beyond a few screens behind your counter or in your waiting room.
Smart video walls generate a huge impact. The new generation of outdoor screens lends themselves perfectly for brand messages and spectacular video applications.

Window displays now have exceptional light output, so you can make a perfect impression indifferent to the environment or circumstances.

Do you want it smaller? Tick. Communicate via on-shelf screens and between shelves. It is a trend that catches the eye: digital signage via mini-screens on the shelves that communicate at the point of decision and point of sale.
You can see for yourself, digital signage is here to stay. It is a full-fledged media option that continues to develop, offering more and more opportunities and potential across sectors. 
Which application will you win with?
Have you thought about using digital signage? Our tip: make the right investment by informing yourself well in advance. Make a plan. Choose user-friendly software, a good media player, and the right screens. And perhaps most importantly: find the right partner who will support you best.
Easyscreen: One-stop-shop Digital Signage Software

Here at Easyscreen, we are a one-stop-shop. So we can help you every step of the way. We can provide you with your digital signage displays and media players, but also much more. We supply you with our platform's content creation and management software and then take care of installation and maintenance.
Want to know more about digital signage? Read our full guide to digital signage
Free Digital Signage Software Demo
We are confident that your company will experience the benefits of digital signage, just like our other customers across many industries already do.