Digital Signage solutions are a new trend in online marketing, which allows companies to communicate to users a series of messages that are managed automatically. Have you heard of dynamic advertising? Do you know how to use it? In this post, we tell you everything you need to know about it…
What is dynamic advertising?
Dynamic advertising includes those ads that are played through Digital Signage screens in a specific place. It can be indoor or outdoor advertising. This commercial resource is ideal because it allows companies to plan digital content through  multimedia templates according to different factors, such as times, days, or different promotions, among others.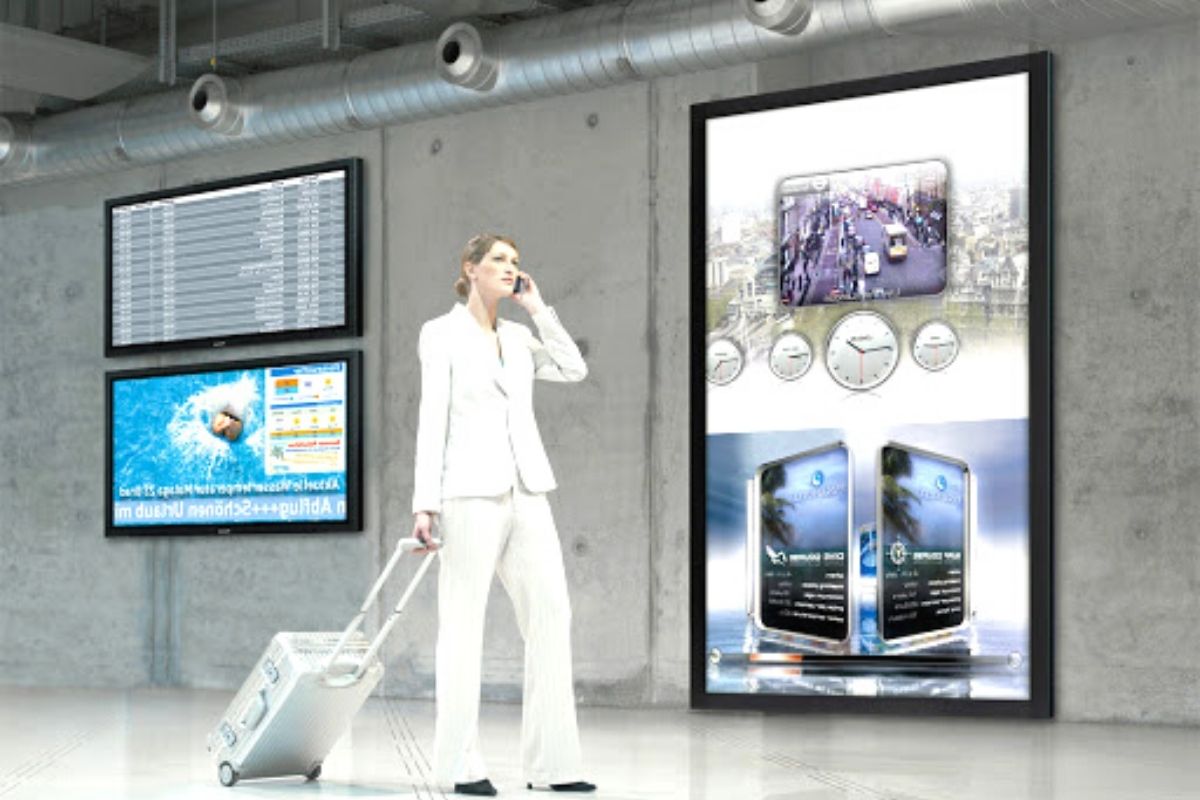 It uses digital screens to publicize certain products, offers, or promotions; within the dynamic advertising it is important to note the following types:
Outdoor dynamic digital advertising
This is the advertising that you usually find in public spaces with large crowds of people. For example, the video wall screens in the plaza de Callao de Madrid. It is also very common in bus stations or gas stations. These dynamic advertising campaigns usually involve a high investment but, in the end, they offer impressive visibility.
Indoor dynamic digital advertising
Its investment is lower than outdoor dynamic advertising through LED screens for business interiors, which makes it ideal for small and medium businesses. In addition, it is highly recommended because it influences consumer decisions at the point of sale, which makes conversion higher.
How dynamic digital advertising is used in commerce
Dynamic advertising is highly recommended because it helps to give greater visibility to your business and, at the same time, to build customer loyalty. This marketing strategy allows you to explain to consumers why they should choose you and show your main qualities.
Factors to take into account
The first thing to take into account when it comes to dynamic advertising is the target you are going to address; in other words, you must first know which sector you want to send your message to.
Another factor to consider is the space in which you are going to include your message; the most common is to do it in public transport stops, shopping malls, airports, or stores, among others, as they tend to capture the consumer's attention better.
Benefits of dynamic advertising
Dynamic advertising, unlike traditional advertising, adapts to the space and time of the consumer, which makes them feel more identified and attracted by the message. Here are the main benefits of using digital screens for advertising in your company:
Saving time and money: your entire marketing strategy is created on a single screen, so you don't have to print large banners to place them in different areas; in addition, if there are any errors, you can fix them quickly.
Different formats

: you can include text, images, videos, music, and anything you want, both horizontally and vertically.

Interaction

: one of the great advantages of digital advertising is that it allows a greater relationship between the company and the users, which makes it a much more attractive marketing strategy for your potential customers.

Retention of the message

: according to different studies, dynamic advertising is retained by 90% of users, which means a higher impact rate and more sales possibilities.

Updating

: dynamic advertising allows you to modify the content of messages at any time, from anywhere, quickly and efficiently.
Dynamic or print advertising?
Although print advertising can be saved and reproduced on other occasions, dynamic advertising allows for greater updating and attracts more attention than traditional advertising; moreover, it is better adapted to the needs of companies.
Similarly, audiovisual messages are more effective and allow information to be conveyed better than using a photograph or a fixed text; in other words, this advertising is the best solution to increase a company's revenue, although it involves a higher initial outlay.
Examples
When you go for dynamic digital advertising, the most common is to create synergies to give dynamism to the facilities and monetize its structure; here are the main types that are usually found:
Big brands give up their screens: it is very common in stores or supermarkets where the owners show ads of the brands that can be found and purchased in their business.
Small companies looking for screens: some companies may want to bet on dynamic advertising to sell their products but, in this case, they do not have screens or areas of influence. In this case, it is best to go for projectors of companies in the sector or located in spaces where the products or services of the business can generate interest.
In short, this type of advertising is a marketing strategy that plays several ads through a digital screen located in a certain place. Therefore, if you want to sell your products or services, reaching a greater number of people, it is best to bet on this digital advertising strategy.