ENGAGE YOUR AUDIENCE WITH DIGITAL SIGNAGE
Easyscreen helps you to unlock your full potential. We give you all the tools you'll need to get started with digital signage in one place.
We even offer a free software demo.
try it free for 14 days
Trusted by over 5,000 international customers
---
We provide digital signage to shops, universities, schools, theaters, hospitals, gyms, restaurants, cafes, offices and more.

The benefits of using Easyscreen for your digital signage
---
How a partnership with us will impact you, your audience and your business.
Engaging Experiences
Customers, students, employees, visitors and other audiences will share value-driven experiences with your business or institution. They will be given engaging and informative content that brings you closer together.
Increased Conversions
The power of your digital signage can help convert your audience into completing desired behaviors. This includes on-the-spot conversions and the formation long-term loyalty through improved experiences.
Reliable & Proven Services
We have 20 years of experience and one of the largest support teams in Europe. We'll ensure your business has a smooth and effective experience with digital signage, just like our thousands of other customers.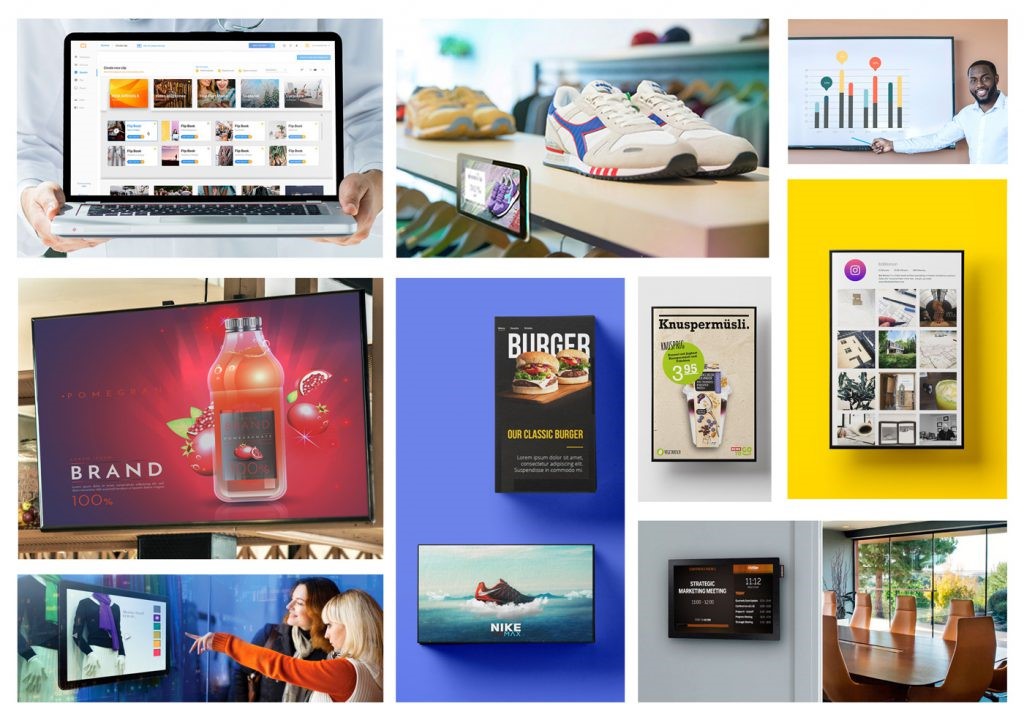 Competitive prices, Innovative features.
---
Our user-friendly software platform has everything you need to create the best content and to easily manage your digital signage at an affordable price.
digital signage pricing

Not all software is the same.
---
We designed our software platform with you in mind and have stuck to three key principles.
• It must be fun to work with.
• It must be easy to understand.
• It must create a WOW effect on screens.
By following these principles, we created a platform that contains innovative tools and features, but is simple enough for anyone to use.
Software features
---
Create new content from scratch and templates

Drag and drop clips into playlists

Choose where and when each playlist is shown

Manage players and player groups

Show multiple content on a screen at once

Flexibility and control to be your own creator
Software, Hardware and Maintenance
---
Digital signage requires more than just software. We've got it all covered.
Start your digital signage demo. It's free!
---
Get the demo in seconds to experience how easy it is use Digital Signage
Test our compelling digital signage software completely free of charge for 14 days.
Our one click solution comes with simple content creation tools, complete playlist management and an extensive library of high quality images and templates.
[contact-form-7 title="" id="none"]
Click the button
You'll be sent to a page where you'll fill out a form that requires only a few details including your email
Receive an Email
We'll then send you an email that contains your username and password for our software platform
Log-in
You can use the log-in details to get instant access to our software platform
Start Creating
You'll then be able to use our software for free for 14 days, where you'll be able to take advantage of and test out our content creation and management tools