What is Digital Signage?
Digital Signage is a growing visual communication medium that transfers information through controlled digital LED screens connected to a private television channel.
In contrast to open broadcasting, Digital Signage is used to effectively target specific groups of people at certain times and locations with personalized information and entertainment.
You can use Digital Signage to attract and entertain your customers, communicate news or offers, make their wait more pleasant, and much more!
Discover all we can do for you with Digital Signage:

Easily manage multiple locations
Easyscreen is part of Fairview, an innovative company that creates, developed, and maintained digital media since 1999. Fairview provides digital signage to over 80 national and international chain companies and thousands of branches in virtually every field imaginable.

Player groups for specific content
Businesses with many facilities/premises can create player groups with Easyscreen. This allows you to adjust the program for the entire group. You can customize your ad content based on a specific product to a selected store.

Automatic and custom-made Digital Signage software
Another unique feature of Easyscreen software is that it assigns a keyword (tag) to a clip. Think of keywords as 'Sunday shopping', 'vendor ads', 'promotions' or 'entertainment'. You can then link these keywords to one or more media players so the players and clips are automatically linked to this tag. Easyscreen then creates a custom program without the need to manually add clips to the playlist.

Required clips
Several people working for franchises, chain branches, and independent offices can create clips (using a pre-existing template) and adapt playlists.
At the same time, several clips can be added to the playlist for each branch. These clips are called 'mandatory' and automatically appear in the playlist. The branch itself can create and add its clips, resulting in a managed mix of central and local clips that always remain true to the brand identity.
Suitable for any location
Easyscreen is perfect for companies with several branches with the advantages of optimal speed, flexibility, and overall control.

Personalized Digital Signage
Our Digital Signage platform offers a wide variety of ready-to-use content. Most of which can be designed to match your identity. However, if you want something unique and specific, we can help you. Contact us and together with the design team, we will create something beautiful.

Digital Signage for entertainment and news
Keeping your Digital Signage program up to date has never been easier with our digital entertainment content videos. Our editors regularly update the content or it is automatically updated through trend topics on YouTube and other media. In addition to entertainment, we have an extensive library of news widgets with national and international news.

Templates with pre-designed styles
Creating professional content is easy with our pre-designed styles. Each style contains a variety of beautiful video templates and widgets that you can use to create a diverse and complete channel. And what's even better, you can customize all styles to match your corporate identity.

Connect from everywhere
Let your social audience come alive on your screen. We have integrated the most popular social networking channels and are constantly working to expand our offering.

The missing link
Our signaling platform is designed for connectivity and connections are built-in. But if you are missing something or need a specific connection we can build it so you are always connected.

Upload your own digital files
Display your content with the pre-designed templates. Use images, videos, PDF files, PowerPoint presentations, or YouTube videos. You can upload the files when creating the templates and quickly schedule them for immediate viewing.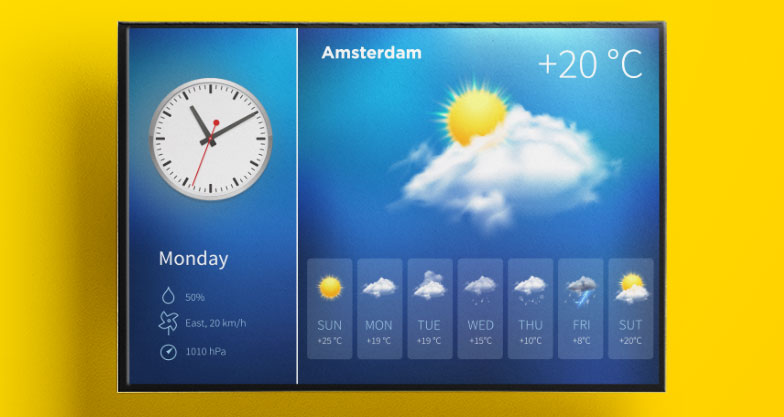 Weather forecast content
In our Digital Signage platform, you can access the weather forecast, picking England or any other country. Place the widget on the screen to show the weather in the region you want.
Visit the hardware page for more information.
Would you prefer to visit us personally or call us?
You can visit our office from Monday till Fridays between 09:00 AM and 17:30 PM.
Telephone: (+34) 930 316 046
Email: ventas@fairviewcorp.com
Address: Calle Germans Maristes 08 bajo, 08870 Sitges (Barcelona)