Surely, you've thought about using printed posters to promote your products or services, and perhaps that's even the reason you ended up in this article.
However, have you ever thought about using Digital Signage? If you want to know more about this advertising method that does not involve printing costs, it can be updated instantly and will make you create captivating content for your audience…keep reading!
What is Digital Signage?
Digital Signage or narrowcasting is the advertising method of 2020. It is a growing visual media used to transfer information through controlled digital LED screens connected to a private television channel.
In contrast to traditional signage, digital signage is used to effectively target specific groups of people at certain locations and times with personalized information and entertainment.

How to use Digital Signage?
You can use Digital Signage in your business for your content marketing, that is, to attract and entertain your customers, communicate news or offers, make their wait more pleasant and much more!
Today, some companies offer specialized software that allows you to create, manage and share content on screens, in multiple locations, in a completely remote and easy-to-use way. This software connects to your screens.
You can use pre-designed video templates and special widgets to create content in easy steps and then share it in all your stores instantly with our Easyscreen software.
Related:

How does Digital Signage compare to traditional printed posters?
Both methods have their advantages, but we can see that the advantages of digital signage outweigh those of printed posters. In the following chart you can see a comparison.
| | | |
| --- | --- | --- |
| Details | Digital Signage | Printed Posters |
| Location | Multiple locations | Multiple locations |
| Updating the content | Online, anytime, anywhere | To update it, it must be reprinted and placed in the location |
| Programming of the material | Yes | No |
| Adjusting the material for the audience | Yes, it can even be adjusted by time and location | Only one audience can be chosen |
| Live video | Yes | No |
| Flexible text | Yes | No |
| Update frequency | Instantly, when needed | Days |
| Costs | At first the cost is higher, if you do not already have screens, but in the long run it is cheaper, because it is only done once | Repeated printing costs, every time you have to change the posters |
You know it! Forget about printed posters.
Then, at the moment of choosing, you already have all the data to choose what best suits the needs of your business. If you want to know more about what digital signage is and how it works, you can see it here.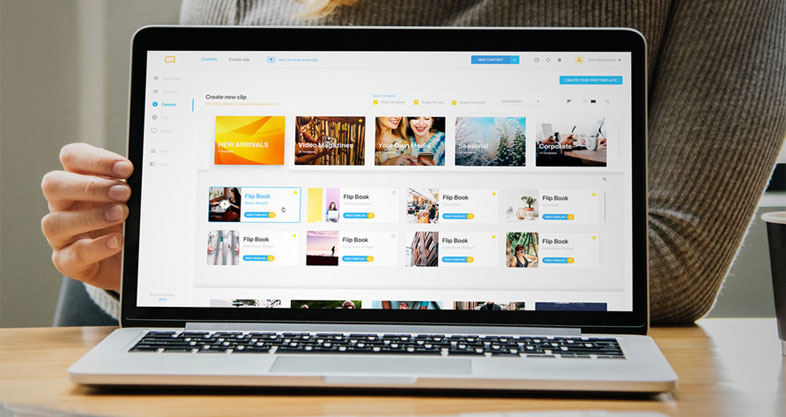 Easyscreen: The Digital Signage software for your business
At Easyscreen, we are a complete solution, so we can help you every step of the way. We can provide you with screens for Digital Signage and media players, but also much more. We provide you with content creation and management software with our platform and then we take care of the installation and maintenance of your equipment.
We are confident that your business will benefit from Digital Signage, with our software and support, as do our thousands of customers in many industries. Try our Digital Signage software completely free!