Queue management system with digital signage

Queuing management system
Do you have a space where people have to wait in line? With the Queue Management System, you can show on screen who's next in turn.
Your visitor takes a ticket from the ticket dispenser at the entrance. Using the Queue Status information, you can show who's next with a simple click on a keyboard at the desk.
[contact-form-7 title="" id="none"]
These are some of the top brands that trust in us
How the queue management system works
Using digital signage screens and a queue management system saves communication time and connects the visitors to your institution or company.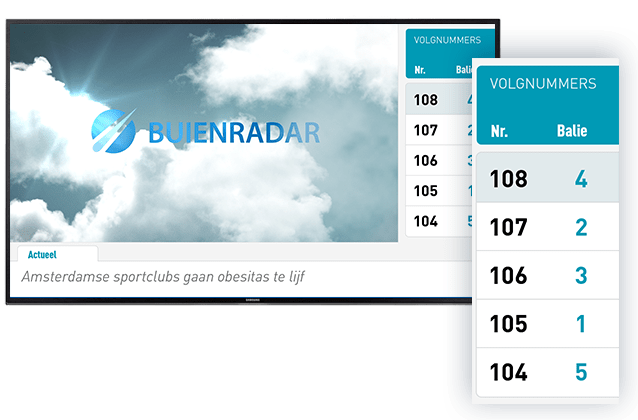 This keyboard is connected with the media player and has three different buttons. The purpose of these 3 buttons are:
- Button #1: Increase the number on the screen with 1
- Button #2: Increase the number on the screen with 10
- Button #3: Reset the numbers to zero.
Numbers go from zero to 99 and will start again at zero after the number 99.
Options to display numbers on screens
There are 2 options to display numbers on the screens:
- Fullscreen: number covers the whole screen like a pop-up if a button is pressed and disappears after 5 seconds. If the sound is activated on the screen, the notification will also be heard while changing numbers.
- Fullscreen at the notification and fixed at the bottom of the screen: the number covers the whole screen like a pop-up if a button is pressed and disappears after 5 seconds.
Afterward, the number will be shown on the bottom right of the screen. The screen shows the content of the playlist and continues as long the number will not change. You can search within our library to personalize one of our available templates with your information.
We now offer 3 common Queue Management systems: Comsysco, Qmatic, and Apotheek Partners.
If you use Apotheek Partners for the Queuing Management System, you will also see the waiting time per customer below the ticket number.
There is a possibility to have it in your own corporate branding or to set custom colors.
Queue management system with QR code
Avoid visitors having to touch anything by using our queue management system with QR code. This system gives the possibility to open a webpage on your smartphone on which you can request a number for the queue. Employees can manage which number is next in turn from the desk. See the details of how it works in the image on the right.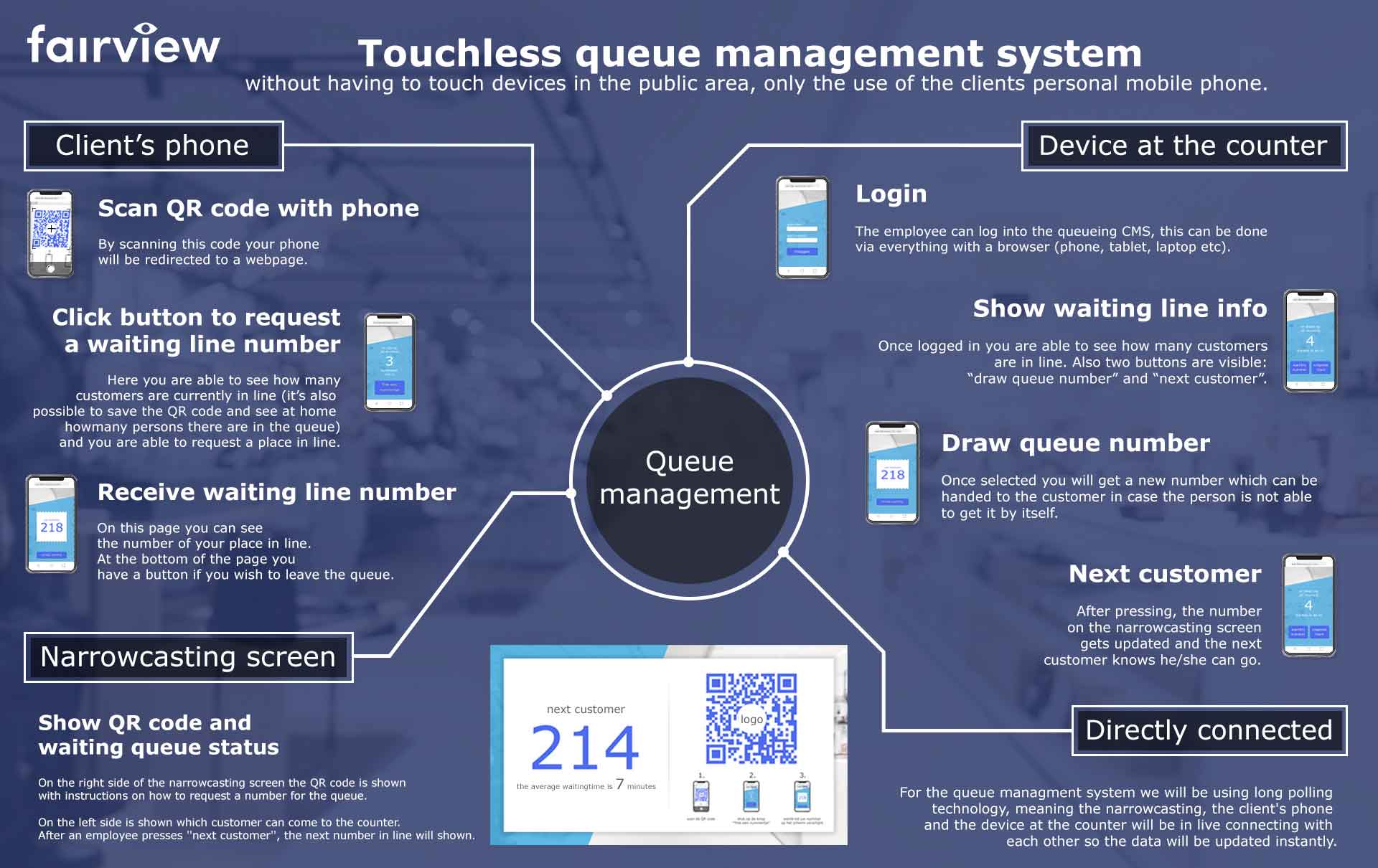 We are committed to your success
Our team has over a decade's worth of experience helping other businesses like yours use digital signage and queue management system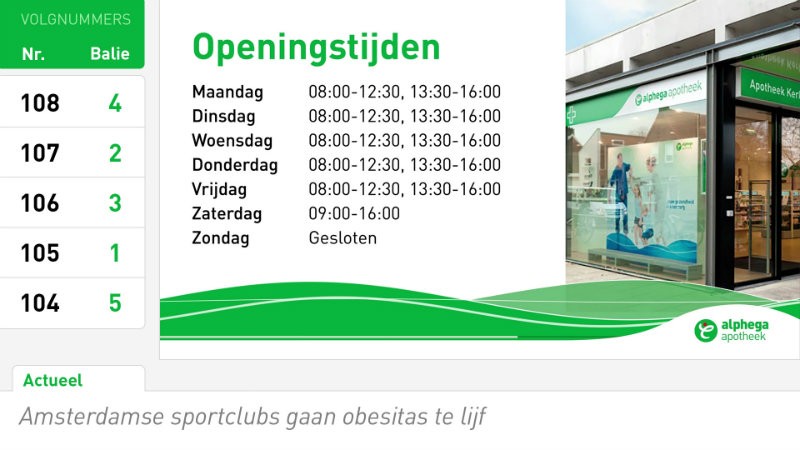 Quick and easy 3-step set up
All you need is an internet connection. We'll provide you with our media player and Easyscreen software.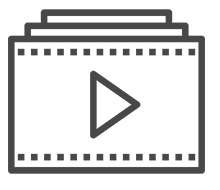 1. Dynamic creations
Login to Easyscreen's digital signage software platform and create your content by choosing from our variety of ready-to-use templates, apps, and widgets. Customize it with your logo, colors, information, and media, or start from scratch and upload your own content.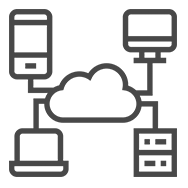 2. Display compatibility
Plug your media player into your display. All of our devices easily connect to any size HD screen, TVs, or even projector walls.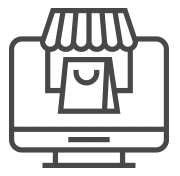 3. Multiple locations
Schedule content to one or more displays across multiple locations thank´s to our dynamic playlists. You´re in control over your screens and can even do so remotely.

"We have used digital signage with Easyscreen and it's easy and fun! Our visitors are informed and organized in an attractive way."
Start your digital signage demo with the queue management system. It's free!
You'll love our easy and sleek user interface with facilities. Our one-click solution comes with simple content creation tools, complete playlist management, and an extensive library of templates.
Test our compelling digital signage software completely free of charge for 31 days. We'll send you an email with your username and password, then you just need to log in and start browsing.
[contact-form-7 title="" id="none"]