Digital Signage for Education
Easyscreen is a plug and play digital signage software platform that allows education centers to display useful and inspiring content on any screen, anywhere and in no time at all and involve large groups of students, individual students, parents, visitors and teachers in the daily routine at school or university.
[contact-form-7 title="" id="none"]
We are already trusted by top brands
Grow your engagement with less effort
Attract your audience and empower your business with Easyscreen's digital signage software. With relevant information about class schedules, local occupation and events, with just a few screens in strategic locations you can use guides to meeting planner; from public transport information to social media.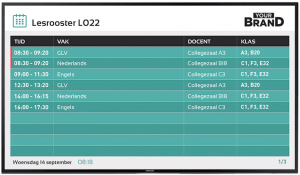 Always an up to date schedule. Changes to the schedule? A lecturer sick?
From now on you can communicate this information on multiple screens.
Link the timetable to the Easyscreen digital signage system and let the technology do the rest.
Wayfinding TV
Point your visitors in the right direction and improve their visitor experience. A pleasant school environment starts as you enter.
With Wayfinding TV, you use digital signage as a form of dynamic signage within the building. It makes an important contribution to the smooth movement of large groups of visitors.
Full service with affordable hardware
We use a range of professional and affordable screens and media players that have an easy set up procedure and use technology that is advanced and proven. We tested the options and chose the best hardware for you.
Needing to constantly update information manually is now a problem of the past
Digital signage software gives you templates that can incorporate an XML feed. In other words, you can show content with information that gets updated automatically and from sources of your choice. This is a great way to involve large groups of students, parents, visitors and teachers in the daily routine at school or university. You can also connect your digital signage to internal data. Internal communications can also be improved: show meeting room schedules, motivational content and wayfinding, among other things.
Quick and easy 3-step set up
All you need is an internet connection. We'll provide you with our media player and digital signage software.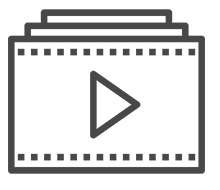 1. Dynamic creations
Login to Easyscreen's digital signage software platform and create your content by choosing from our variety of ready-to-use-templates, apps and widgets. Customize it with your logo, colours, information and media, or start from scratch and upload your own content.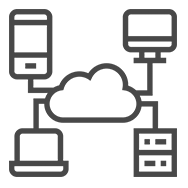 2. Display compatibility
Plug your media player into your display. All of our devices easily connect to any size HD screen, TVs or even projector walls.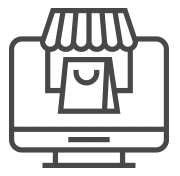 3. Multiple locations
Schedule content to one or more displays across multiple locations thanks to our dynamic playlists. You´re in control over your screens and can even do so remotely.
We are committed to your success.
Our enterprise team has over a decade's worth expertise helping schools and universities like yours realise digital signage projects.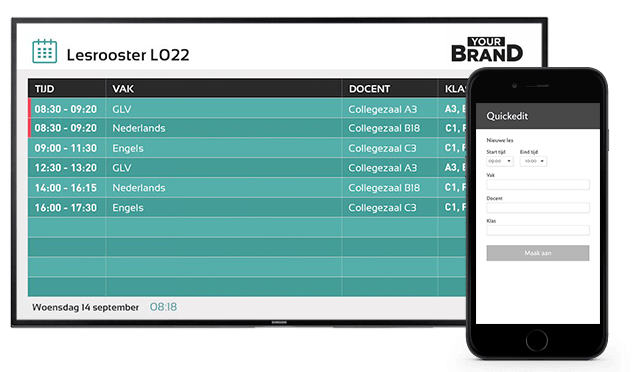 QuickEdit
We can't make it easier than this. Changes to the timetable? An important communication? Thanks to the unique QuickEdit function, you can quickly and easily adjust the information via a Smartphone or PC. No login. No hassle.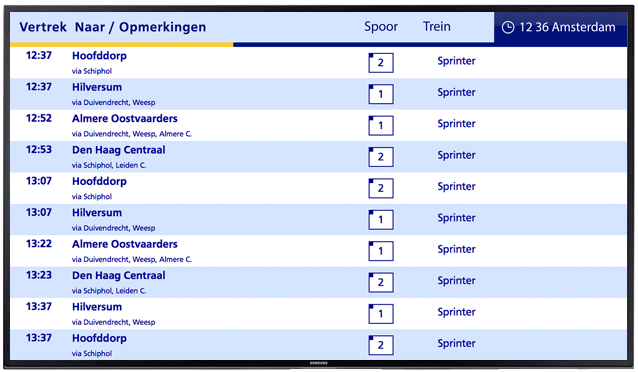 Transport departure times
Never again miss your bus or train. Increase convenience and reduce waiting times for teachers and students.This handy widget shows public transport arrival and departure times to and from the relevant location.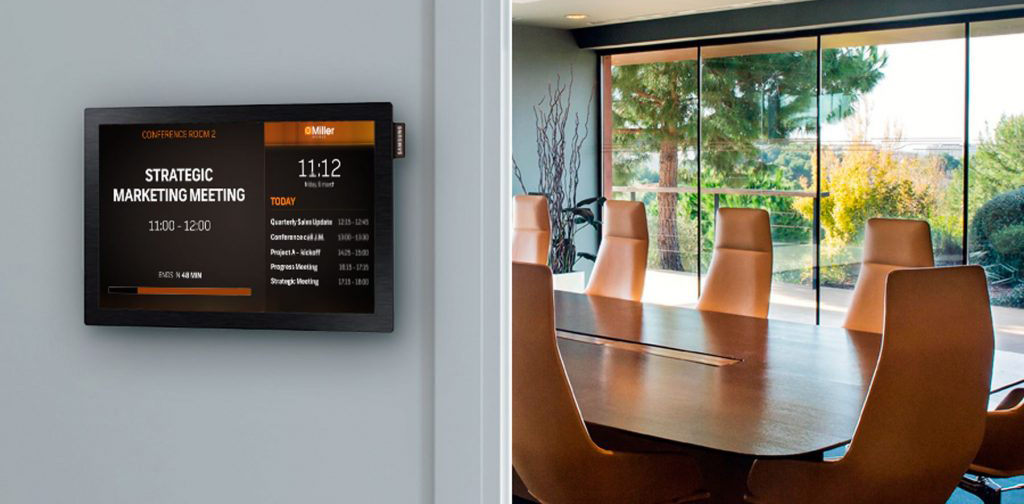 Meetingroom TV
No more hassle about the occupation of meeting rooms. Meetingroom TV ensures that everyone can see where they should be - at a glance. With Meetingroom TV from Easyscreen you can link the central agenda to the different meeting rooms and salons. Making sure you avoid double booked rooms and lost guests roaming the building.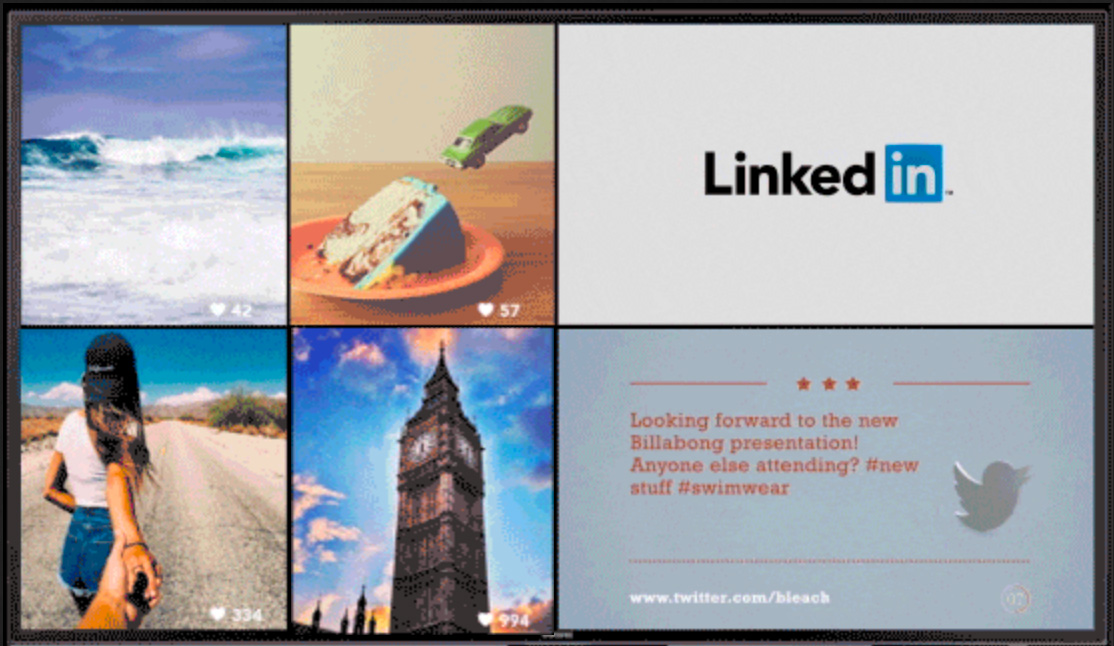 Social Media TV
Do you want your posts, likes and shares on digital signage? With Social Media TV you can easily integrate all of your social media channels, such as YouTube, Facebook, Pinterest and Instagram, into your programmed content.
You can encourage your customers to share their brand experiences with pictures and reviews and join in with a hashtag campaign.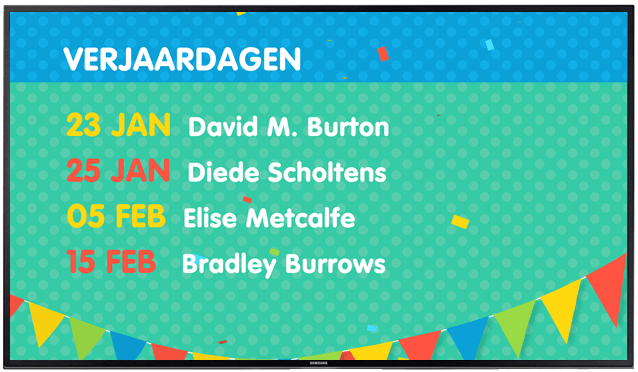 Birthday widget
Never forget a birthday again!With our birthday widget you'll never disappoint students or teachers on their birthday. With Easyscreen you'll automatically brighten their day with a congratulatory message on the screens!

"We use Easyscreen for digital signage across our 136 offices as it enables us to adjust our in-store TV programming; for example we can add national or local campaigns from our Head Office."
Start your retail digital signage demo. It's free!
You'll love our easy and sleek user interface for all industries, including retail. Our one click solution comes with simple content creation tools, complete playlist management and an extensive library of high quality images and templates.
Test our compelling digital signage software completely free of charge for 14 days. We'll send you an email with your username and password, then you just need to log-in and start browsing.
[contact-form-7 title="" id="none"]