Real team sport with a winner's mentality
Sportlink contacted Easyscreen as a partner to develop a new product for sports clubs. It wanted to show real time club and sports information on screen. From concept to technical implementation, Easyscreen worked on this state-of-the-art digital signage system for sports clubs. Club TV is now here. Sportlink content combined with national and local sports information, sponsoring adds and other infotainment to keep the audience engaged and entertained.
Sportlink: "We chose Easyscreen as our partner as they have a digital signage platform we were looking for: a professional look and feel, easy to work with and the possibilities to adjust according to our wishes. Moreover, we were positively surprised by the extra content features Easyscreen standard provides to its users."
Nearly 200 clubs have joined Easyscreen now!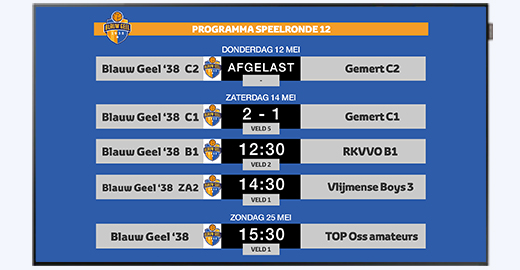 Easyscreen: One-stop-shop Digital Signage Software

Here at Easyscreen, we are a one-stop-shop. So we can help you every step of the way. We can provide you with your digital signage displays and media players, but also much more. We supply you with our platform's content creation and management software and then take care of installation and maintenance.
Want to know more about digital signage? Read our full guide to digital signage
Free Digital Signage Software Demo
We are confident that your company will experience the benefits of digital signage with our software and help, just like our other customers across many industries already do. That's why we offer a free trial.