Waitingroom

TV
Make your waiting time, quality time.
Waitingroom TV is a relaxed way to inform visitors
Offer your visitors additional information by adding countless other news and information sources to Waitingroom TV. Exchange important information with general information such as national news, sports news and the weather forecast. Waitingroom TV is suitable for all waiting areas, including government agencies and healthcare institutions.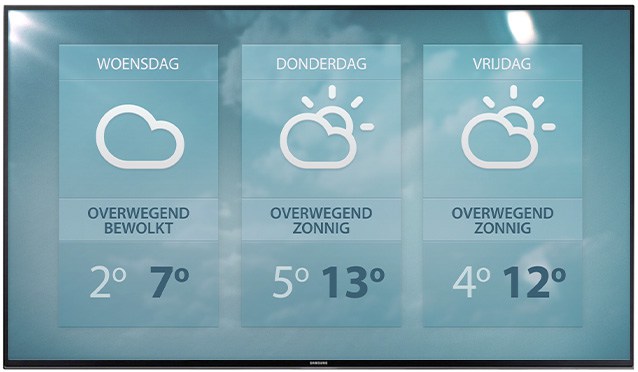 News
Display news items such as BBC News, NU.nl, the weather forecast or sports news
Effective
An attractive and effective way to present your company
Fully customised
Tailor-made for every brand, style and content to fit your needs
Rich programmes
Choose from the extensive media library containing stylish templates and widgets
Fast and easy
Any adjustments to the Waitingroom TV programme can be done quickly and easily
Satisfied customers
Just like you, quality and service are very important to us
Queue Management System
Make it clear to those waiting who is next
Waiting Time Information System
Easily communicate current waiting times via a desktop or smartphone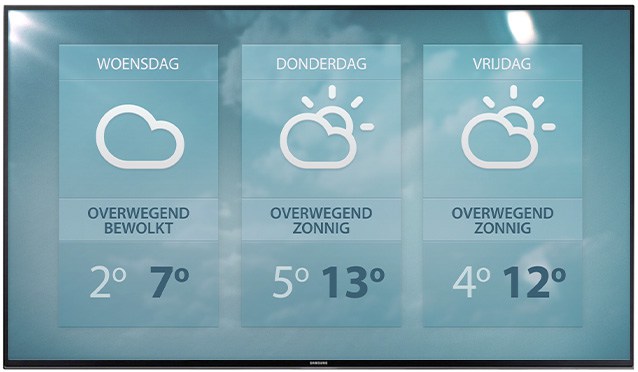 Fullscreen
Show your TV programme across the entire screen. Alternate your info messages with current news items which can be programmed to automatically show on your screen.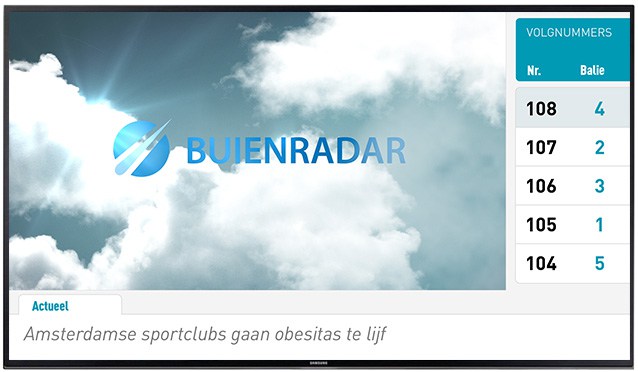 Screen zone
Make use of the different screen areas. For example, on the right-hand side display your number system or waiting times and at the bottom the latest news feed. In the largest area there's room for your info messages which could also alternate with other items such as health tips or current news.
Personalize
The look and feel of the Waitingroom TV can always be adapted to your house style.
We've developed this product with great care for the application and continue to develop it. Do you have any questions, desires, modifications and / or additions for this product? We are convinced we can make it suitable for your environment too, so just let us know what you need!
Digital signage applications