Right room. Right time. Right people. Easy.
Meeting Room Digital Signage
The simplest way to show and edit your schedules
With a Meeting room TV, you have everything you need to plan a meeting and find it again on a small screen next to the meeting room.
Meeting room TV can be linked to almost all calendars, namely: Google Calendar, Microsoft Office 365, iCloud, Yahoo Calendar, or iCal. Meetings you place in the calendar automatically appear on the desired screen. A meeting can be scheduled like this from both a PC and a smartphone. Allowing you to reserve the desired space wherever and whenever you want.
With the addition of the touch functionality, you can also make reservations for meeting rooms by clicking on the calendar on the screen. The time you reserved it, the room will be shown as occupied.
You can link the agenda of a room to the display by entering a URL. Changes to the calendar are then automatically retrieved and displayed on the screen. Or upload an iCal file. This will import the agenda of the room. There is no live connection, so changes will not be retrieved automatically.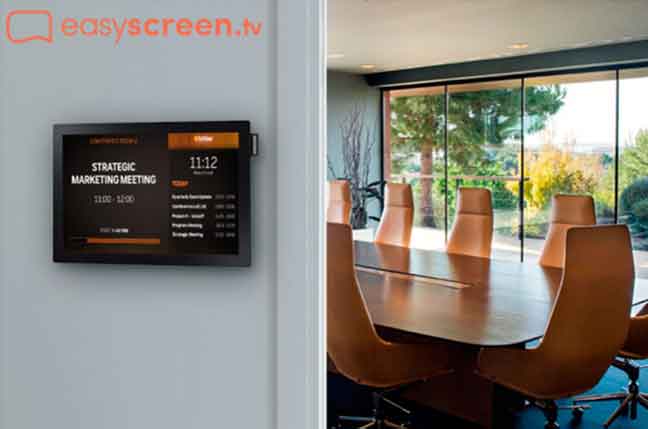 QuickEdit voor Meetingroom TV
QuickEdit lets you create, edit, reschedule or even cancel any of your meeting room events – all without having to log into the digital signage system.
Extend control of your Meeting room TV with QuickEdit
Simple and intuitive, you can now easily update a meeting via your mobile or any browser and see the changes happen directly on the screens.
Exclusive access
To get started, we'll create your own exclusive QuickEdit ID and unique URL access that you can view from any browser. As soon as you receive it you can update key information in seconds from virtually anywhere. Set the date, change the time or title directly from the link we provide you with.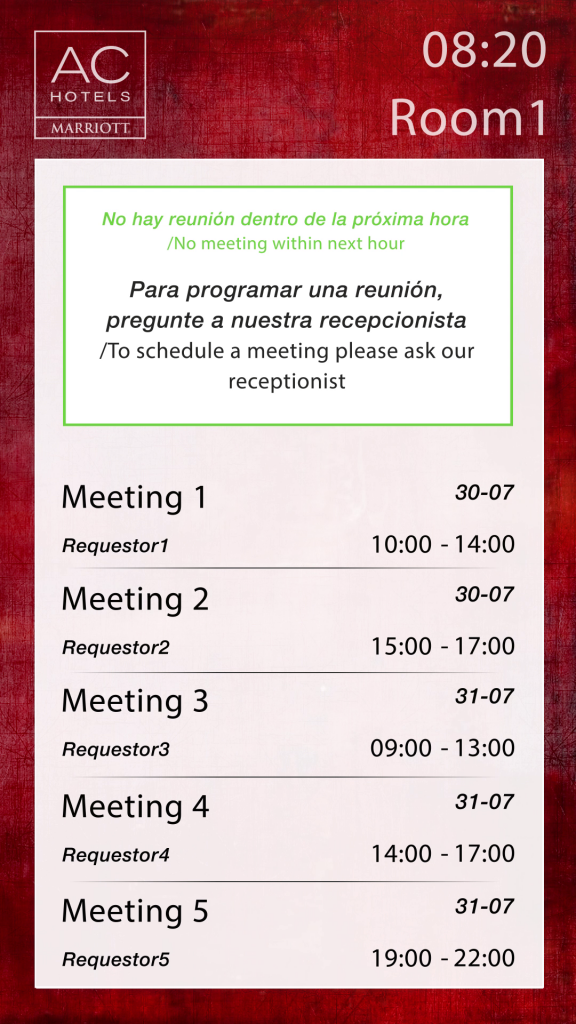 Different setups for your screens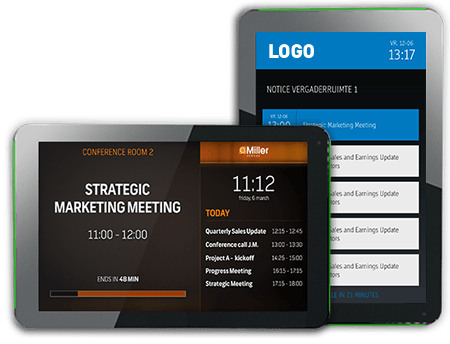 This Samsung Smart Signage Display with the internal chip is a powerful yet elegant solution that suits every environment. Due to the high brightness level of the LED display, it is effective in any indoor location.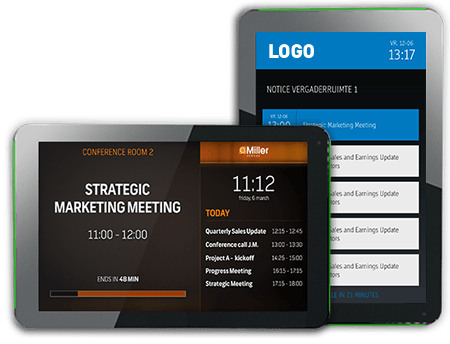 This LCD screen is made for one purpose only, which is why it performs so well. The colored LED bars make it easier to see which spaces are available and in use.
Works perfectly with Google calendar
Works perfectly with Windows calendar
Works perfectly with Apple iCal
Can be operated with any type of device
Make full use of the possibilities our platform offers
Can be integrated into a video playlist
No manual updates or maintenance required
Can be styled to any preference
You can make adjustments to your Meeting Room TV to suit your preferences.
Choose from 4 basic styles
Add your company logo
Add meeting rooms
Show up to five planned measurements
Adjust colors
Available in landscape and portrait
Meeting Room TV is available for all media players. However, you can make your displays more attractive with a 10″ screen that has a built-in media player and light bars on the sides for which you can select the colors. For example, red when space is occupied and green when space is free.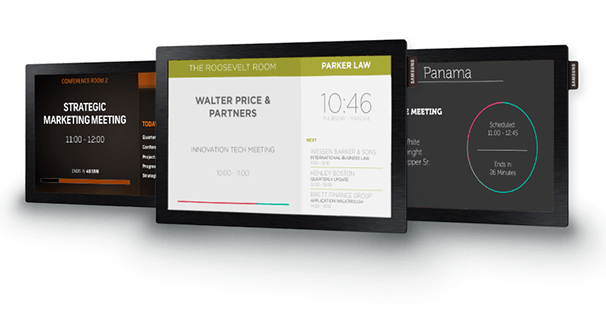 We are trusted by top clients:






More Digital Signage Applications
See what else Easyscreen has to offer