Menu TV: Digital Menu Boards
Mouthwatering Digital Signage
Inform & tease customers while they wait
Deel social media op jouw narrowcasting netwerk
With Menu TV you easily inform your guests about your changing daily or weekly menu and specials. Changes in the menu are easy to implement and immediately visible on your digital menu display. You can also use it to stimulate sales using videos and photos.
To make it even easier for you, we have developed a template role especially for Menu TV. You can create a coherent program in no time and show what you have to offer. The Menu TV portfolio consists of seven digital menu board templates, with which you can showcase your products, communicate your opening hours and show your specials. You can choose your colour theme, so you can make it fit in with your image.
Our digital menu boards have designs perfect for restaurants, fast food, bakeries, cafes, sports venues and events.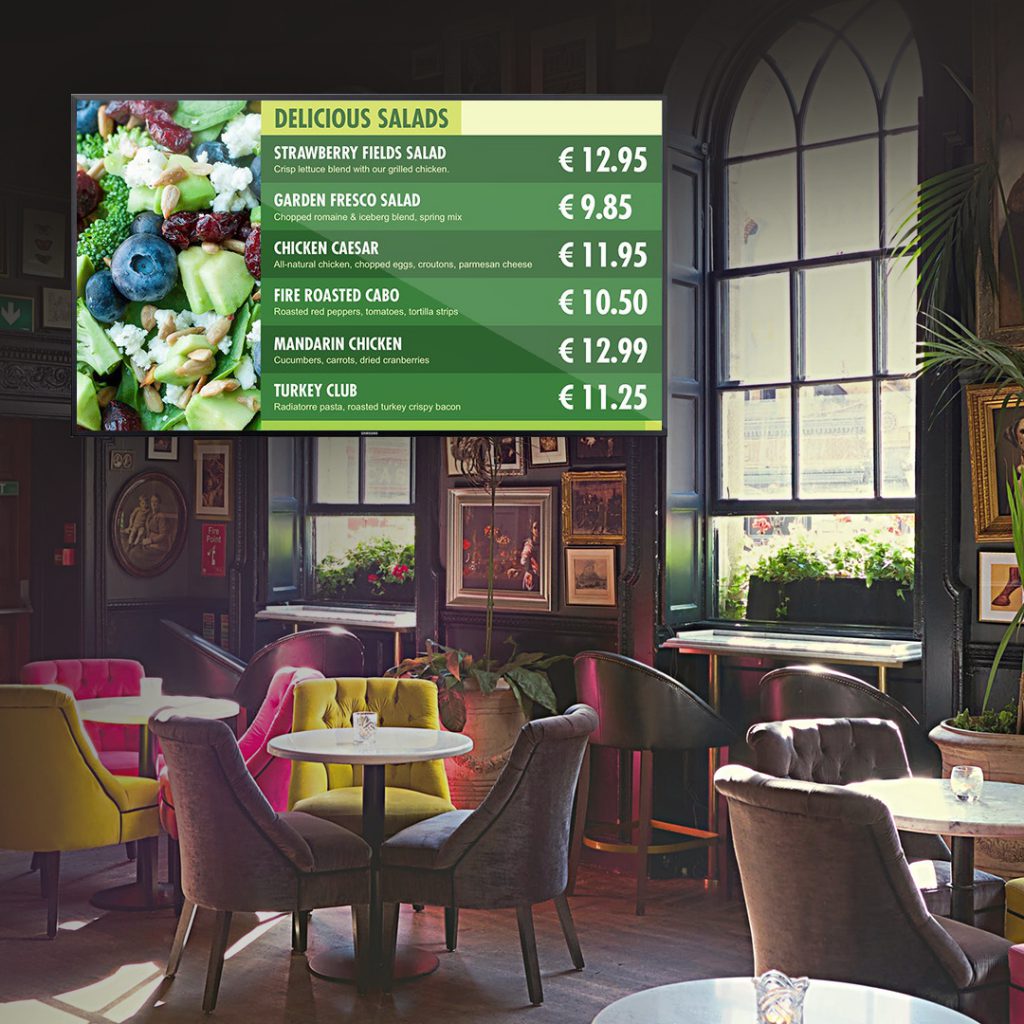 Digital Menu Board Software
Use the Easyscreen platform
To fill your digital menu boards with easy-to-use forms. Enter all texts and choose corresponding colours and images. Use countless images (for each branch) from our content library, or upload your own images.
Quick-edit functionality
Make it even easier to make quick adjustments to your menu board. Price change? No problem, within a few seconds you will have adjusted the price on your screen with the quick-edit function. This makes it possible to make adjustments quickly via your own secure URL – without even having to log into our platform!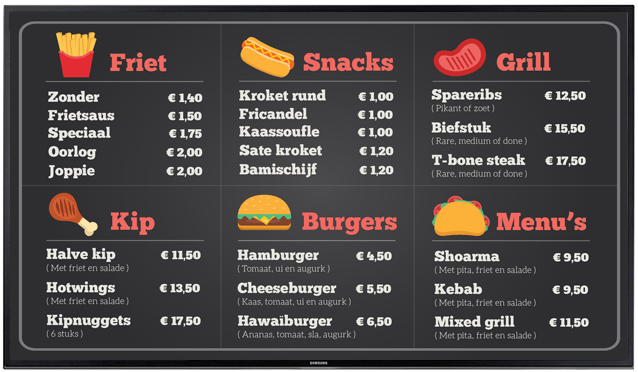 Set up 2: Link with your cash register system
Cash Register Integration
We can also integrate your cash register system with Easyscreen. By doing this the products and prices on your screen always match those in your cash register. Select your own style and let Easyscreen do the rest.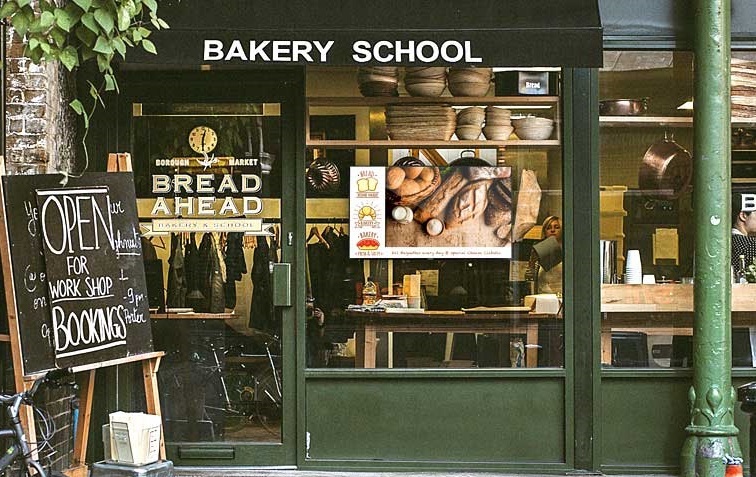 Forget about paper menus. Follow health regulations with our contactless solution for restaurants. At Fairview, we have created QR Menu TV, a solution that uses QR codes to display your restaurant's menu on your clients' mobile phones and on screen, thus avoiding contact with surfaces.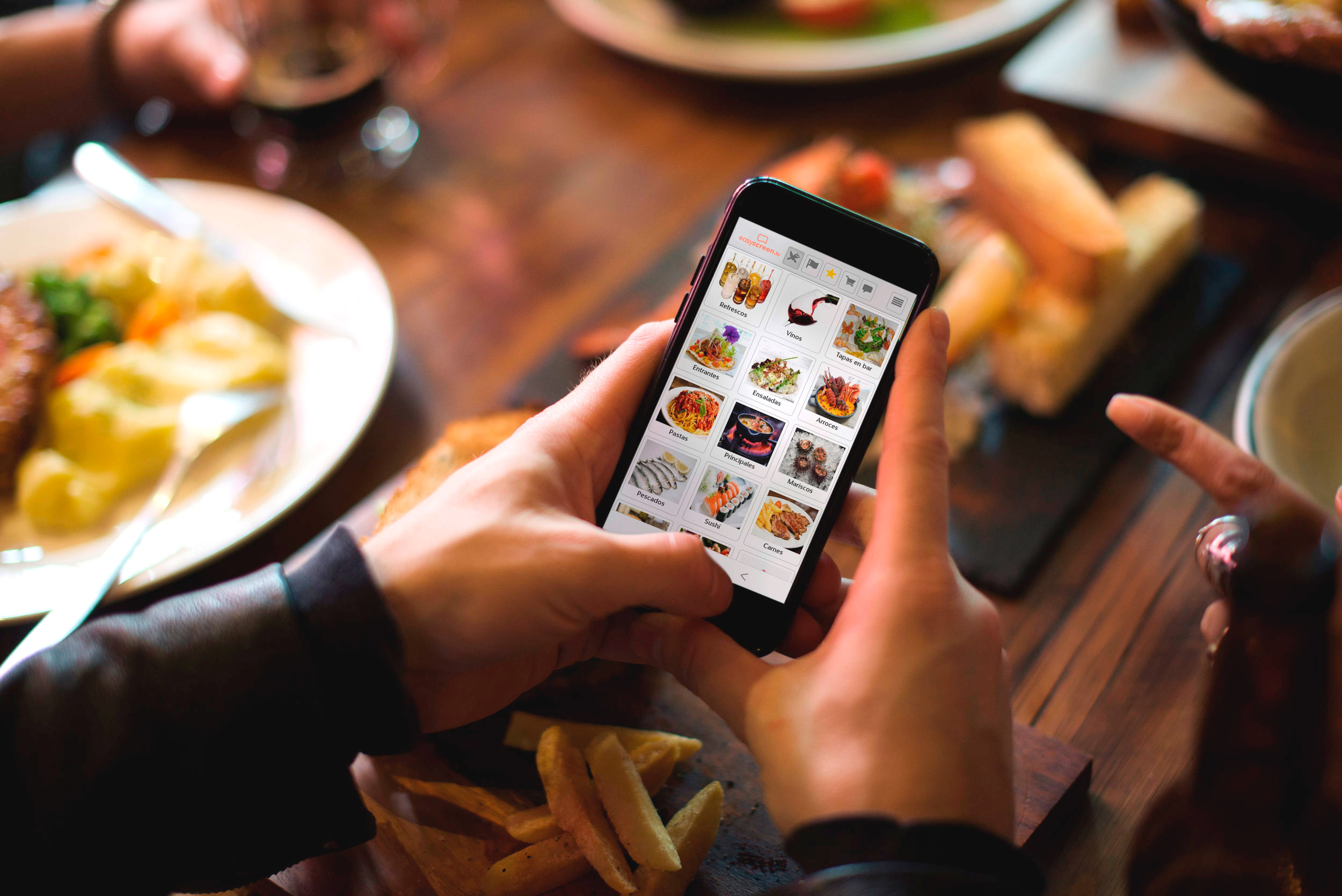 Show your menu in a dynamic, digital and contactless way. There's no need to download any App!Your clients will only have to open the camera on their phone and read your QR code -which they will find on their table, or see on your screens- to get access to your online menu. They will be able to see the food, descriptions, prices, comments or translate the texts into other languages.
Also, the waiters can use a tablet to write down the orders and send the order to the kitchen.
Finally, your menu and QR code will also be shown on-screen, so that customers can decide their order while they wait.
Access without Apps: Your clients do not need to download any App. Using the camera on their phone, they can scan the QR code and access your digital menu.
Always updated: Make the changes you want at any time.
Faster orders: Your waiters can take orders through a tablet or mobile and automatically send the command in the kitchen.
Featured Products in your menu: We offer the possibility of making a list of featured products, such as products on sale, chef recommendations, etc.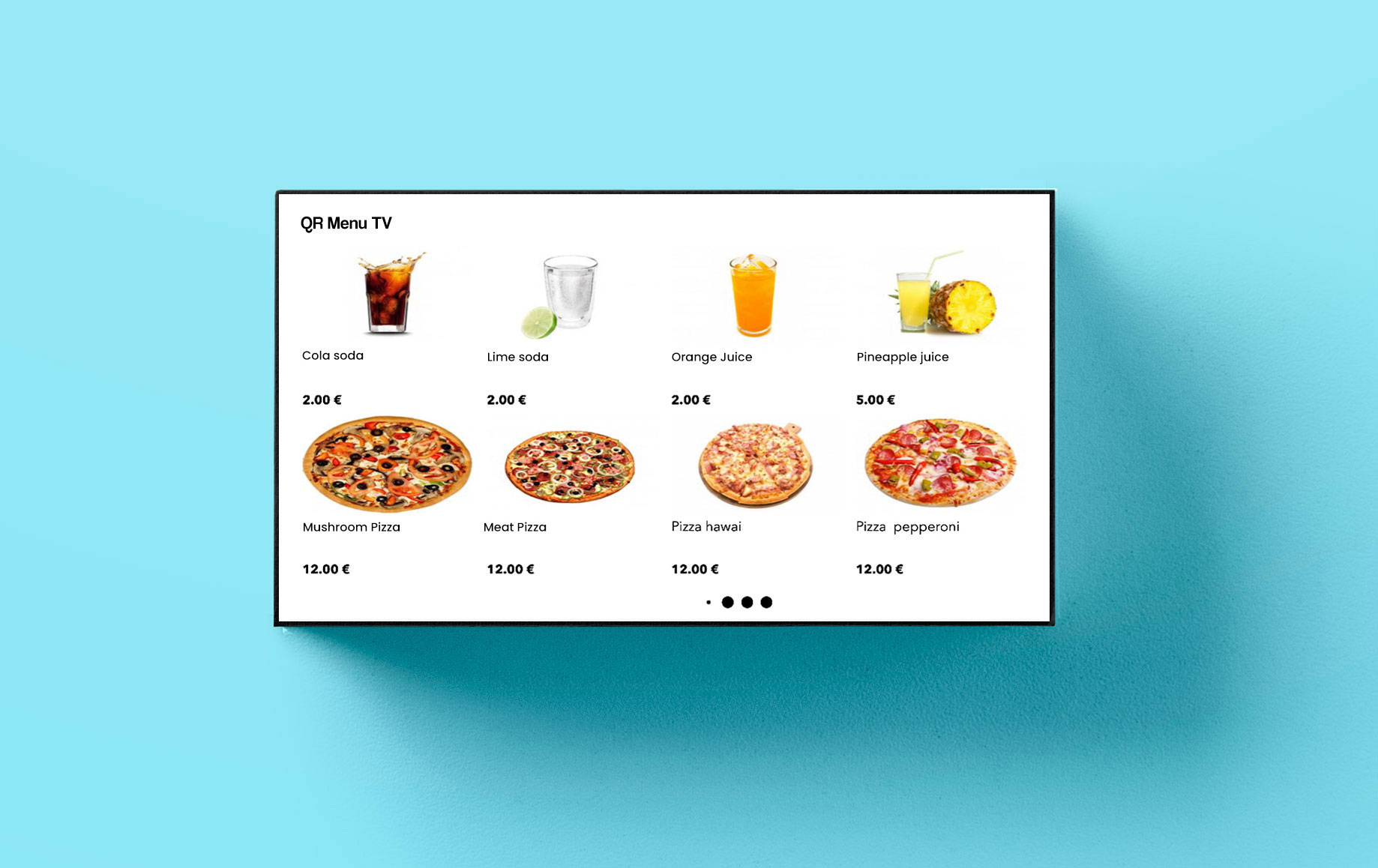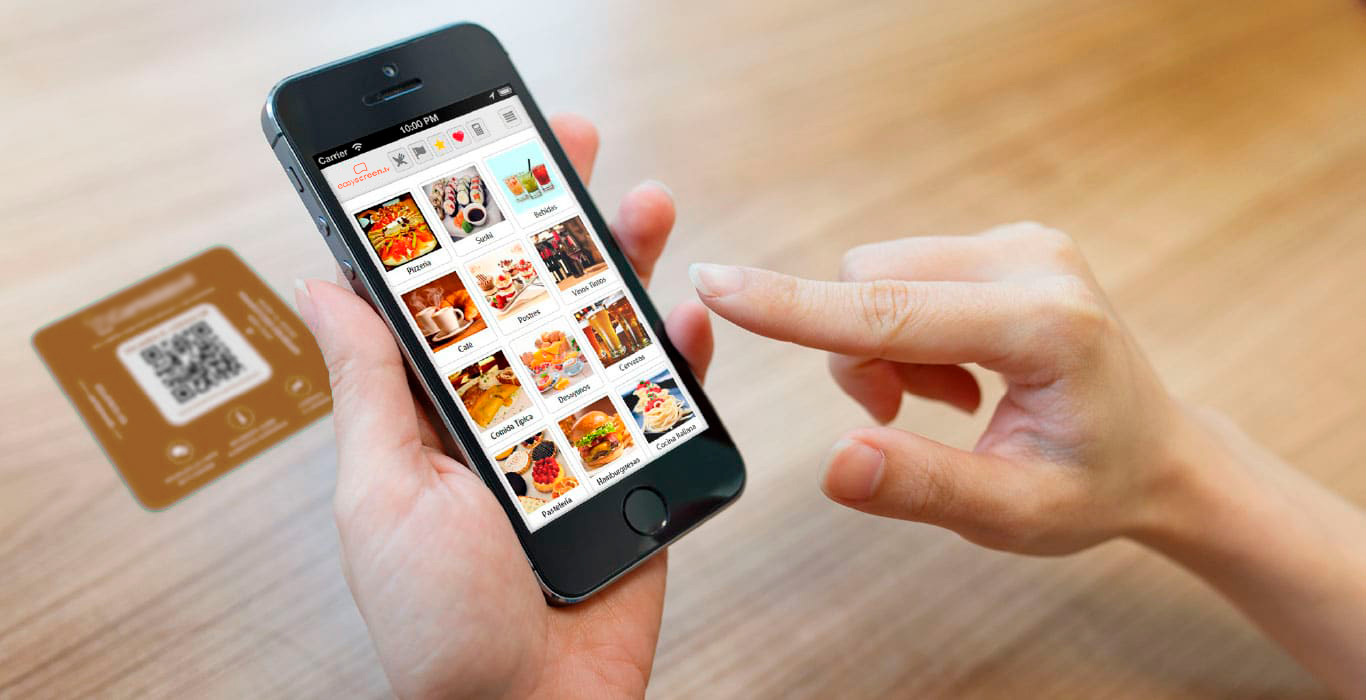 Interactive menu: Show photos of your dishes, descriptive texts, information on ingredients and allergens
Reviews:Your customers can leave their comments and recommend their favorite dishes.
Multi-languages: Translation into other languages, so that everyone can understand your menu.
Wish-list: Allows your customer to select products and leave them on a pre-selection list for later.
Large screen menu:Display your menu on the LCD screens of your store, so that your customers decide on their orders while they wait in line.
Menu TV screen: Show your menu and more on the screen
Seize the screens of your location to showcase your menu with the dishes of your restaurant, prices, ingredients …You can alternate your menu with other content such as news, images from your social networks, and more. Create personalized content with our templates, in a quick and easy way.Update your content automatically from our online platform, and always keep your consumers up to date.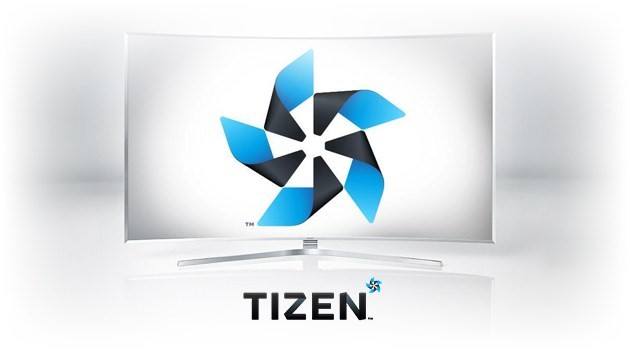 Easyscreen provides thousands of customers with the best digital signage hardware and media: professional media players and displays from Samsung Smart Signage or Digital Signage displays.We provide different types of digital displays suitable for each type of location – we offer indoor and outdoor digital signage led displays of different sizes.
Do you already have a Digital Signage screen in your store?
If you already have screens for digital signage, you only need to add our MBR-1100 media player to show content on them.We work with IAdea players which are known for their speed and reliability, since they are specifically designed for digital signage. We send it directly to you or we install it in the place you want. You can be 100% sure that your digital media player will be configured correctly and will maximize the full potential of our platform.
Do you want to buy screens?
We work with LG WebOs or Samsung Tizen screens, which come with a built-in multimedia player, so you only need to install the screen and synchronize it with the url of our platform to be able to use it. Systems of this type have advantages such as:
Very fast charging time
Stabielere en betere prestaties
Drie keer sneller verwerken van animaties in vergelijking met vorige modellen
HTML5-animatieondersteuning
Contact us and we will help you choose the hardware that you need.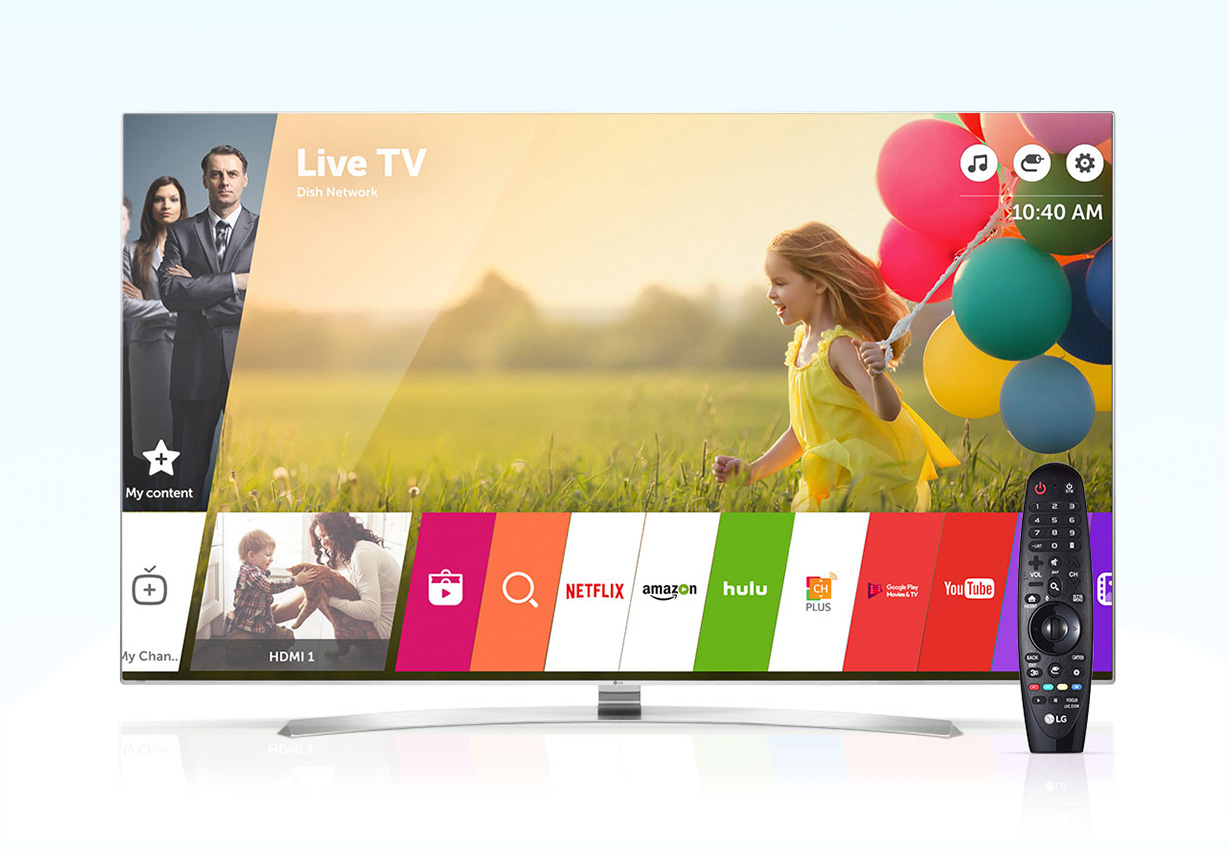 Informeer bezoekers over een promotie die je hebt
The menu board is easy to adjust, so suitable for a changing daily menu
Ease their waiting time by giving them information
Appealing videos and photos
Use appealing videos and photos to stimulate sales
Let your customers decide while they wait and influence their choices
Your staff don't have to wait for customers who don't yet know what they want
Tailor-made for all content and for every brand and style to fit your needs.
Your menus can be displayed either landscape or portrait
The look and feel of Menu TV can always be adapted to your own style using our digital menu board templates.
Add your company logo
Add different categories
Adjust colors
Available in landscape and portrait
Adjust to season, time of day, stock availability
Ad-hoc promotions
We've developed this product with great care for its application and we are continuing to develop it. Do you have any questions or desires, modifications and additions that you'd like? We are convinced we can meet your demands and make it suitable for your business too, so just let us know what you need!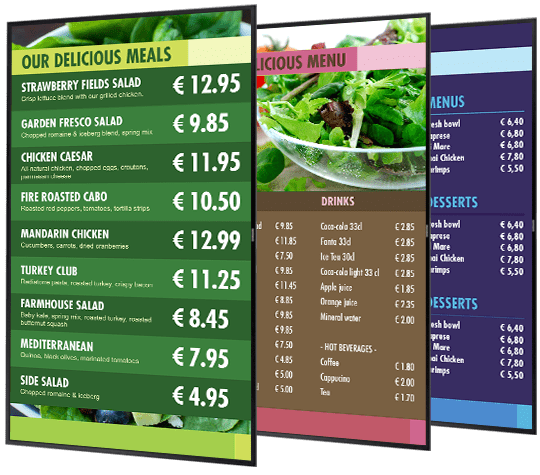 We are trusted by top clients:






More Digital Signage applications
Look at what Easyscreen has to offer