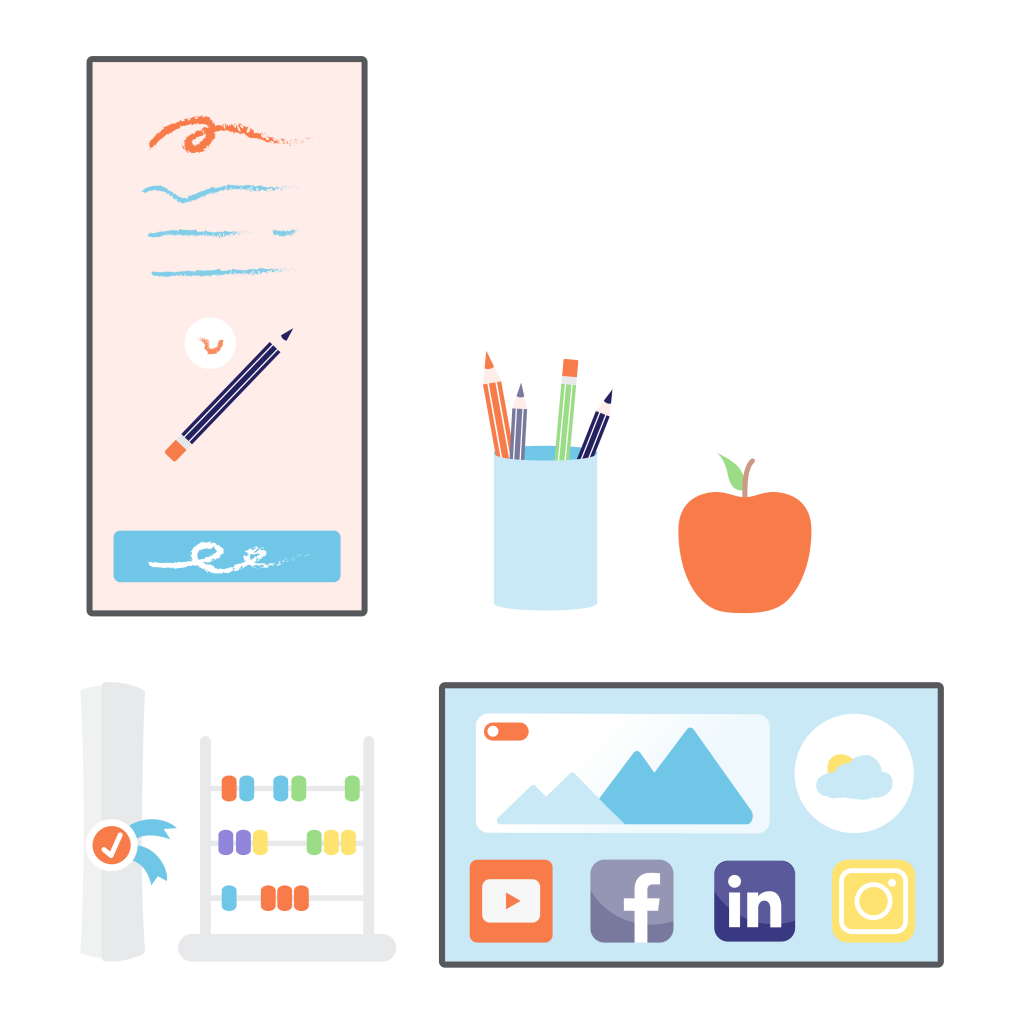 Digital signage for Schools and Universities
Education is the sharing of information. Digital signage is, therefore, the perfect way to involve large groups of students, individual students, parents, visitors, and teachers in the daily routine at schools and universities.
The provision of information via digital signage ensures you reach large groups with relevant information about class schedules, local occupation, and events. With just a few screens in strategic locations, you can reach a large number of people.
Easyscreen's digital signage software offers you all the tools you need to get your communication in order. Via a user-friendly platform, you can easily put together your digital signage program. From guiding to meeting planner; from public transport information to social media.
In short, Easyscreen offers educational institutions all the tools to make their digital signage a great success.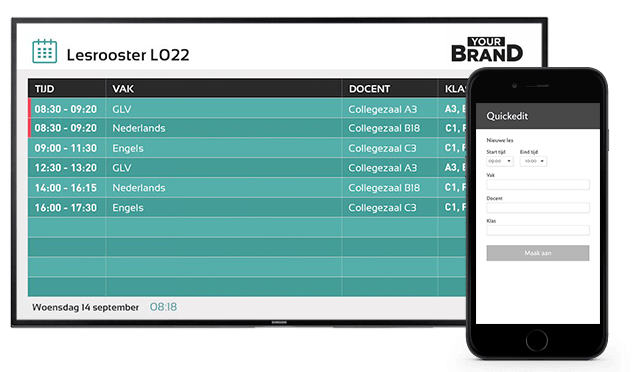 Always an up to date schedule
Changes to the schedule? Is a lecturer sick? From now on, you can communicate this information on multiple screens at schools and universities. Link the timetable to the Easyscreen digital signage software and let the technology do the rest.
Point your visitors in the right direction and improve their visitor experience
A pleasant school environment starts when you enter the building. With Wayfinding TV, you use digital signage as a form of dynamic signage within the building. It makes an important contribution to the smooth movement of large groups of visitors.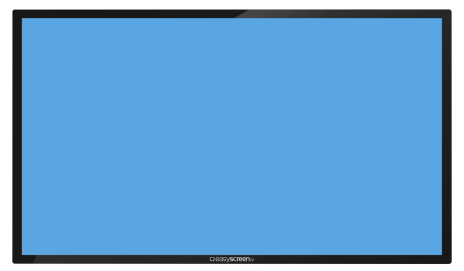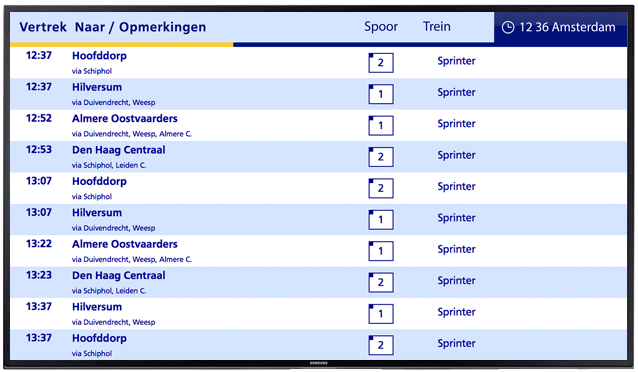 Never again miss your bus or train
Public transport departure times
Increase convenience and reduce waiting times for teachers and students. This handy widget shows public transport arrival and departure times to and from the relevant location.
Start your free 14-day demo today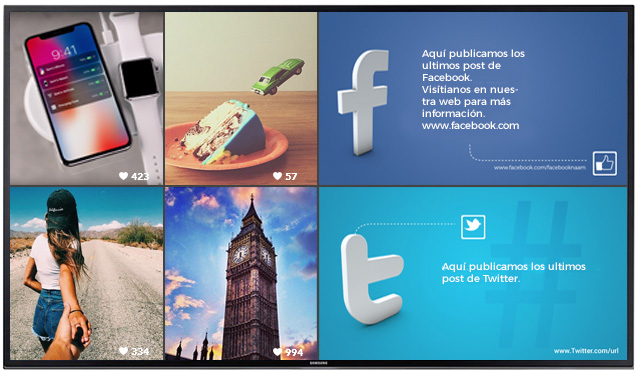 Social media on your screens? Thumbs up!
Show the content of your social media channels and inspire your visitors to follow you, to like you, to share, or to give a big thumbs up. Create sincere fans and give them a reason to come back!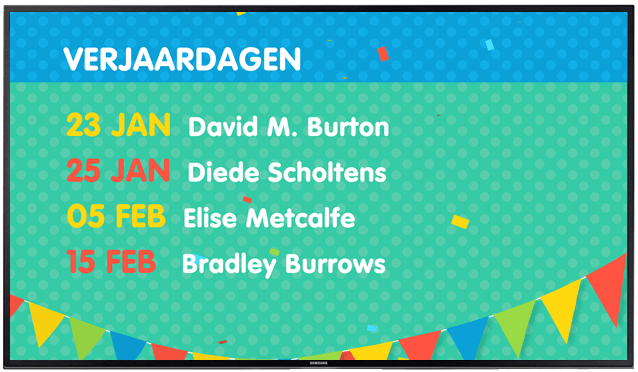 Never forget a birthday again!
With our birthday widget, you'll never disappoint students or teachers on their birthday. With Easyscreen, you'll automatically brighten their day with a congratulatory message on the screens!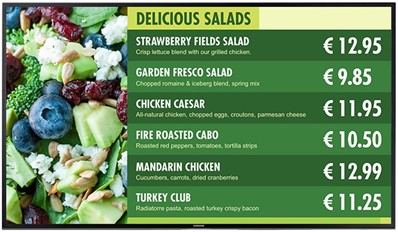 Mouthwatering digital signage
Display the current menu and the current prices in one central location. Remove all the complications and hassle of chalk, markers, or cards. With our dynamic Menu TV, you can show exactly what's on the menu.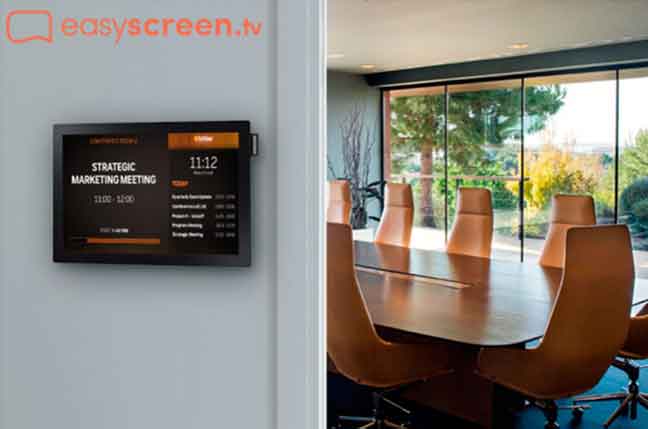 Right room. Right time. Right people. Easy.
No more hassle about the occupation of meeting rooms. Meeting room TV ensures that everyone can see where they should be – at a glance. With Meeting room TV from Easyscreen, you can link the central agenda to the different meeting rooms and salons. Make sure you avoid double-booked rooms and disorientated guests roaming the building.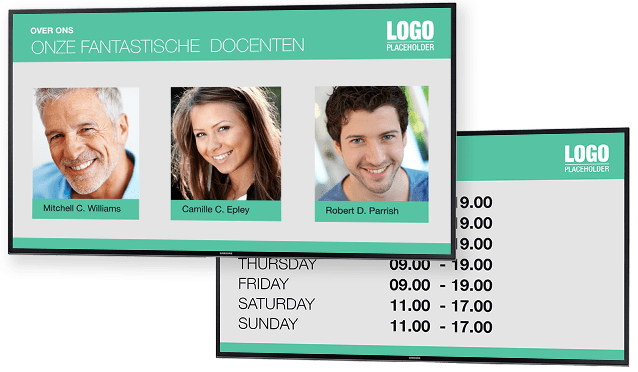 Developed for the education industry
We've developed ready-made templates specifically designed for the education industry. Choose from announcements, slideshows, RSS feed, or a ticker-tape template.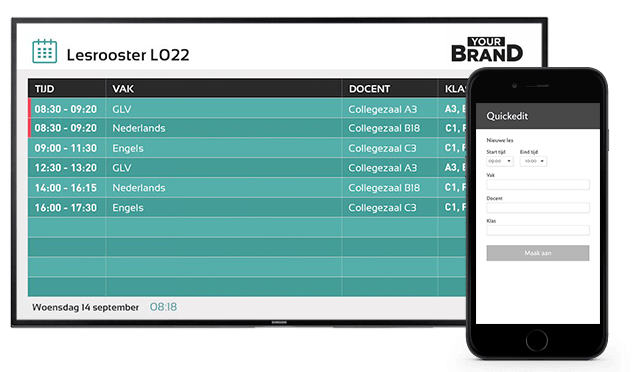 We can't make it easier than this
Changes to the timetable? An important communication? Thanks to the unique QuickEdit function, you can quickly and easily adjust the information via a Smartphone or PC. No login. No hassle.
Digital signage in the digital signage industry
At Easyscreen, we make sure you are ready for the future. We are constantly working on new, useful software integrations. For example, we're currently working on linking Magister and ParnasSys to our digital signage system.
Start your digital signage demo. It's free!
Test our digital signage software completely free of charge. With an Easyscreen demo account, you can immediately see how fast and simple it is to create your digital signage program. Request a demo account via the form on the right. Within five seconds you'll receive a username and password. Simply "Log In" and discover the unprecedented possibilities of Easyscreen.
Use live-widgets
Upload your media
Create your playlist
Choose from hundreds of templates
Integrate social media such as Facebook and Instagram
Choose from countless free stock photos and videos
Discover the convenience of our digital signage software