Digital Signage Software (CMS): Your Guide
---
This guide will outline for you what a content management system (CMS) is and why it's so important for digital signage. You want your digital signage solution to be quick and easy to implement and manage; to have you content easily created, managed, stored and published to your displays. This is what a CMS will do for you all on one platform, along with other functions, such as checking your media players' health.
What Is Digital Signage CMS Software?
---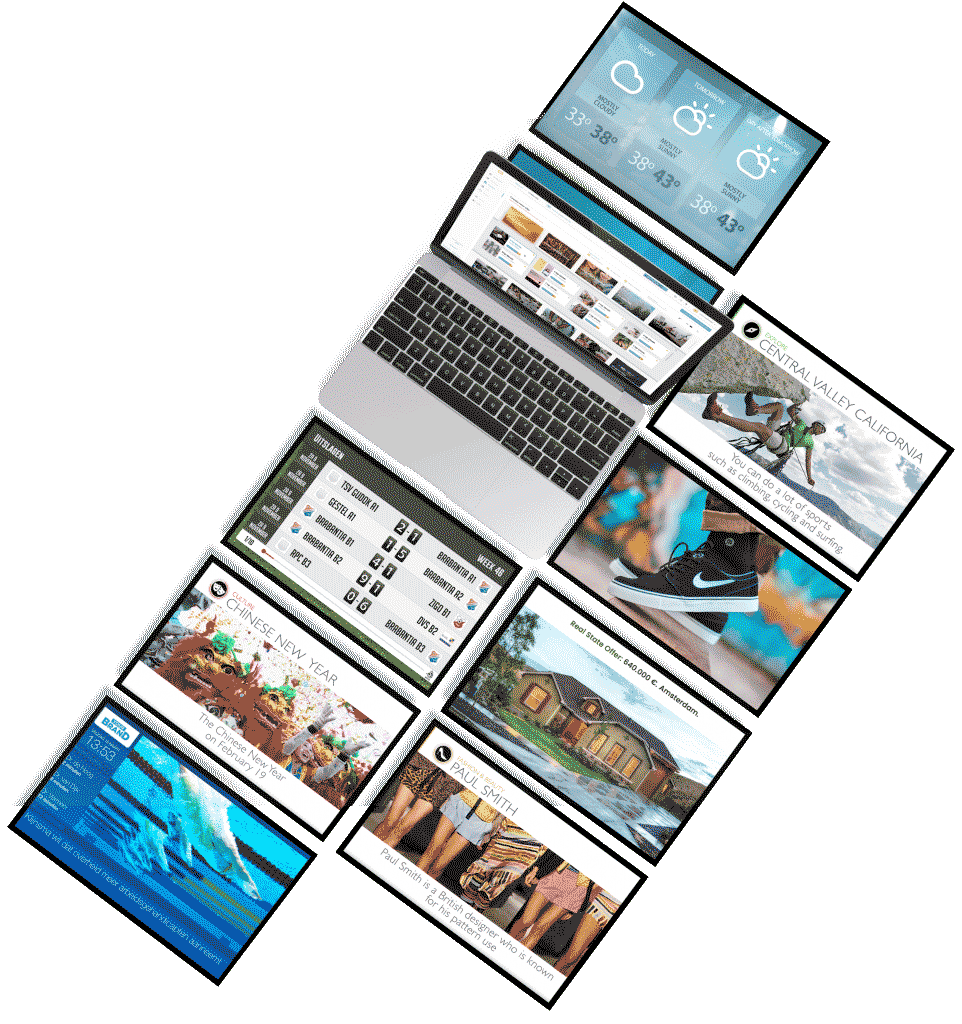 The software involved in digital signage is related to controlling your content. A content management system will take care of the content at all stages, from creation to media player playback, making it easy to organise and adjust your content at all times from a single platform.
The best digital signage software will come as part of a service from a digital signage company and is known as a 'Content Management System' (CMS). This keeps it simple to use digital signage and makes your content effective.
Content Management System
---
Why should you use a digital signage 'Content Management System' (CMS)?
A digital signage 'Content Management System' (CMS) is a platform provided by a digital signage company along with a user dashboard that allows its customers to manage their content in a quick, simple and effective manner on its website. Each content management system and its associated applications will determine which animations, resolutions, widgets, news feeds, and social media your signage can display.
By buying access to a CMS, your company will avoid a large, up-front capital investment and won't have to maintain your own system. In this way, SaaS companies have opened up the digital signage market to new customers as a result of lower costs, easier usability, features accessibility and the creation of more functions. The kind of results you'd expect from a competitive industry.
It is affordable and the costs involved will depend upon how many licenses you require, so you pay per player. If you are expecting rapid growth, can't predict how many screens you'll need and want flexibility to add and remove displays over time as your solution changes, then a content management system will be of great benefit.
Every content management system has five main purposes:
C

reating content form scratch and templates

Adding and removing content from databases

Creating playlists and schedules

Managing media players

Sending content to media player



How can a CMS organise your content?
There are a few options for how to display your content. Firstly, you can develop a playlist of your different clips and organise them into a certain sequence or randomly. As digital signage is often running 24/7, the clips can be put on a continuous loop.
The other option is to create certain rules for each clip, thus deciding where, when and for how long each will be played. Instead of adding clips to a playlist, you put a playlist into a schedule.
CMS Additional Functionality
---
How can a content management system improve digital signage?
A CMS should provide additional functions and tools that will improve your digital signage system:
●

Creation Templates: Supplies content templates that can be customized to match your specific industry and objectives.

●

Remote management: Makes changes without needing to manually access them. This is useful for outdoor displays and those difficult to access.

●

Network monitoring: Checks the network status of all your devices to quickly report any downtime and fix issues.

●

User Control: Allows different levels of accessibility and power to different users to ensure that all content is checked and high-quality before publishing.

●

Scalability: Gives a digital signage solution freedom to expand with more displays and content and allows them all to be controlled from a single platform.
Content Storage Software
---
What are the options for storing your digital signage content?
By using a CMS, you won't need to go near your actual media player to update what's being played from it – you'll be doing it from the platform. The platform is where you make changes to your content and it can be accessed on the web or on an app. You can access it from anywhere and potentially control a huge amount of displays around the world.
Many media players will also store your content onto its hardware as well, which prevents downtime when the internet connection is lost. Your live data feeds cannot be stored on the media player, as these require a constant internet connection to update. You can find out more about that here.
If you aren't using a CMS, there are two other options for storing your content:
A Media Player

Your content can be solely stored on the media player itself if you don't have an internet connection. However, to make changes to your content will you will have to do so manually and you won't be able to use RSS and XML live feeds.
To find out more about media players and their storage, read our media player guide. Or, to find out more about live feeds, read our content guide.
On a Local Network

You can also buy your own servers and keep them on-site. You'll still be able to change your shown content remotely, but only on-site.
How to decide which content storage option is best for you
---
Security
This is the key benefit of choosing to use your own network or storing on a media player. All data will be safe, unlike on the cloud, where there is the potential risks that go with all internet-based software. However, the risk of this happening is very minimal.
Control
If you use your own network, you will only be able to do so on-site, unlike on the cloud. A cloud-based CMS will give you assess to control your content no matter where you are in the world. Storing on a media player obviously has huge limitations, as the storage input must be manually removed or the media player manually connected to a computer.
Investment
Your own network requires a large initial investment in hardware and is costly to maintain. This makes it a very unattractive or unattainable option for most businesses, who turn to using a cloud-based platform instead. These platforms are cheap and high value for money. Storing on a media player is the cheapest option.
Content
If you're planning to use content that requires a live data feed from the internet, then storing on a media player won't be a viable option for you. If your content doesn't require an automatic data feed, but does require regular changes to the content, then storing on a media player will cause more issues for you, as you'll need to frequently manually access it.
Content Creation Software
---
What software is required to create digital signage content?
Content for your digital signage can be created across many types of free and paid software, depending on how simple or complex it needs to be. You can simply create something in Photoshop on your computer, connect it to your display, and you've got digital signage. However, as is outlined in our content guide and media player guide, its highly recommended that you don't do this if you want to get the most out of your digital signage.
Depending on the content management system you choose, you'll potentially have access to HTML, After Effects and other types of content that have already been created as templates. These are complex to create yourself if you aren't experienced in doing so, but with a digital signage company you'll have access to a range of ready-made widgets and templates. These can easily be edited to suit your own style and brand. Or you can create your own templates.
For a more in depth analysis of digital signage content creation, be sure to check out our content guide.
Device Management Software
---
What software is required to monitor your digital signage devices?
Device management software is especially critical for solutions with devices across multiple locations. It will collect information about the media player's health, including memory usage, network status and temperature, as well as gather playback data and check the screen's health that the media player is connected to. It will then report the data via automated notifications and even take action when necessary, such as rebooting devices remotely and downloading software and firmware updates.
This type of software is usually included with a CMS, including Easyscreen's.
Easyscreen: Bringing it all together
---
Our CMS and online platform allows our customers to create and manage their content, media players and displays with ease.
Device management allows us to upgrade to the latest firmware and to notify you when your media players have an issue and needs remote rebooting


Our creation station gives our customers the ability to create their own content




Our library contains lots of templates you can fill in to quickly personalise your content


The flexible tool let's you create your own templates





The scheduling tool makes it easy to make playlists and schedules of all your clips




T

he tagging option allows you to manage groups of content and media players based on characteristics
One-Stop-Shop Service
---
Can one company take care of all your digital signage needs?
Easyscreen will provide you with your digital signage CMS software, but also much more. We are a one-stop-shop service, meaning we offer a full package. We supply you with all the necessary hardware, software, and take care of installation and maintenance.
But what does that mean? Check out our other guides on digital signage: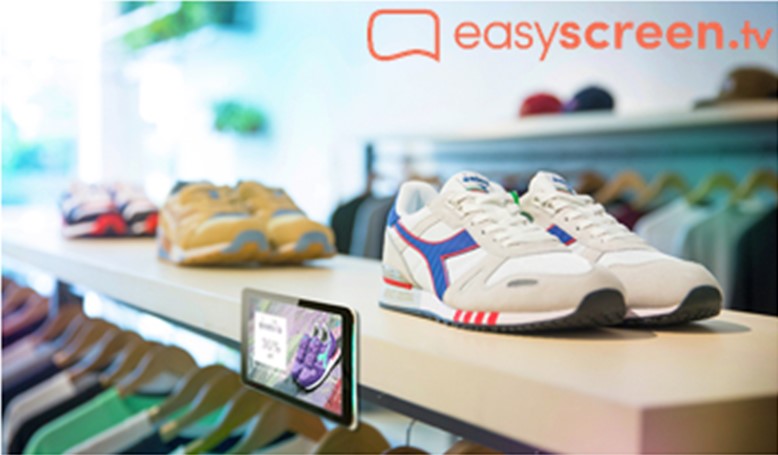 Choosing Easyscreen
If you choose to use a digital signage company to make sure you're creating the best possible content and making the most of your digital signage, then Easyscreen is here to help.
We are proud of what we've helped our customers to achieve and can do the same for you. Check out our customer stories for some inspiration.