What Is Digital Signage Content?
The content of digital signage is simply the forms of media shown on the displays, but there's a wide range of content creation and management options. All users of digital signage have unique objectives, locations and audiences, so all digital signage content is unique, too.
The way that your digital signage content will be sourced, designed, created and displayed is up to you. And, as will be outlined in the following information, you have lots of options to choose from. New technology is creating new and exciting content opportunities, making them accessible for smaller budgets and improving ROI.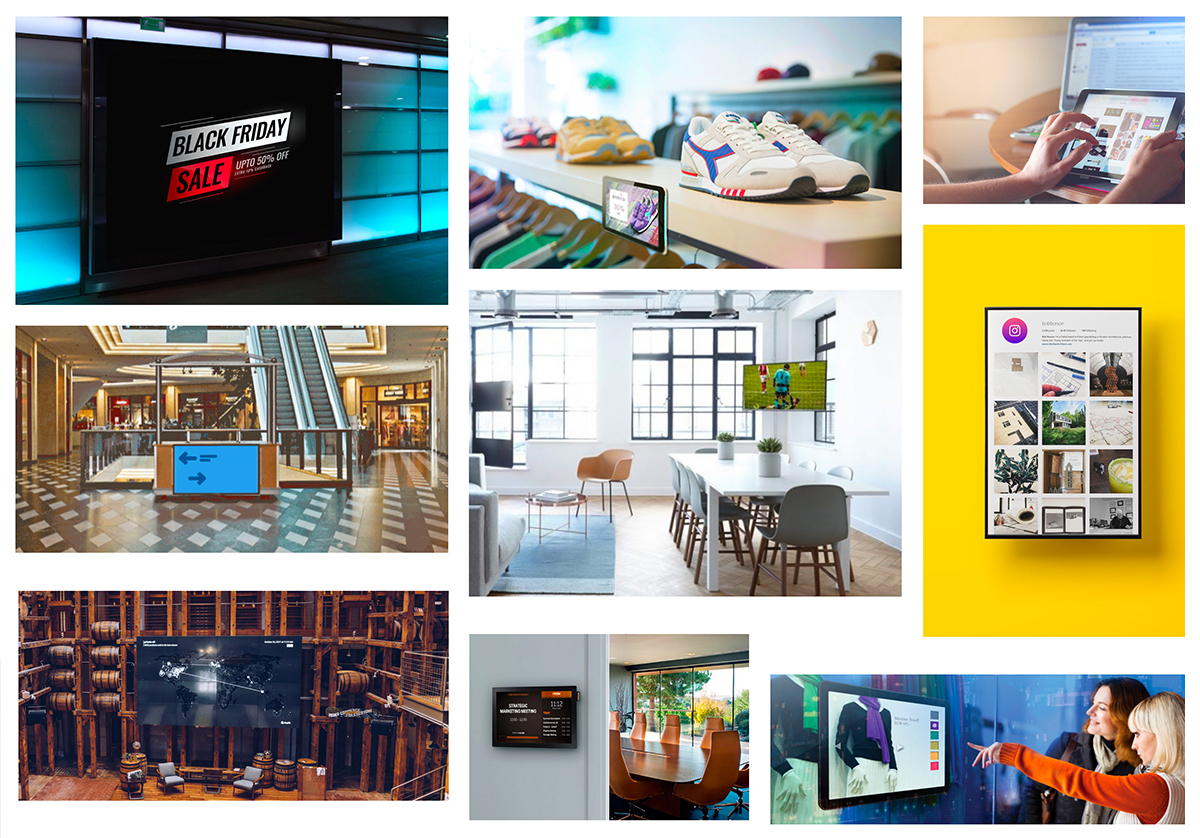 Digital Signage Content Sources
What are the Options for Sourcing Digital Signage Content?
 
You have four main options for creating your own digital signage content:
Do it yourself
Freelancers
Current marketing agency
Specialised digital signage company
Can you create digital signage content yourself?
You can create digital signage content yourself and it's possible to do it for free. Use images collected online/taken yourself or use simple software like Microsoft PowerPoint and Adobe Photoshop. If you have designers in your company, then they will be able to create more complex content.
Freelancers and Marketing Agencies
Is it possible to hire others to create your digital signage content?
If you don't have any in-house designers, then hiring externally is an option. They will have experience in creating great marketing content like images, graphics and videos, which you can display on your digital signage.
Software as a Service (SaaS): Digital Signage
What's the best way to create digital signage content?
Your best option is to hire a specialized digital signage company to design (and help manage) your content. These companies offer a complete package, so they'll make getting started in digital signage much easier. Their templates designed for specific industries and objectives will let you quickly have new, effective content in your spaces. They will also be able to help implement your own media and design new content for you from scratch, making sure it blends with your company's image and achieves your objectives. It's important to remember that the quality of your digital signage will be perceived as a reflection of your company. Well-positioned digital signage will often be the first and last touchpoints of your audience's experience, so high quality content is important, no matter how simple.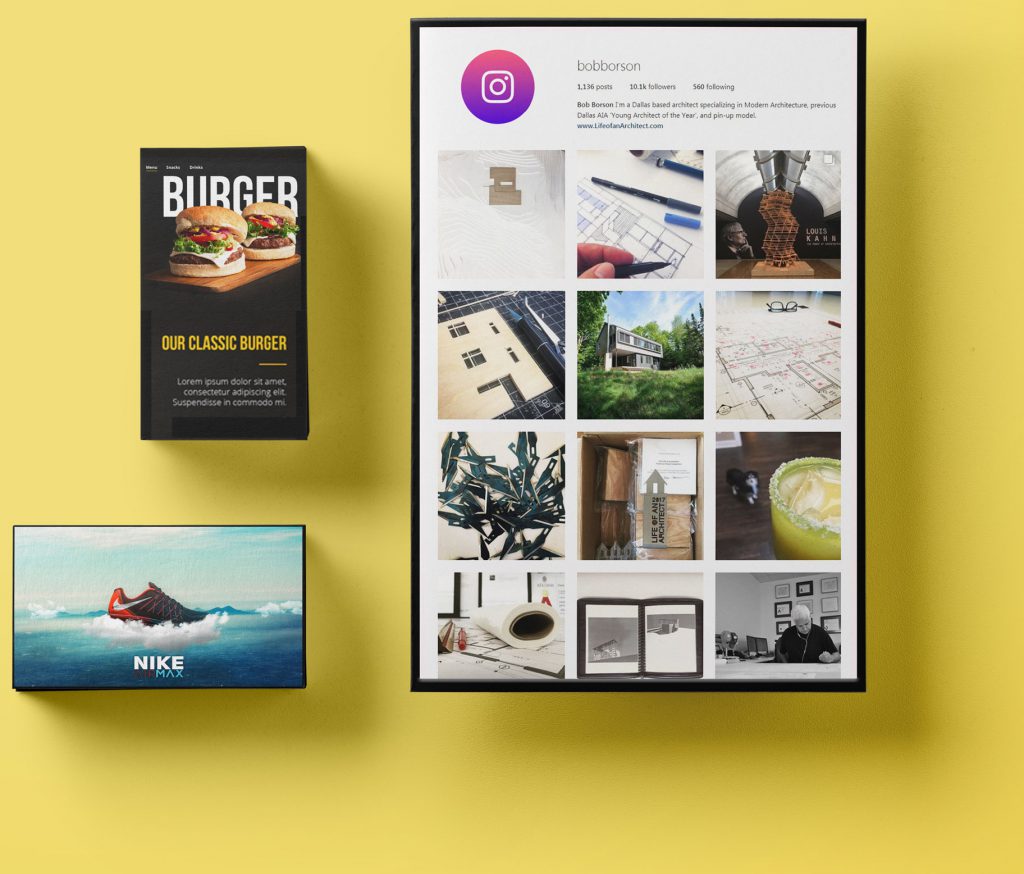 Can you sell your digital signage as a space for advertising?
As TV advertising opportunities are diminishing, brands are looking for new methods to advertise. Digital signage gives brands and advertisers the opportunity to show dynamic, engaging content in high-impact and relevant public locations to targeted audiences. As a result, many businesses are buying digital signage to then rent it to businesses as a space for advertising. How much you'll be able to charge will not just depend on how many people see the screen, but the quality and relevance you can provide. Determine the value of advertising on your digital signage with this leaflet. If you find the right advertiser, you'll be providing content that's appropriate to your customers and improving their experience with you. Find out more here.
Is it possible to show entertainment on your digital signage?
The purpose of your digital signage could be focused on improving the customer's experience. This can be achieved with various, specifically-designed types of content, but can also be done with content that provides news, sport and other entertainment. Digital signage companies will give you access to this type of content, so you don't have to play regular TV channels. This gives you the opportunity to match the entertainment to the audience. 
Another option is to use a specific media player, so you can play regular TV channels and project some advertisements or information onto the display, see more here.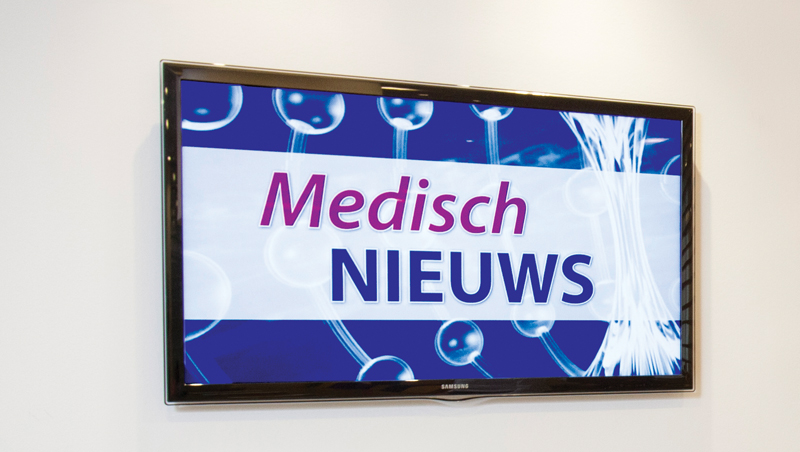 Types of Digital Signage Content
What types of content can you have for your digital signage?
Digital Signage Content Resolutions
What's the highest resolution available for your digital signage content?
Digital signage displays will commonly have resolutions of 1280×720, 1366×768 and 1920×1080, as well as 4K displays, which have a resolution of 3,840×2,160. This means that content used in digital signage can be detailed and vibrant in order to truly showcase your products and brand image.
Basic to Dynamic Digital Signage Content
Can digital signage content be simple and still effective?
Digital signage content can be basic, and frequently is. It doesn't have to be hugely complex to be effective, but gives the opportunity to be. Static content, which could be a brand logo, product information or directions, can be seen more clearly from further distances, is easier to create, requires lower bandwidth to run and needs less memory storage.
If your digital signage needs are simple or you're just looking to get started, this could be the best option for you – and a trial is available. However, it's important to keep in mind that digital signage can go way beyond this. You'll want to approach it as a TV, not a poster, so creating dynamic content, not stills, will take you to the next level.
Dynamic content attracts more attention, shows more information, creates more opportunities and can personalise the experience of your audience. The best results and ROI from digital signage will come from displays that bring together various basic and dynamic content and curate them into a seamless, relevant playlist.
The Range in Complexity of Digital Signage Content:
Images
Videos & Animated Content
RSS & XML Live Feeds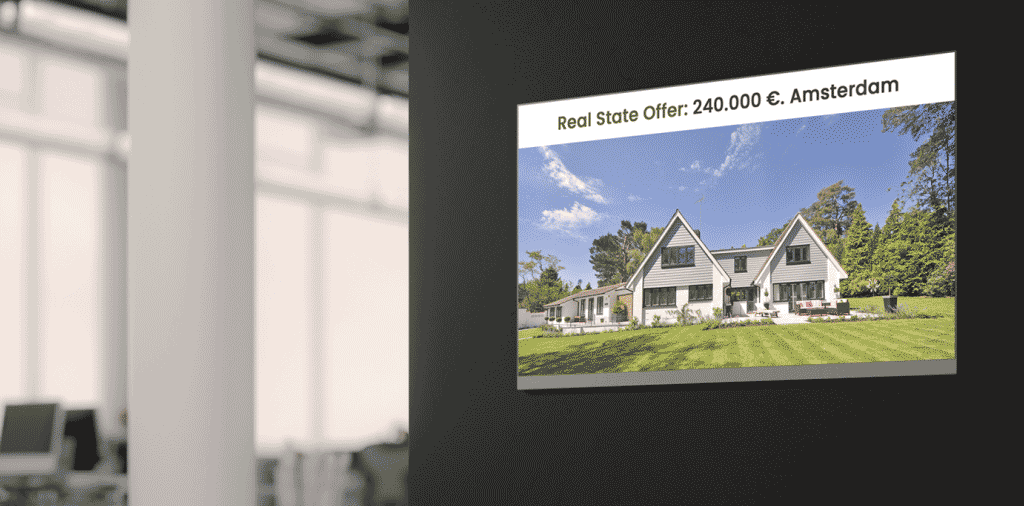 Can all image types be used for digital signage?
You can use various image file types, including JPG, BMP, PNG and GIF. Due to the large size of digital signage displays, high resolution images will be required to keep them attractive and sharp. Low quality and pixelated images on an LCD screen will leave your audience with the wrong impression and unfavourable image of your business.
It's also an option to turn a series of images or a PowerPoint presentation into a video format instead.
Videos and Animated Content
What software is best for creating digital signage videos and animations?
Silverlight
Now considered to be an outdated technique, Silverlight was a popular framework for using internet applications and videos and would frequently be used for digital signage content. However, it has now run out of favour for more effective methods.
Adobe Flash
Adobe has also been an important player in the digital signage industry. However, Adobe flash has lost its place in the market. Back in the day, web pages and apps were very static, using only simple text and images. Flash created the opportunity to use more advanced animation and interactivity, but it has now been replaced by HTML5, which is open source and more advanced.
Adobe After Effects & Narrowcasting
Adobe After Effects remains the industry standard for creating graphics and, with the spread of large high-resolution LED displays, the demand to match the displays' capabilities with exciting motion graphics is increasing.
Animations are created using After Effects or HTML5, depending on what's needed. Many digital signage companies will use After Effects because it can create the highest-quality animations and doesn't require an internet connection to playback. An After Effects template will be rendered on the company's servers, whilst HTML is rendered on the hardware, so using After Effects is not affected by hardware limitations, in this way creating more animation possibilities
However, HTML5 has many benefits as well. HTML5 animations don't have the full capabilities of After Effects but are ready to use immediately, unlike After Effects, which requires them to be rendered by the server first. When you create animations on HTML5 using a digital signage content management system (CMS), you'll be able to see how the animations will appear on your displays as you fill in the template. This type of user interface is called 'WYSIWYG' and you can find out more here. In contrast, to see the display output of After Effects animations requires heavy computer hardware and software.
HTML5 & Narrowcasting
What's the best software for creating digital signage content?
HTML5 is now the most important tool being used to create the latest generation of web apps and digital signage. It provides a much needed universality for creating content that can run across all platforms, including digital signage displays, desktops, laptops, tablets, and smartphones. This takes the interactivity that everyone enjoys on their smartphones and tablets and brings it to all locations. Businesses are enriching the experience of customers with faster video playback and other advanced multimedia. Digital signage displays have become faster, interactive and more stylish and sophisticated – opening up unlimited opportunities to engage, especially with a 4K display. Also, unlike more basic content, HTML content is responsive to display size, so it's always fitted and a high resolution.
RSS & XML Live Data Feeds
Can you have live data feeds in your digital signage content?
With HTML5 you can incorporate a live data feed into your content, which means that the information you display will be updating itself automatically. By integrating an RSS feed as an XML file – which means that the information is formatted into characteristics that allow it to be displayed attractively in a logical format – into your digital signage content, your displays will always be up-to-date and remain fresh whilst minimising the time spent managing content. Instead of needing to manually scan sources for information, finding what's relevant and then implementing it into your digital signage, an RSS feed will do it all for you. A live feed of blog articles, press releases or other regularly updated content from the sources you trust will be displayed. To keep it branded, the RSS feed can display all the latest content and social media posted online by the company itself.
A SaaS company will have templates that live feeds can be incorporated into as an overlay. In this template, a background image can be put in of your choice that complements the data's topic, your brand or whatever you want. Additionally, accessing your XML data feed and then displaying it can take your device a few seconds, so a SaaS will develop a short intro to the content. Therefore, when the background is displayed the data overlay is also ready. This will make sure your content looks professional and high quality.
Publishing Digital Signage Content
Now that you have content and have created and scheduled a playlist, how is it published?
What's the best mark-up language for digital signage?
There are different ways to publish digital signage content, but SMIL has become the standard. SMIL stands for 'Synchronized Multimedia Integration Language' and is an XML-based mark-up language designed to make it easier to define, schedule and synchronise multimedia (audio, video, text, graphics, dynamic HTML5-based content) into a timeline and to organise screen layout – the building blocks of a digital signage solution.
This means that no matter whether you are using static content, dynamic content or both, you can easily aggregate them and coordinate their timing, thus creating the best possible digital signage content and playlist.
Dit betekent dat, ongeacht of je statische content, dynamische content of beide gebruikt, je ze eenvoudig kunt aggregeren en hun timing kunt coördineren, waardoor de best mogelijke content voor narrowcasting en afspeellijst wordt gecreëerd.
What are the Benefits of SMIL for Digital Signage Content?
Send movies, still images and sound separately but coordinate their timing for specific times/intervals
Have multiple SMIL players synchronising the playback of a source player
Define screen layout and assign media objects to a region
File sizes are kept to a minimum, thus preventing slow download times.
Provides interoperability between various software and hardware systems
Create multiple versions, including lower-bandwidth versions, and send them to different locations
Easily control dynamic advertising
Check for updates without restarting playback
Schedule a digital signage display into power-saving, screen-saving stand-by mode
Supports HTML Documents and Widgets
Supports buttons, motion sensors for triggering playlists when user provides interactive input
Supports showing videos from external sources
Make micro adjustment to playlists based on user data
Media files are kept in the cache storage and played from it from then on (except live feeds)
Examples Of Dynamic Digital Signage Content
Digital signage has become more dynamic, fast and functional with HTML5. met HTML5.
Here's a list of examples of Easyscreen's HTML5 and XML based content:
Social Media TV: Integrate a composition or flow of posts from your brand's social media accounts, including the latest posts, customer reviews, hashtag campaign engagements and much more.
Team TV: Share company info to all employees in a stimulating way. With access to company databases you can share employee information, sales info and KPI progress. With an online RSS feed, newly posted online content can shared from important sources.
Point of Sale TV: Integrate lots of product information onto a display next to the product itself, including pricing options, manufacturing, stock levels, online availability and more. Include more visually eye-catching content like videos of it in action and animated graphics for branding.
Menu TV: Design an attractive menu board for customers. The menu can be updated at set intervals to match the date or time and highlight the specials. Include images and videos of the food to get the customers hungry and animated graphics to showcase promotions.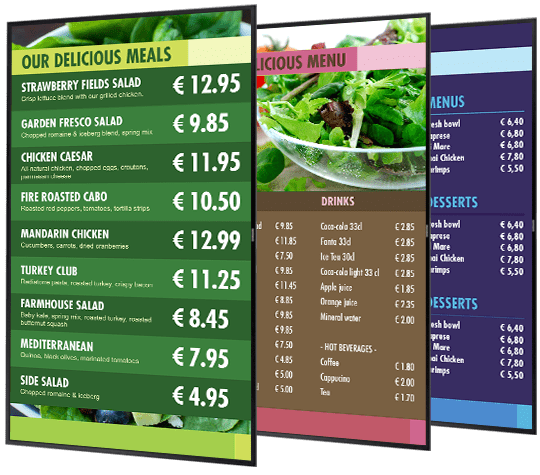 Easyscreen: Bringing it all together