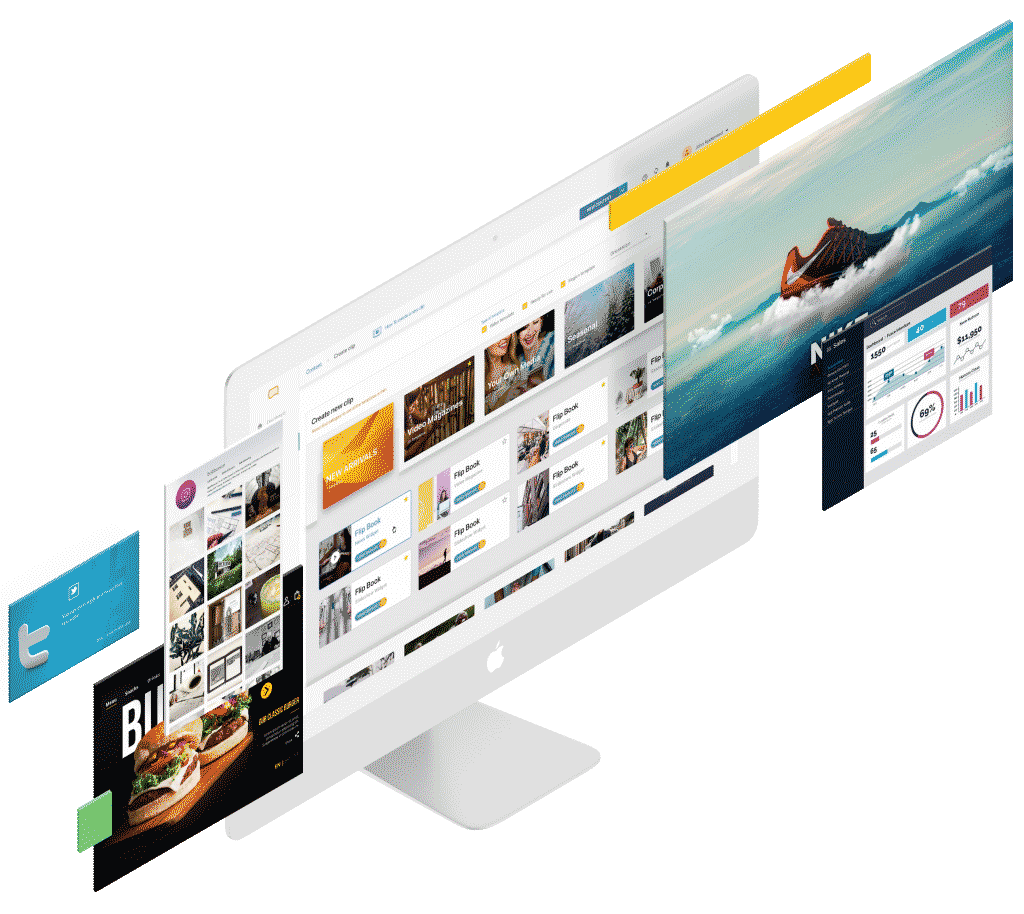 Digital Signage Systems: Your Guide
---
Once you've been convinced of the benefits that digital signage can potentially bring to your business, you are excited to design and implement your own. However, as with all things, there are no guarantees of success without proper planning. Digital signage is a great tool to have but is frequently implemented ineffectively. On this page, we'll guide you through the process of designing a digital signage system that reflects the goals of your business, shop, hospital, government building, office, university, or other institution while capturing and retaining the interest of your target audience.
What Is A Digital Signage System?
---
A digital signage system is a network of managed screens and supporting elements that bring the digital world to offline spaces. The tangible elements include media players and displays, while the intangible will include objectives and content management software. A system brings them into unison to create the best results.
Designing A Digital Signage System
---
How do you ensure your digital signage system is effective?
The Step-by-Step Process
---
In order to have a well-functioning, optimized digital signage system, you'll need to plan its implementation using a step-by-step strategy.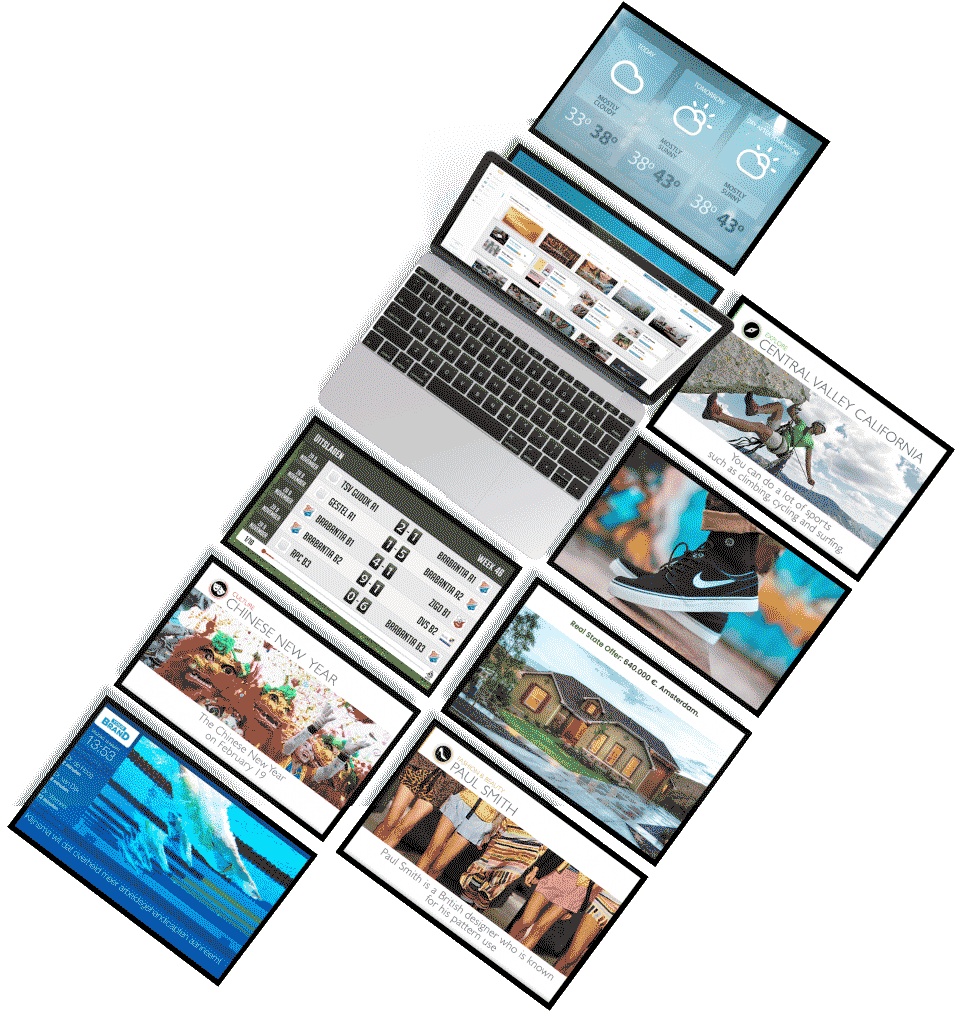 1. Set measurable objectives

2. Define your target audience

3. Create engaging content

4. Plan locations and installation

5.

Design a content schedule

6. Choose supportive hardware

7. Review your system's success
1. Objectives
---
What goals can digital signage help you to achieve?
For lots of digital signage, the objectives they are trying to achieve are directly based on profits. But this isn't the only type of objective with which it can help.
Here are some of the most frequent goals of a digital signage system:
●

Increasing sales

●

Spreading brand awareness

●

Streamlining internal communications

●

Improving the audience's experience

●

Navigation/Wayfinding

●

Displaying product information and videos

●

Increasing social media engagement

●

Giving access to e-commerce

●

Reducing perceived waiting times

●

Save costs and trees by not printing new materials all the time (e.g. leaflets, posters)

●

Providing entertainment
As you can see, lots of these don't directly revolve around profits. Many of them are applicable to public institutions as well (e.g. hospitals, schools, libraries) and these institutions are becoming increasingly aware of the benefits digital signage can bring them. See our customer stories for inspiration.
How can the success of your digital signage system be measured?
The objectives that you want to achieve will need to be measurable in order to determine their success, which should be outlined before your system is implemented. These objectives will create benchmarks that you'll be striving for and you can base your choice of content around them. They will be vital when it comes to reviewing your system.
The success of some objectives that are based around profits will be easy to measure, for example, you'll be able to compare the current level of sales to future levels. Social media objectives are also easy, as your followers and level of engagement are easy to track.
However, the success of some won't be so easy to measure. How do you measure the reduced perception of waiting times? Its effect on brand awareness? Or usefulness for navigation? You'll need to ask your audience for feedback, but we'll come to that later in the review section.
Make sure you set deadlines by which your objectives need to be achieved. It would be useful to have the deadlines of your different objectives around the same time, so when it comes to reviewing your system's success you have all the data you need to do so thoroughly.
Having said all this, a lot of our customers, especially the customer that is not in retail, simply say they love the screen and what it does to the space and how people pick up the information and vibe. So that is a great objective too!
2. Define Your Targeted Audience
---
How do you analyze the audience of your digital signage?

It will help your business to create an audience profile, as it will help you gain a better understanding of the motivations and needs of your audience. When you know this, you'll be able to correctly match your content to the audience and thus to your objectives.
Some questions you'll need to answer about your audience:
●

What are their demographics?

●

What's their (staff, customers, patients, passers-by) motivation for engaging with your business?

●

What objectives do they have that your business can help them to achieve?

●

How does the audience change at different times and days?

●

How do the audience's needs change at different times and days?
These questions are important because certain types of content will work for some audiences but not others and you'll need to know how your audience changes so you can show the right content at the right time.
It might be that you're trying to analyze your audience to create content for them or that you already have a piece of content and want to know when the right audience will see it. Answering these questions will help you either way.
3. Content Creation
---
How do you know what the best content to create for your digital signage is?
Once you know what you want to achieve and have created a profile of the audience that you'll be engaging with to achieve them, you'll be able to create the right content: you'll know what you want you to achieve with your digital signage and what your audience wants to see. For an in-depth analysis of digital signage content, go to our content guidelines here.
How types of content can achieve different objectives

Sales

Branding
Informative
4. Analysis of Locations
---
What do you need to consider while deciding where to install your digital signage hardware?
Every digital signage user's location is unique. You will have different factors affecting how and where you can put your displays. We have written a full guide that explains the things you'll need to consider when you are installing your hardware. Check out our digital signage installation guide now.
5. Content Scheduling
---
How do you know when to show your digital signage content?
It wouldn't make sense to have the same piece of content on display all day every day. You need to what to show, where to show it and how long/frequently you should show it. This is why it's important that you've analyzed your target audience and created content that relates to them.
To schedule your content is very easy when you have a content management system (CMS), which is a platform that allows you to create and organize playlists and create content. You can also select certain pieces of content to play at certain times or days. For more information about these CMS platforms check out our digital signage software guide.
How does dwell time (or viewing time) affect digital signage?
The duration of your content and each full loop should be determined by the 'dwell time' of your target audience. This means that if the average time spent in your waiting room is 15 minutes, then your loop shouldn't be 30 minutes long, and
A key factor for determining a schedule is 'dwell time'. This is how long your audience spends in the location of each display. You need to match your content's duration or your playlist's loop to dwell time. If your audience spends an average of 15 minutes in a waiting room, they won't want to watch the same 2-minute playlist of content over and over again until they leave.
And if your screen is next to the entrance of your store to be seen as customers walk in, then it shouldn't be a 2-minute video. This will mean your content isn't seen and your screen isn't being effectively utilized. You need to create playlists and content that get the optimum amount of information across.
How often should a digital signage display's content be updated?
How frequently you need to update your content will depend upon your objectives and audience. If your objective is to attract customers to your online store or keep patients entertained in a waiting room, then your content won't need to change very frequently.
The frequency at which your audience returns to your space will be an important factor. If your audience returns on a frequent basis and sees the same content again and again, then they'll stop looking. You need to catch their attention with new content, which news feeds and social media do very well. With CMS software, you can plan ahead of time by creating content for valentine's day, mother's day, and other holidays, putting them into your content schedule, and then they'll automatically be on that day.
However, for waiting rooms with patients that rarely return, your content can stay consistent. But it must always remain up-to-date and relevant. You need to know how long customers will be in front of the screens or what type of activity they'll be doing once they're there
How does a time of day affect a digital signage content schedule?
Imagine going to get your breakfast at 8:30 in the morning and you see the window is advertising promotions on beers. This isn't going to entice you as a coffee promotion would. People's needs and behavior change depending on the time of day. If you were a restaurant with a digital signage menu board, you would schedule your menu to change for breakfast, lunch, and dinner.
The food industry is the clearest example of the importance of this, but all industries need to consider it. A clothing store should show content aimed at older women throughout the day and then schedule content aimed at teenagers into the playlist once school is over.
For internal communications, employee birthdays can be scheduled into the playlist. The content could be 'seize the day' inspirational content in the morning and change to information relating to the next working day during the last working hour.
6. Hardware
---
How do you decide the best digital signage hardware for your content and objectives?
We have written in-depth guides for digital signage displays and media players, where you'll find all the information you need on what the options are for each and why choosing the correction types is vital for success.
For example, digital signage displays range from tablets to video walls and can be interactive, stretched, have a media player built-in, and much more. Once you know what content you need to show to achieve your objectives, you can choose the right displays and media players.
If you have a beautiful 20ft video wall that's showing the same content as a tablet, you've gone deeply wrong in your strategy. You don't want overkill and wasted money, but you also don't want to look unimpressive.
Here are some examples of questions you'll need to ask in order to choose the right hardware:
●

What resolution does your content need to be? Are you looking for a 'wow' factor?

●

How far away do you want your audience to be able to see your content?

●

Does your content require a two-way conversation?

●

Is your content going to be shown outside?

●

Do you have a reliable internet connection?

●

What operating system do you prefer?

●

What's your budget?
7. Review
---
How do you review the success of your digital signage system?
In business and in life, you always need to be improving what you do by gathering feedback and data and then fine-tuning. Digital signage is no different. The magic formula for digital signage content and playlists doesn't exist. But with testing, measuring, and altering you'll get yourself closer to it.
The benefit of digital signage is that it's not static like old forms of advertising and communications. When you get started with digital signage, things won't be perfect. But digital signage and a CMS will allow you to quickly and easily change things.
As stated earlier, some objectives will be easy to measure. But for other objectives, you'll be required to ask your audience. Digital signage is all about engaging with your audience, you'll just need to engage them further a bit to find out what they think.
Examples that you can ask your audience
●

Did you find the navigation signs useful and clear?

●

Did you notice what was on the display in our shop window?

●

Did you see any content that you didn't like?

●

How could your experience with us today have been improved?
With this information, you'll be able to start thinking about improvements for your system. This could include new spots, getting bigger displays, shortening your playlists, and much more.
A/B testing is a great way to determine what's best for your digital signage. A/B test your calls-to-action, images, videos, and wording just like you would on your website. For example, create promotion codes that require a different word to use and put them on separate displays. Then, when your customers use the promo code, you can determine which display was more effective.
In this century, technology is changing fast. When it comes to reviewing your system, you can research what new technology is on the market. For example, OLED displays are an up-and-coming technology that allows content to be displayed on both sides. Make sure you're using the best technology available.
Easyscreen: Bringing it all together
One-Stop-Shop Service
---
Can one company take care of all your digital signage needs?
Easyscreen can help you through every step of your digital signage strategy. We are a one-stop-shop service, meaning we offer a full package. We supply you with the necessary hardware and software and then deal with installation and maintenance. We are able to take care of all your digital signage needs.
But what does that mean? Check out our other guides on digital signage: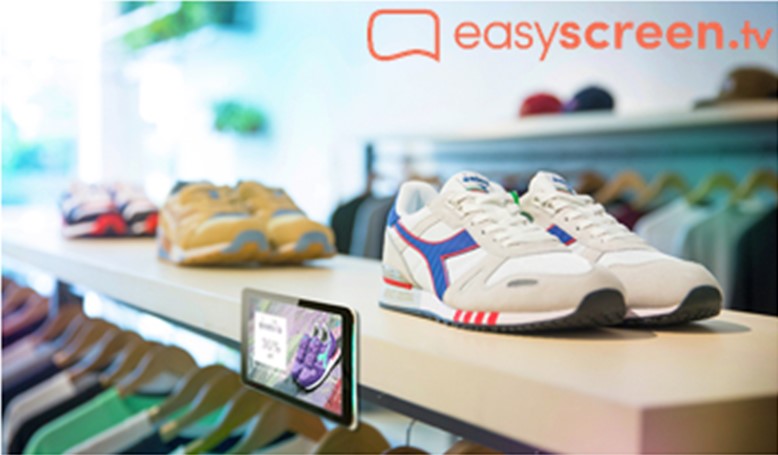 Choosing Easyscreen
If you choose to use a digital signage company to make sure you're creating the best possible content and making the most of your digital signage, then Easyscreen is here to help.
We are proud of what we've helped our customers to achieve and can do the same for you. Check out our customer stories for some inspiration.