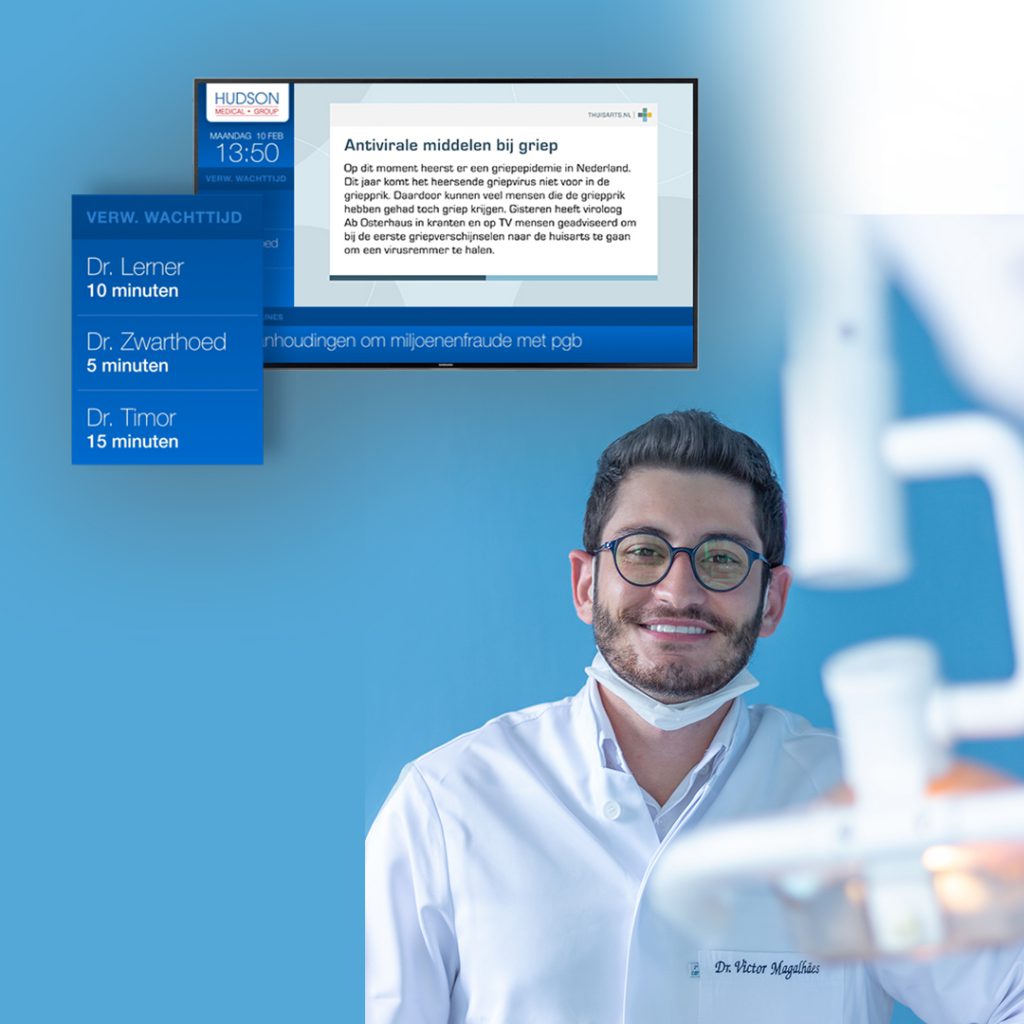 As a dentist or dental hygienist, you deal with patients in your waiting room every day. More and more specialists opt for digital signage in the waiting room of their practice. It improves the atmosphere and offers you the perfect opportunity to share more about your practice. In addition, digital signage combined with a digital waiting system ensures clarity among patients, staff, and visitors. In short, with dental digital signage, you make the waiting for a dental treatment more valuable.
Your customers won't even notice they're waiting. 
It does not matter whether you have a waiting area or need to provide multiple waiting rooms with digital signage. With a system, you can provide multiple dental practice locations with information. Digital signage makes an important contribution to the atmosphere within your practice. In addition, digital signage lowers the workload of support staff because you show a lot of information such as frequently asked questions (FAQ) on the screens.
Dental digital signage: Also improving your waiting room
Because customers are well informed about waiting times, there is less irritation and customers feel at ease. Well-informed customers are usually willing to wait a little longer when a dental treatment ends.
Dentist or dental hygienist? Eight reasons for digital signage in your waiting room.

Less stress in the waiting area thanks to current waiting times
Well-informed patients show more understanding for an extension of the waiting time. So tell us how long you have to wait on average. With digital signage, you can easily display the current waiting times on the screen. It creates clarity and prevents annoying misunderstandings
Video in the waiting room: from information to entertainment.
Another proven effective way to soften the waiting time in your practice: video content. Video clips with medical news such as innovations in Healthcare are extremely popular. Thanks to widgets (links from news sources) the latest news automatically plays on the digital signage screens in your practice. There are currently many informative and educational videos available such as NHG videos, NU.nl medical news, and BBC Health.
The world news in your waiting room.
Display the news in the form of international or local news flashes on the screens in the waiting room. Useful widgets are also available for this purpose. After the widget is installed, the news is automatically updated. You decide which news your customers see via the settings of your digital signage menu.
Practical information in the waiting room.
Forget the brochure or the torn poster on the corridor. For current events, build a strong image for a satisfied customer base. With digital signage your practice is central. Propose the team, communicate opening hours or introduce new therapies. Provide answers to frequently asked questions (FAQ) and reduce the workload of your staff.
Digital signage for the waiting room and treatment room.
Digital signage can be used both in the waiting room and in the treatment room. Different screens can be operated and controlled from a central dashboard.
Signposting in practice.
Do you have a joint practice? Or do you have several treatment rooms? Use digital signage for signposting by placing screens at the treatment rooms or the reception. You provide clarity through a central screen with a map of the practice.
Multiple waiting rooms a digital signage system.
We said it before: digital signage is a scalable medium. A medium that can not only provide multiple screens but also different locations with information. Via a central screen, you can see what's going on on different screens. So you know for sure that the right content is shown in the right corporate identity at all locations. Individual locations can easily add content themselves.
Dental digital signage: a valuable medium
The screens in your practice are very valuable for advertisers. National and local parties are happy to get your screens in your waiting room in contact with their target group. Your action or offer is also best suited to the place where it belongs: between the eyes of your audience in the waiting room of your practice. No flyer or leaflet can compete with this.
Digital signage: what are you waiting for?
Now that you know all this, you want to know exactly what digital signage costs. How many screens should be placed and what software you should have to be successful with digital signage. Call us or taste without obligation.
Easyscreen: One-stop-shop Digital Signage Software

Here at Easyscreen, we are a one-stop-shop. So we can help you every step of the way. We can provide you with your digital signage displays and media players, but also much more. We supply you with our platform's content creation and management software and then take care of installation and maintenance.
Want to know more about digital signage? Read our full guide to digital signage
Free Digital Signage Software Demo
We are confident that your dental practice will experience the benefits of digital signage, just like our other customers in the healthcare industry.