Digital Signage Communications Strategy Narrowcasting Communicatie Strategie
The communication opportunities afforded to you through digital signage are exciting and effective, yet also simple to achieve with the right strategy. In this guide, we'll outline to you how you strategize your digital signage communications using the '5 Building Blocks' to make sure you're reaching your potential.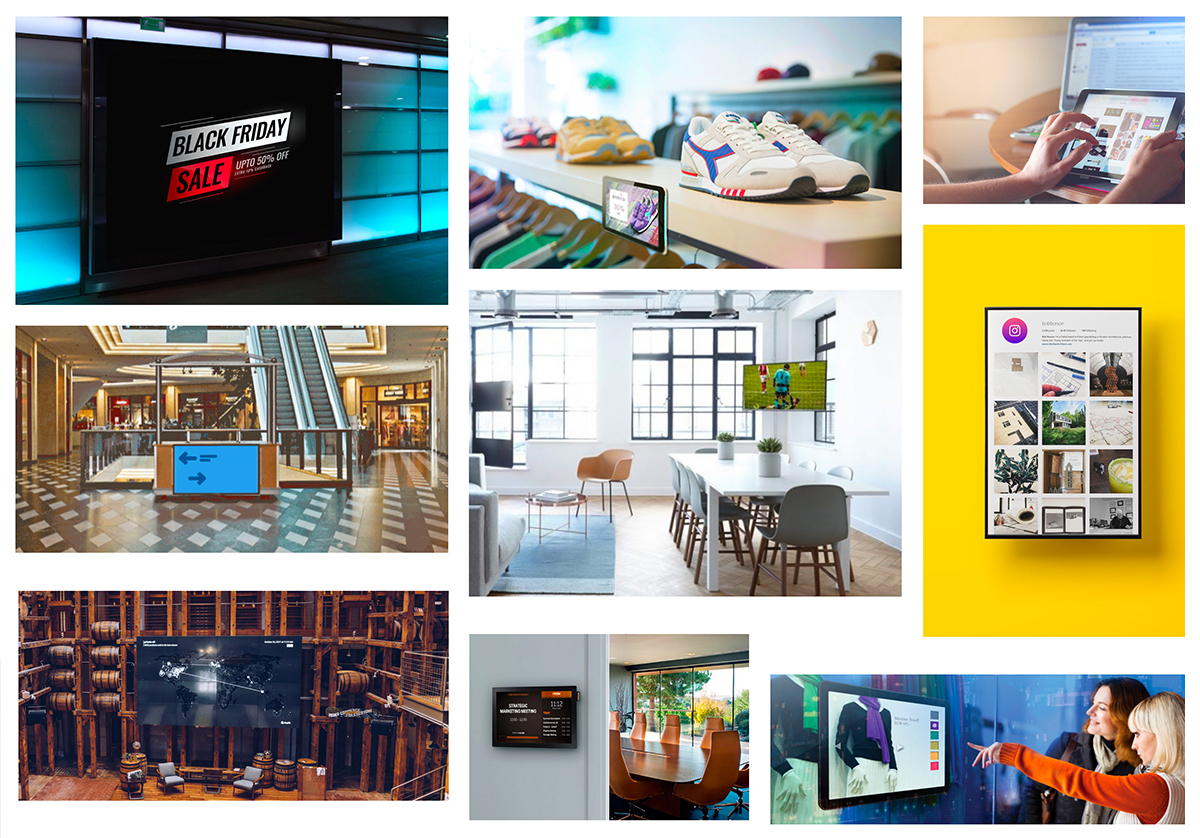 The 5 Building Blocks of Content
What needs to be included in a digital signage playlist?
An effective digital signage playlist is built using the '5 building blocks of digital signage content. When these blocks are put together, they create playlists that take full advantage of digital signage's capabilities. Each clip will individually help to achieve different final objectives, but having the mixture keeps the audience looking, watching, and engaged.
How does digital signage improve brand identity and awareness?
Video content makes it possible (and easy) to show an audience what the brand stands for, its values, and its unique selling points. Above-the-line content can be put across to an audience to show what separates the brand from the rest of the competition – and does so in an exciting way. This will, in turn, create engagement and conversions.
When customers recognize that they share some core values with a brand, they'll be willing to engage, build a relationship, and want to become part of the brand's story. There's no better way to do this in physical spaces than with video and animated content.
And every brand impression counts, even when they aren't consciously processed. Digital signage displays get noticed, so the inclusion of the brand name and imagery in the content will increase their exposure and audiences will gain an affinity for the brand.
Branding content includes:
3D animations of the logo and slogans
Brand's values and legacy
Mission
TV bumpers
Celebrity endorsements
Social media walls
Unique selling points
Displaying the strengths of the company: history, locations, services, team, etc.
Films and people that associate with the brand
Do you want an up to 33% increase in sales?
Digital signage is very effective at giving an audience a message with a persuasive call to action. A study found that 80% of stores saw as much as a 33% increase in sales when they started using digital signage.
Customers have said themselves that – in order to make shopping and purchasing simpler- they want to see more clear information on sales items and promotions. Digital signage promotions have been shown to make customers more likely to buy the featured products and 44% of customers even state that it would influence them enough to buy the featured product instead of the one they had originally planned to buy.
With strategically located displays, an audience can be shown promotions and advertisements when they are most effective. Promotions can be focused on up-selling and cross-selling by showing recommendations and promoting add-on items and packages.
Commercial content includes:
Themes: Summer, World cup, Christmas
Adaptations of print promotions with a call to action
New products and services
Highlights of unknown services
Future promotions and offerings
This content is designed to be entertaining, but to also provide some information at the same time. The information will be something that the organization has deemed to be useful or interesting to its targeted audience.
Quite often this type of content is implemented onto a region of the screen, so it is displayed at the same time as other content.
Live feeds from sources of choice can be linked-to templates that come with a software platform, so all the latest news and information is displayed in a professional, clean and logical design that requires no work to keep up-to-date.
Infotainment content includes:
News: General, sport, health, economic, business, politics
Traffic
Weather
Deze content is gebaseerd om entertainend te zijn, maar ook om tegelijkertijd informatie te leveren. De informatie is iets wat de organisatie inschat als nuttig of interessant voor hun doelgroepen.
Vaak wordt dit type content geïmplementeerd op een deel van het scherm, zodat het naast de reguliere content wordt getoond.
Live feeds uit gekozen bronnen kunnen worden getoond met templates die zijn gekoppeld aan een software systeem, zodat het laatste nieuws en de laatste informatie in een professioneel, strak en logisch design wordt weergegeven en het geen moeite kost om te updaten.
Infotainment content bestaat uit:
Nieuws: Algemeen, sport, gezondheid, economie, business, politiek
Verkeer
Weer
How can digital signage improve internal communications?
Effective communications within an organization to all employees and stakeholders vary significantly from business to business by the number of employees, industry, and locations. However, the objective remains consistent, which is to inform and engage, thus improving satisfaction and performance.
Digital signage achieves multiple goals at the same time. It creates an inclusive and connected company culture, gets the information across in a simple and fun way, and improves employee productivity. Employees that feel appreciated and involved are 20-25% more productive, which means the business will, in turn, become more productive.
Organizations need employees that understand and promote their offerings. And it needs its employees to understand its values.
Corporate content includes:
Share notices, provide data, and give feedback from customers
Event information (lunches, celebrations, birthdays, etc.)
HR information (benefits, onboarding, training, policies, etc.)
Initiatives (new policies, employee recognition, health tips)
Business/Financial (financial status, changes in business)
Marketing (external marketing efforts)
Easyscreen: Bringing it all together