Digital Signage Communications Strategy
---
The communication opportunities afforded to you through digital signage are exciting and effective, yet also simple to achieve with the right strategy. In this guide, we'll outline to you how you strategize your digital signage communications using the '5 Building Blocks' to make sure you're reaching your potential.
Table of Contents
---
The importance of having digital signage in a communications strategy
Communications strategy at work
The 5 Building Blocks of a communications strategy
Why have Digital Signage in a communications strategy?
---
Content superiority
Communications between an organization and its target audience come through a mix of channels to reach an audience at different moments, give different information and content, and achieve different objectives. Digital signage is an increasingly important part of that mix, as its content is unrivaled in its ability to push information and create engagement with an audience in physical spaces.
Why is digital signage content more effective than other communication mediums?
---
Relevance

Digital signage shows customers the content that is relevant to them, entertaining, and what they want to see. By showing an audience this content, it will result in the creation of a connection between an organization and those it wishes to connect to.

---

Emotional Engagement

By showing content that engages the audience, not just actively but also emotionally, an organization can create an augmented, digital experience in physical spaces.

---

Freedom of placement

You can put digital signage screens everywhere, including walls, doors, ceilings, windows, shelves, outside, and more. Additionally, the content can be fully connected to the signage of multiple locations, so consistency isn't affected.




---

Videos draw attention

Digital signage isn't a static poster, it can show videos, animations, and motion graphics - this is a huge strength. With video content, the displays draw attention, elicit stronger emotional connections, show more in-depth information and tutorials, tell a brand's story, and more.




---

Real-time and up to date

Content is linked to living feeds and databases, which update the information on displays automatically.




---

Speed, flexibility, and control

Other communication mediums (posters, billboards, TV, radio) require long delays for removing/ending old content and then producing and installing the new content. Disseminating important and informative content is slow and ineffective. With digital signage software, it can be done in minutes thanks to templates and creation tools, and then once it's finished it can be shown straight away.




---

Emotional engagement Relevance

By showing content that engages the audience, not just actively but also emotionally, an organization can create an augmented, digital experience in physical spaces.
Communications Strategy at Work
---
What a strategy helps to achieve
Designing a Strategy
To design a spot-on content configuration, it should include a compelling blend of:
Brand Formats

Entertainment Formats

Information and Instruction Formats
Once the engagement strategy is chosen and the content formats identified, the question is:
How do you strike a balance between objectives, content, and functional, technical, and aesthetic design?
To configure a spot-on content configuration we focus on the main 3 goals:
Engaging the audience

Conveying the message

Representing the brand
---
Put all your goals/objectives at work
A digital signage display can show an audience a playlist of content that creates awareness, evokes emotions, and elicits behavior. The audience can be engaged at different stages and be guided through the customer journey. Short-, mid-and long-term interactions can be created to encourage not only instant gratification and conversions but also loyalty and eventual advocacy.
---
Through the line with Digital Signage
Above and below-the-line marketing is distinguished by their different objectives, and these objectives relate to different stages of engagement. Digital signage in physical spaces can incorporate content into its playlists that achieve both of these forms of marketing's objectives:
Above-the-line content can be used to engage an audience with the brand by creating higher-level experiences and telling the brand's story.
Below the line content can create conversions with promotions and calls to action.
Digital signage is, in this way, a through-the-line communications medium.
Communications at work per industry
---
Retail customers can be informed about a brand and the benefits of its products and services, relate to the emotional benefits of choosing the brand, and be shown persuasive messages and calls to action to create sales and conversions.
Educational institutions can involve and inform large groups of students, individual students, parents, visitors and teachers. Students and staff want to have the latest information regarding class schedules, more engaging teaching materials, and warmly receive information about upcoming events and other things that are going on. Visitors and parents will want to be able to find their way around buildings and campuses. Parents will also want important updates. Feeds can be created to the displays using the institution's databases, which automatically updates the information.
Hospitals, clinics and other healthcare facilities use digital signage to ease the waiting times of patients. A display in their waiting rooms with entertaining videos, informative content about local weather and topical news will keep them distracted and make the time pass faster. Waiting can also be a drag when the expected waiting time isn't known. By giving them this information, as well as which doctors are available, they'll have a better experience. Queue management systems allow several employees to simultaneously control the displayed information, so the patients immediately sees when it's their turn and at which counter they'll be expected.
Public buildings, for example local governments and museums, want to give their visitors information that will smoothen their visit. They want to know where rooms, offices and exhibitions are and how to find them. Museums want to give information about the exhibits, which can be done with interactive screens to make the experience more personal. Again, queue management systems make waiting a much more relaxing experience.
Digital signage offers offices and manufacturers the best way to share information between employees. They can use digital signage to book meeting rooms and view their schedules. KPI progress and sales information can be updated live. By keeping employees better informed, communicating faster and remaining focused on goals, the business's productivity will increase and keep employees satisfied.
The 5 Building Blocks of Content
---
What to include in a communications strategy
What needs to be included in a digital signage playlist?
---
An effective digital signage playlist is built using the '5 building blocks of digital signage content. When these blocks are put together, they create playlists that take full advantage of digital signage's capabilities. Each clip will individually help to achieve different final objectives, but having the mixture keeps the audience looking, watching, and engaged.
---
Branding
How does digital signage improve brand identity and awareness?
Video content makes it possible (and easy) to show an audience what the brand stands for, its values, and its unique selling points. Above-the-line content can be put across to an audience to show what separates the brand from the rest of the competition – and does so in an exciting way. This will, in turn, create engagement and conversions.
When customers recognize that they share some core values with a brand, they'll be willing to engage, build a relationship, and want to become part of the brand's story. There's no better way to do this in physical spaces than with video and animated content.
And every brand impression counts, even when they aren't consciously processed. Digital signage displays get noticed, so the inclusion of the brand name and imagery in the content will increase their exposure and audiences will gain an affinity for the brand.
Branding content includes:
3D animations of the logo and slogans

Brand's values and legacy

Mission

TV bumpers

Celebrity endorsements

Social media walls

Unique selling points

Displaying the strengths of the company: history, locations, services, team, etc.

Films and people that associate with the brand




---

Commercial
Do you want an up to 33% increase in sales?
Digital signage is very effective at giving an audience a message with a persuasive call to action. A study found that 80% of stores saw as much as a 33% increase in sales when they started using digital signage.
Customers have said themselves that - in order to make shopping and purchasing simpler- they want to see more clear information on sales items and promotions. Digital signage promotions have been shown to make customers more likely to buy the featured products and 44% of customers even state that it would influence them enough to buy the featured product instead of the one they had originally planned to buy.
With strategically located displays, an audience can be shown promotions and advertisements when they are most effective. Promotions can be focused on up-selling and cross-selling by showing recommendations and promoting add-on items and packages.
Commercial content includes:
Themes: Summer, World cup, Christmas

Adaptations of print promotions with a call to action

New products and services

Highlights of unknown services

Future promotions and offerings




---

Entertainment
How can digital signage be used to entertain an audience?
Entertainment content from digital signage gives an opportunity to more accurately match the entertainment to the audience. By doing so, digital signage offers a simple but effective way to create a more positive and pleasant overall experience between an organization and its audience.
For example, by including entertainment clips into a playlist in a waiting room or reception, it will make the waiting time pass faster for patients, customers and visitors. Their time spent with the organization is more exciting, relaxing, and satisfying.
Entertainment content includes:
Kids cartoons

B

loopers

Viral videos

Photo of the day

Music video clips

Live events

Quizzes

Special interests for target groups: sport, music, culture, technology




---
Infotainment
This content is designed to be entertaining, but to also provide some information at the same time. The information will be something that the organization has deemed to be useful or interesting to its targeted audience.
Quite often this type of content is implemented onto a region of the screen, so it is displayed at the same time as other content.
Live feeds from sources of choice can be linked-to templates that come with a software platform, so all the latest news and information is displayed in a professional, clean and logical design that requires no work to keep up-to-date.
Infotainment content includes:
News: General, sport, health, economic, business, politics

Traffic

Weather




---
Corporate
How can digital signage improve internal communications?
Effective communications within an organization to all employees and stakeholders vary significantly from business to business by the number of employees, industry, and locations. However, the objective remains consistent, which is to inform and engage, thus improving satisfaction and performance.
Digital signage achieves multiple goals at the same time. It creates an inclusive and connected company culture, gets the information across in a simple and fun way, and improves employee productivity. Employees that feel appreciated and involved are 20-25% more productive, which means the business will, in turn, become more productive.
Organizations need employees that understand and promote their offerings. And it needs its employees to understand its values.
Corporate content includes:
Share notices, provide data, and give feedback from customers

Event information (lunches, celebrations, birthdays, etc.)

HR information (benefits, onboarding, training, policies, etc.)

Initiatives (new policies, employee recognition, health tips)

Business/Financial (financial status, changes in business)

Marketing (external marketing efforts)
Easyscreen: Bringing it all together
One-Stop-Shop Service
---
Can one company take care of all your digital signage needs?
Easyscreen will help you create and manage your digital signage content, but also much more. We are a one-stop-shop service, meaning we offer a full package. We supply you with all the necessary hardware, software, and take care of installation and maintenance.
But what does that mean? Check out our other guides on digital signage: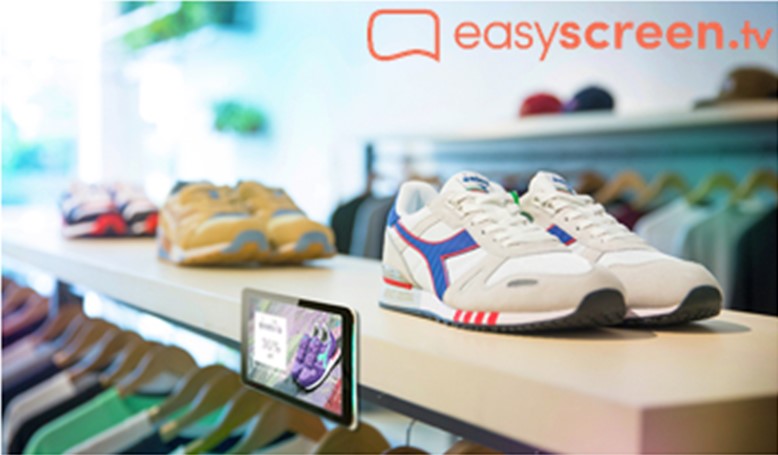 Choosing Easyscreen
If you choose to use a digital signage company to make sure you're creating the best possible content and making the most of your digital signage, then Easyscreen is here to help.
We are proud of what we've helped our customers to achieve and can do the same for you. Check out our customer stories for some inspiration.