One random example: You do some window shopping, fall in love with a house and step in at the estate agency to find out the house has already been sold. Damn.
For this reason, the information shown in estate agents must be up-to-date and relevant. Staying accurate is important, but you don't have time to maintain and check it.
That's when we step in with our digital signage software platform and fix this for you.
Engage with your communications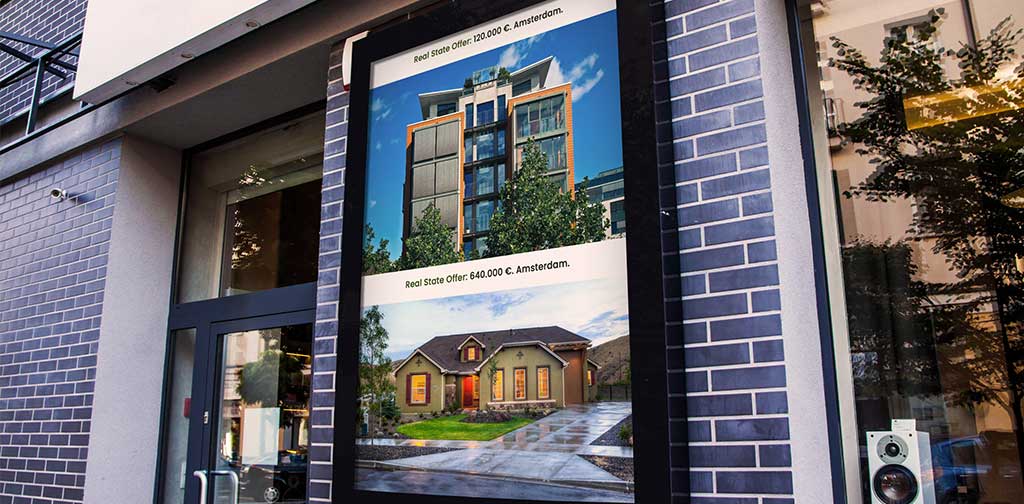 Co-operative estate agents Hoekstra & Van Eck and Hendriks Makelaardij were looking for extra opportunities to show their homes for sale in a dynamic way. This was the main reason they knocked on our door for advice.
We set up digital signage in their shop window to draw the attention of passers-by. Moreover, our Design Lab composed a high-quality, custom-made video program for each estate agency in their branding. Then our Tech Lab worked out a smart solution to make it even more efficient.
Seamless connection
To make sure the most accurate homes were shown on screen, we developed a connection with Funda to our digital signage system. Once a house was uploaded in Funda, within the next few minutes it was shown on screen. Without any needed assistance from anyone. Easy and smooth, just the way we like it and know you do, too.
Templates
Any location of the estate agencies can adjust the program if needed by using the range of templates in their specific branding. This helps them to create new messages quickly. They stay in control at all times.
Our software is full of templates that you can quickly add your information and branding too. You can also use the template creator to get creative and make your templates. Its features like this set us apart and allow our customers to reap the benefits of digital signage.
But not only that, but we also have experienced designers that will make high-quality and effective templates and widgets for you.
Playlists
You don't have to only show the latest information about your houses for sale. By using our creation tools, you can create lots of content and then drag and drop them into playlists.
This allows you to show animations, videos, images, and more. Nothing is more eye-catching than video content, so take advantage of it.
Playlists and clips can be scheduled to specific weeks, days and hours, so you don't need to worry about still showing information when it's no longer relevant. It will stop showing automatically.
Self control
You can make multiple accounts for the software platform and give them varying controls, so some can only affect displays in one location, whilst others can affect all of them.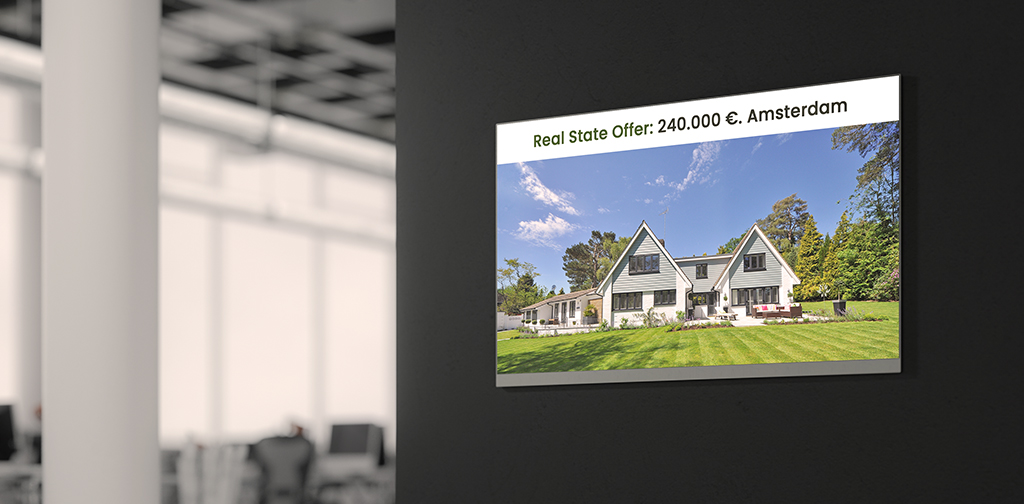 Easyscreen helps all industries build engagement with their audience
And, of course, this is not only for estate agencies. We serve global brands and industries worldwide. We built this amazing indoor engagement platform for digital signage and music with the most features and coolest designs. Our customers give us innovation challenges in technology, design, or content and we thrive off it. If you have a special request, our Tech and Design Lab are there for your assistance. Just give us a call.
Easyscreen: One-stop-shop Digital Signage for Estate Agents

Here at Easyscreen, we are a one-stop-shop. So we can help you every step of the way. We can provide you with your digital signage displays and media players, but also much more. We supply you with our platform's content creation and management software and then take care of installation and maintenance.
Want to know more about digital signage? Read our full guide to digital signage
Free Digital Signage Software Demo
We are confident that your estate agents will experience the benefits of digital signage with our software and help, just like our other customers across many industries already do. That's why we offer a free trial.