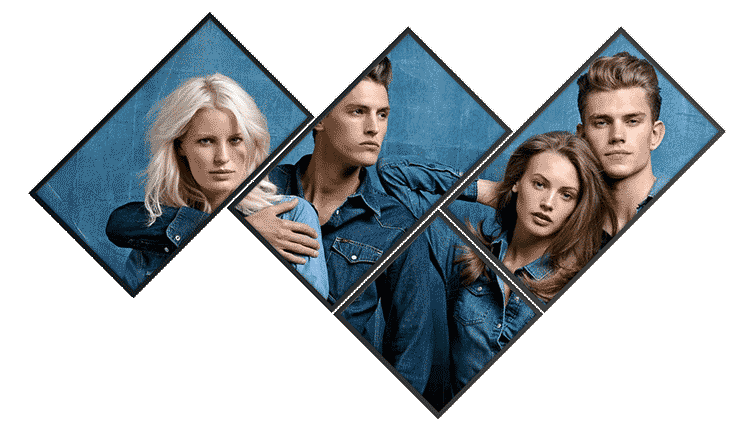 What is a Video Wall?
A video wall is a set of professional monitors that are installed together and work in synchrony to display digital content on the screens. These simulate a giant screen that works thanks to digital signage software.
It consists of two or more corporate screens, which are linked together, and transmit an image that can be static or moving. There are different types of video wall screens: video wall for outdoor advertising, for indoor, video curved wall, totem, etc.
Of all the displays on the video wall, only one of them should be connected to the media player. Concerning how the screens can be positioned, rectangles are the most common. Even so, it is possible that the positioning of the screens replicates a flower, a 360-degree wall, a windmill, whatever the way that reinforces your audiovisual message.
A video wall effectively communicates what you need. With this medium, you can expand your visual range and in this way, you can capture the attention of a greater number of customers.

Create a visual impact with a video wall monitor
With a video wall system, you can make content in a much easier way. These screens occupy an entire wall, gaining more space to emphasize your audiovisual message. Choose from standard, large, and creative options. Our video wall display offers interactivity for your clients in an easy way of managing. As with all of our products, videowalls provide a versatile digital signage solution for your content strategy. We are always looking for the optimal combination of hardware, platform, and original content to improve the customer experience. Dare to make yourself noticed!

Video wall with digital signage
These types of display technologies include LCD panels, direct view LED assemblies, combination shields, laser phosphor screens, and rear projection cubes. Added to all this, the Jumbotron type of technology was also used before. These are highly recommended for shop window displays. Still, video walls for retailers and wholesalers are the most profitable advertising method today.

Video mosaics or walls with Digital Signage
Screens specifically designed for use on video tiles or digital signage walls have narrow bezels which minimize the gap between active viewing areas. This is because they are built with the ability to provide quality and long-term service in mind.
This type of screen in some cases contains the necessary hardware to be able to attach other similar screens through connections to power chains, video, and command signals between them. An example of a command signal can be, for example, turning on or off all the screens in the video wall, calibrating the brightness of one individually or in groups. The type of digital signage for video walls is increasingly common to see in stores of large, medium, and small brands.
Next, we will proceed to explain what exactly this type of advertising screen is and how you can put them into operation to improve your type of external communication.
Settings: What does a video wall look like?
You can design video walls whose full aspect ratio is no different than 1 screen in a 16 x 9 aspect ratio. For example, 2x2, 3x3, and so on, in landscape or portrait orientation. You can also create a different aspect ratio by varying the height/width ratio or playing with the landscape and portrait. You have to take into account what type of content you will be showing on the screens.

Screen Styles for Video Wall

Symmetrical Video Wall
---
This style is achieved by positioning screens of similar sizes horizontally or vertically. This solution is the most frequent due to its format and its function.
Some of the most frequent configurations can be 2 × 2, 3 × 3, 4 × 4, etc. These have the main advantage of maintaining the ratio of the pixels 16: 9.

Asymmetric Video Wall
---
This style consists of locating the screens of the Video Wall in some predetermined way so that it achieves a greater impact on the audience due to its particular design.
Its design manages to impact the viewer in a more powerful way than any other type of digital signage, this is because it tends to attract more attention than any other type of screen.
Hardware for Video Wall: Types of screens

Display Hardware Video Wall Samsung
These hardware display styles are a part of a line of Samsung UD, UE, and OM lines (with SOC)

LG Hardware Video Wall Screen
These hardware display styles are a part of a line of LG transflective displays.

Philips Hardware Video Wall display
These hardware display styles are a part of a line of Philips X-Line, H-Line, and L-Line (Ledwall)

3-screen video wall
Screens can be built into one another. In this case, 3 screens are joined together and form the image or video that you need.

4-screen video wall
Screens can be built into one another. In this case, 4 screens are joined together and form the image or video that you need.

6-screen video wall
Screens can be built into one another. In this case, 6 screens are joined together and form the image or video that you need.
Make the most of video walls for your advertising

How to make a Video Wall?
The solution is very simple and inexpensive, especially with the flat rate that we offer from EasyScreen. There are many types of digital displays, of which indoor or outdoor led displays stand out the most in the digital signage industry.
Led screens to give the possibility of forming Video Walls (video walls), which can be both small, medium, or large, composed of either 2 led screens or 30. The type of video wall you choose will depend entirely on what you intend to achieve with this digital signage tool. To give an example, maybe the goal is to attract the visual attention of the people who pass in front of your store window with entertaining and eye-catching marketing content. Or could be that the objective of the video wall is to inform the client or give them attractive and quality content.
Types of players or players for video wall with digital signage
Generally, we supply walls with HDMI from the source, (eg XMP or MBR players). Today with 4K we deliver an XMP-7300.

MBR Player
The MBR-1100 is the most compact multimedia player in the IAdea range. Without giving up any functionality and performance, the player has been reduced to roughly the size of a fist. This means that it is small enough to hide behind your screens and can therefore be used in any environment.
Size is an important factor for media players, as larger ones are not so easily hidden, making them less secure and attractive. By using the MBR-1100, you can safely and attractively place your displays wherever you want.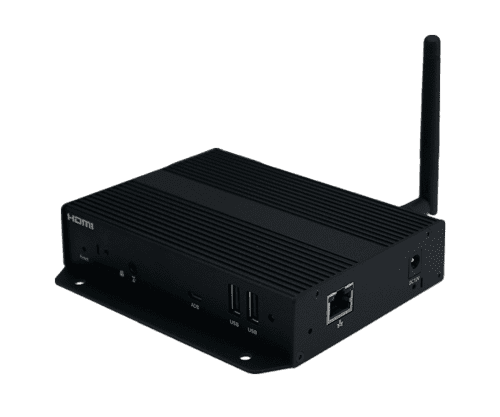 XMP-6250 Player
This player offers hardware HD video playback for smooth 1080p video and advanced built-in processing power for stunning HTML5 content playback. Like all of our players, setup is a breeze with the XMP-6250. Plugin the power, network, and HDMI, and you're good to go. Like all of our players, the XMP-6250 is fanless, but it still stays cool 24/7 with built-in auto-recovery to keep everything running regardless of the conditions. It includes a micro-SD port with expandability up to 32GB for longer presentations.

XMP-6400 Player
This player allows you to integrate video sources with dynamic HTML5 or image content to create advertising overlays and live video playback on any screen. The player includes an HDMI input port. With this, you can add any video source, from a camera to live TV, and play it back in real-time with ad-based content. Create "L-bar" style displays that show live video along with your unique branding. Or use our integrated logo overlay to add your branding to any video source.

XMP-7300 Player
IAdea XMP-7300 is the perfect processor that simplifies the deployment of custom and remotely manageable kiosks. Retailers and merchants can integrate it with technology like sensors, cameras, buttons, and readers to deliver a better brand and user experience. The XMP-7300 has a consistently powerful quad-core graphics engine with the best performance, excellent power savings, and diligent watchdog monitoring.

Display with Integrated Stand
Displays with video wall support come with Video Wall settings programmed in the menu, this is set via the remote control. The media player goes to screen 1 first and connects to the rest of the screens (daisy chain) through the DP cabling (display port/display port). Pay attention! It is recommended to make a connection of up to 16 displays, with more displays additional hardware is required.
Unsupported display
With the use of displays without video wall support, there must be one between the media player and the video wall, and the video wall controller. Instead of controlling the displays via a daisy chain, a video controller such as the Datapad FX4 is used.
How to install or make a video wall for your business?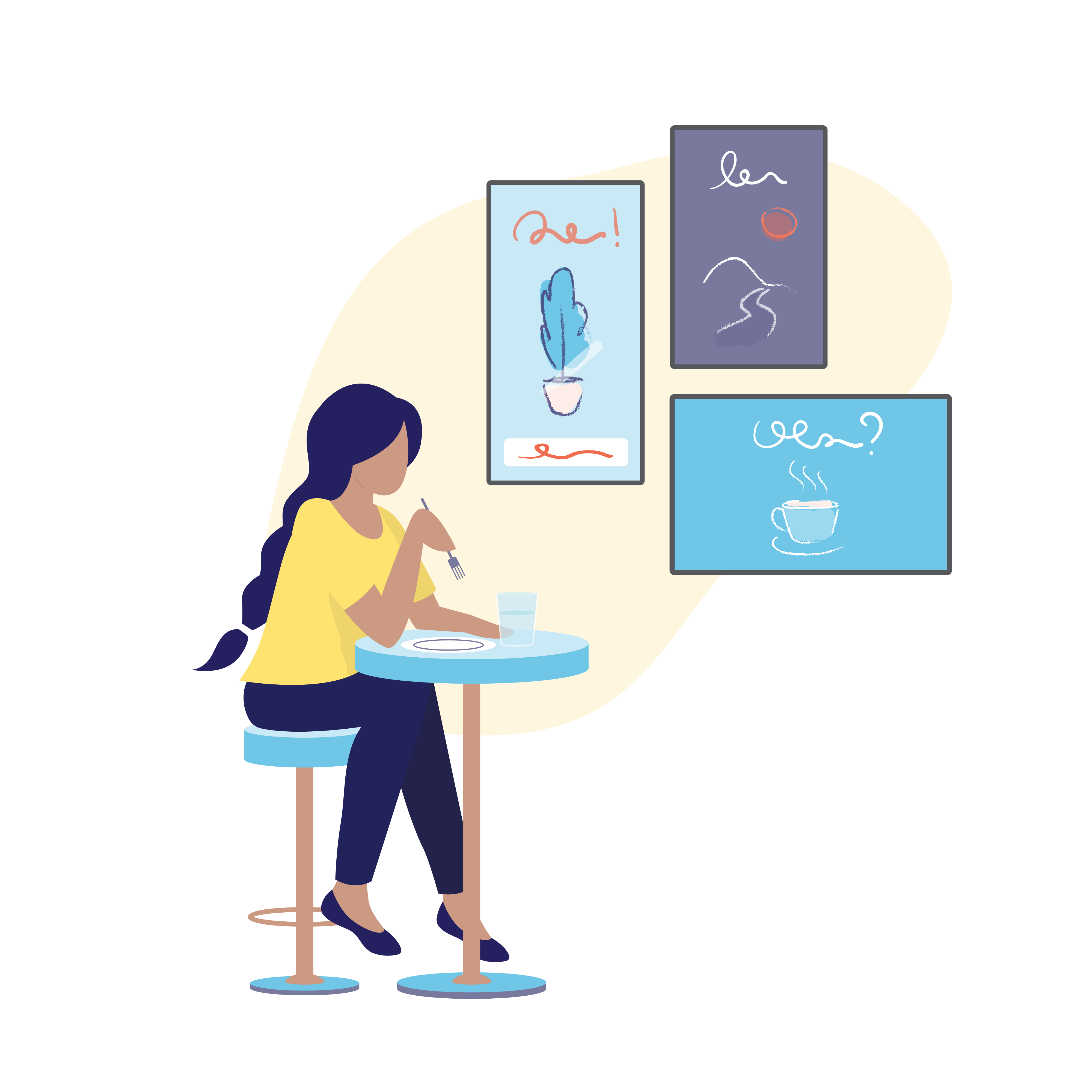 Need any help with the installation?
You can rent a video wall, but without a doubt, it is much more profitable and economical to install a digital signage video wall yourself, even without needing any technicians, we take care of everything. That's why we are happy to help you install all of your hardware.
This way, you don't have to worry about terms like SOC, daisy, and bezel. We arrange everything for you, including consultations with interior designers, brackets, alignment, calibration. Also, we install cooling systems for extremely clear led advertising screens and we will take care of removing dust.

How does a video wall work and what does it need?

A video wall requires a player, screen, and brackets to work. Nothing else. Try it now!
Screen wall maintenance
Depending on the cooling and the space behind the scenes, the dust will accumulate to a greater or lesser extent behind the scenes over time. This makes internal cooling difficult. Therefore, it is recommended to include preventive maintenance in the budget. The space behind the scenes is free of dust. This can be combined with a calibration. With older screens to get the highest quality from the screens, it is recommended to calibrate them. This is done with a laptop with a camera plus the vendor's software.
Advantages of having Video Walls with Digital Signage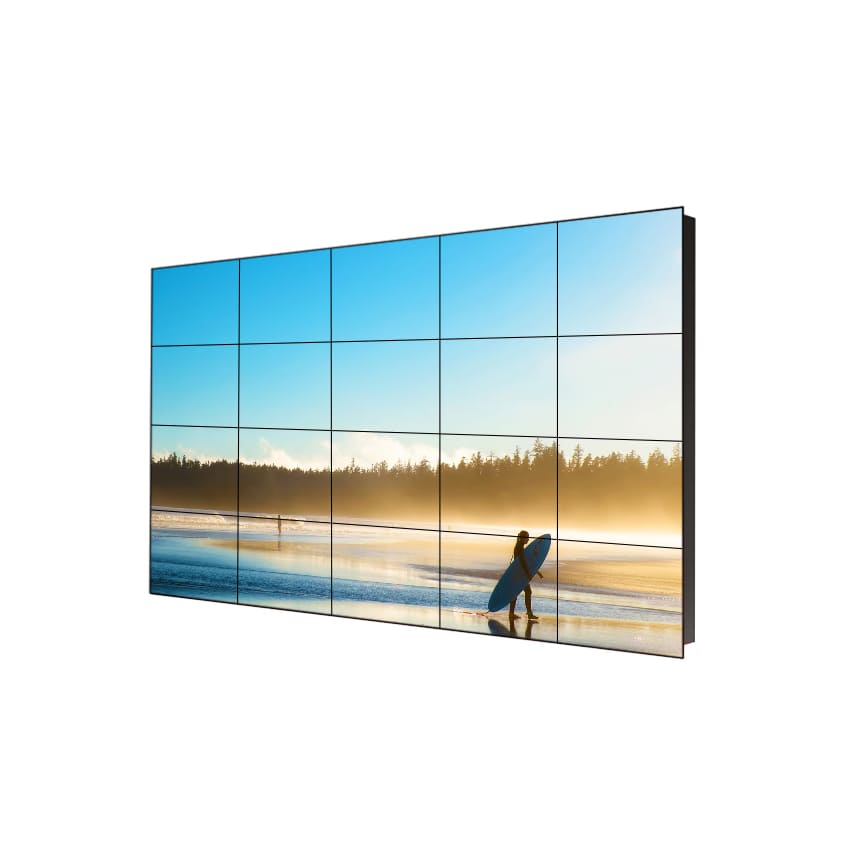 Communication:
Nowadays, many businesses are increasingly betting on video walls to generate a communicative link with their public, both by placing them in reception areas or video rooms. A video wall is one of the most chosen options when it comes to attracting the attention of the target since it stands out in itself for its technological and communicative level.
Creativity:
This system gives the client the possibility to play with their styles and shapes to their preference to accommodate their business in the way they want. The video wall gives the client the advantage of accommodating the screens to their liking, going from the shape of a flower to a mill mosaic. This manages to get out of the comfort zone concerning digital screens, which always fall into their rectangular shape when communicating. But, this system gives the possibility of playing with these forms to be able to draw even more the customer's attention to the device.

Effectiveness:
Another advantage that this system offers is its pixel density. Pixel density is the number of pixels found per unit area, which is determined by the resolution and size of the screen on which the content is displayed. When enlarging a projected image, the pixel density decreases. But, in a video wall, this density is independent of the size of the distribution, since enlarging the mosaic, increases the resolution of the video wall.
Formats:
The video wall system allows multiple signal formats to be processed on different screens at the same time. Each source can show different content from the rest, giving the possibility of communicating more than one product or service at the same time. You can also broadcast informational news or content that entertains the public while offering multiple offers or promotions.
Creating Videos for Video Walls with Digital Signage
Creating Content for Video Wall Creation
With a video wall system, you can create a wealth of visual marketing content for video walls thanks to our leading broadcast platform and exclusive video wall software. Connected advertising displays require more advanced control than a single digital display, but our video wall controller system and digital signage software are simple and fun to work with, so your experience will be as good as with individual displays. It's understandable from start to finish and you can use it to create shows that are sure to impress your audience.
Next, we leave you an explanatory video that analyzes what digital signage is, its functions, its advantages, how to use it, and why it is key to use it for your business.
At Easyscreen we are experts in video wall installation and digital content creation.
Video wall free demo: content management software for video wall
try it for free
1 month free
or keep reading more about us.
Content management software for video wall with digital signage
We are confident that your business will experience the benefits of digital signage with our software and support, as do our current clients in many industries.
If you wonder what the price of the video wall is, you may be surprised since our digital signage system is cheap and highly effective. That is why we offer a free trial.
Here at Easyscreen, we are a company that can help you every step of the way. We can provide you with your digital signage screens, media players, and much more. We provide you with the content management software for outdoor or indoor led screens, as well as the creation of it, and then we take care of the installation and maintenance.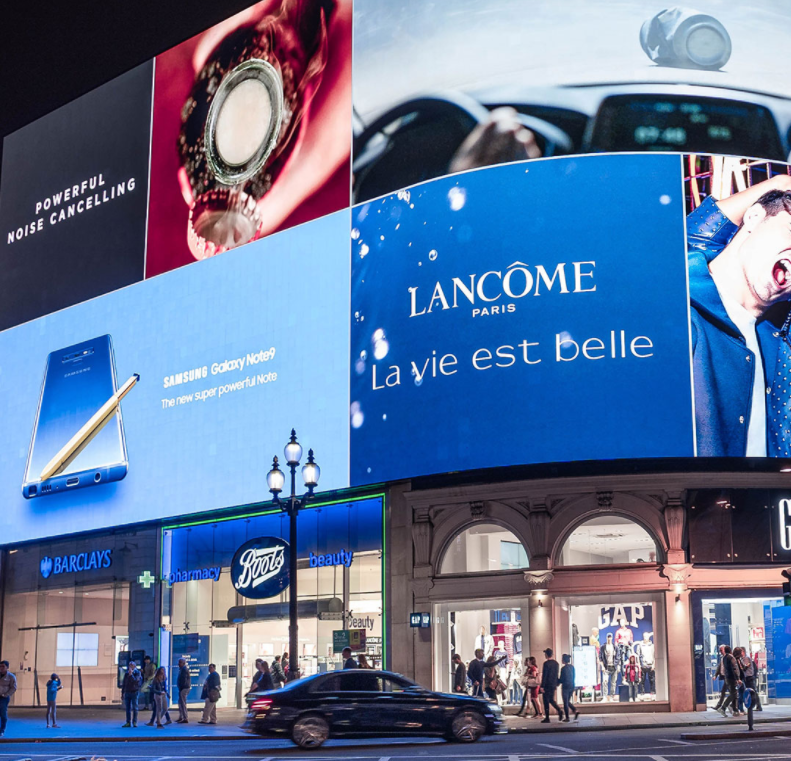 Video Wall at the best price
Check our video wall rates to build your video wall, you will be surprised by the speed of installation and the price.
Strengthen your brand image
Giant LED advertising screens, especially videowalls (video walls), are a powerful way to reinforce a brand's image through attention-grabbing audiovisual content. Using HD images and videos of lifestyle and entertainment clips will show what the brand wants to connect to and shape the perception of the brand for buyers.
Reach more people
There are different types of digital displays, of which led displays are the most prominent in the digital signage industry. Led screens to allow you to form video walls and these can be small or large, made up of 2 led screens or even 30. Imagine how big your message can be and how many people you can reach!
Video Wall Free Demo: Try it for free and tell us what you think about it
Give it a try and use our content management software for the video wall for free for one month
or keep reading more about us.
try it for free
1 MONTH FREE